Roasted Red Pepper & Artichoke Spread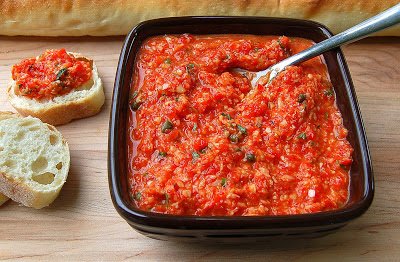 Are you looking for a perfect, easy, go to app for the holidays??
One that travels well to parties and beyond?
One that is the perfect hostess gift or gift in general?

Here. It. Is!
I don't know if I should call this a dip, spread, sauce or bruschetta. In my mind it can be all of those things.
This Roasted Red Pepper & Artichoke Spread is absolutely divine for an app. It is light, packed full of veggie goodness and I'll just say it…guilt free! I can't say that for the bread that I love to spread this on…BUT in my mind good bread is straight from Heaven, sooooo anything that is that good has got to be calorie free!!
This is so simple that the photo you see here was made by my little chef. You know by now how much she enjoys cooking things up. I was about to make this for the football game hangout we were headed to when she popped in the kitchen and said "whatcha' doin?"
Once she knew that the food processor was involved…it was her rodeo.
Then, my son popped by and said "can I make something too?" So I let him make the Roasted Butternut Squash Soup I was also bringing.
Now…I didn't have much time to make these things…BUT I will never turn down a kid who wants to cook 🙂 So what if we got there 15 minutes later than the game! My kids felt good about their contribution to the party, which made me feel good!
Samantha who is now 8 years old made this in under 10 minutes…really!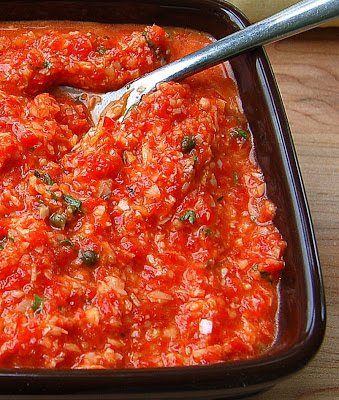 Just look at it!! It's beautiful!
Roasted Red Pepper & Artichoke Spread
4 whole roasted red peppers or a 24 oz jar – drained and blotted dry with paper towels
1 – 14 oz can of artichoke hearts
2 cloves of garlic (or if your really love it 3)
2 TBS of olive oil
2 TBS chopped parsley
Pinch of Kosher salt
Pinch of freshly ground black pepper
1 TBS fresh lemon juice
1 TBS capers, drained
*If you are using purchased roasted peppers from a jar, which I have done with success many times…you really need to make sure your peppers are as dry as you can get them…squeeze them a bit then blot dry with paper towels.
Drain and blot dry your peppers (if applicable) and your artichokes. Place all ingredients in your food processor bowl. Pulse until incorporated, stopping occasionally to scrape down the bowl. Taste and adjust the seasoning to your liking.
This will keep in a sealed container for 5 days.
Serve at room temperature with freshly sliced French baguette rounds, crudites, Parmesan toasts or Stone Wheat Crackers. It is also great over pasta that you have tossed with a bit of olive oil or butter 🙂
This Roasted Red Pepper & Artichoke Spread makes a wonderful gift too, just put it in a super-cute jar…maybe with a label and ta-dah!!
Enjoy!!