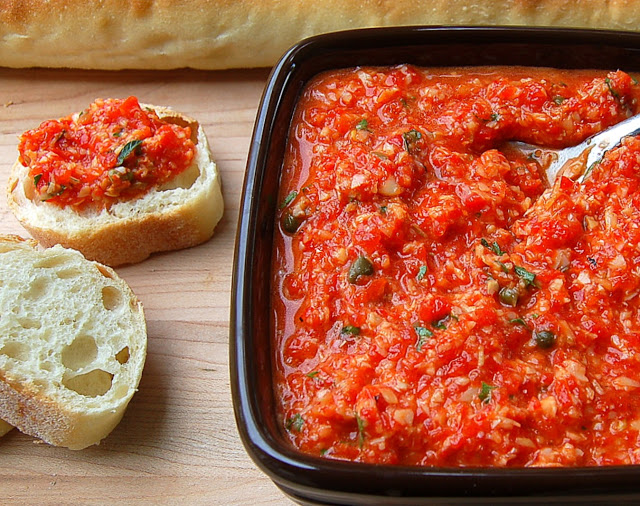 Recently I entered this recipe in a fun contest that came out of this years The Big Potluck and I won 2nd place, whoohoo!! I'm doing the happy dance!!
Not only is this a win for me...it is a win for you too!! How about a vibrant & healthy appetizer bursting with flavor for your holiday table (or anytime actually)? This should please just about everyone...your gluten-free friends, vegetarians, vegans, folks with nut or dairy allergies, the health conscious & more!
Plus this makes a beautiful (and tasty) hostess or holiday gift! Package it in a pretty glass jar with a recipe tag and some ribbon...ta-da!!
This Roasted Red Pepper and Artichoke Dip seriously takes LESS that 10 minutes to make with the help of the super cool Gourmet Gardens Herbs. Their product is so smart!! They take fresh herbs and get them into tubes, so that they are at the ready when you need them! I don't know about you but so very often I need a herb and don't have it, so I improvise. Plus, how many times have you bought a bunch of cilantro, parsley or basil for example only to use ¼ of it and have no need for the rest.
Have you noticed Gourmet Gardens in your produce department? They come in tubes, and are refrigerated. The choices are Basil, chili pepper, cilantro, dill, garlic, chunky garlic, ginger, oregano, parsley, Italian herbs, Mediterranean seasoning, taco seasoning, Thai seasoning and yes!! Lemongrass, which is hard to find! How great is it to grab a tube, use what you need, for the flavor you are going for, and then put it back in your fridge for the next time the need arises!!
"Our herbs are grown in the rich soil of organic farms on the Sunshine Coast of Australia. Within 24 hours of harvesting they are simply washed, chopped, blended and packed into tubes guaranteeing their fresh taste and nutrition for up to 3 months".
-Gourmet Gardens
As an attendee of The Big Potluck, I did receive a fabulous mini cooler full of the Gourmet Gardens line to try out and was impressed! To be honest, I'm not sure if I ever would have grabbed a tube on my own so I am happy that I was introduced to them and now see the value both monetarily and as a time saver! Not to mention that these are fabulous flavors to help in making dressings, sauces, soups and more! I'm sold!
Disclosure: I was not compensated to write this post...I just wanted to share my news and tell you of a good thing!
Roasted Pepper & Artichoke
Spread
24 oz jar of roasted red peppers
1 - 14 oz can/jar of artichoke hearts
1 TBS Gourmet Garden Chunky Garlic Paste
2 TBS of olive oil
2 TBS Gourmet Garden Parsley Paste
1 TBS fresh lemon juice
1-2 TBS capers, drained
Kosher salt & pepper to taste
Drain and blot dry your peppers (make sure your peppers are
as dry as you can get them...squeeze them a bit then blot dry with paper towels) Drain your artichokes. Place all ingredients in your food processor
bowl. Pulse until all ingredients are incorporated and peppers become uniformly
minced, stopping occasionally to scrape down the bowl. Taste and adjust the
seasoning to your liking.
Serve at room temperature with freshly sliced French
baguette rounds, crudités or stone wheat crackers. It is also great over pasta
that you have tossed with a bit of olive oil or butter 🙂
This will keep in a sealed container for 7 days. This spread makes a super cute &
delicious hostess/ holiday gift when you place it in a glass jar with the recipe
card attached.
Enjoy!!