This Simple Green Bean Salad is something my daughter loves to take for her school lunch AND its also a side dish I enjoy serving in the warmer months. It holds up well both in a lunch box or at a backyard BBQ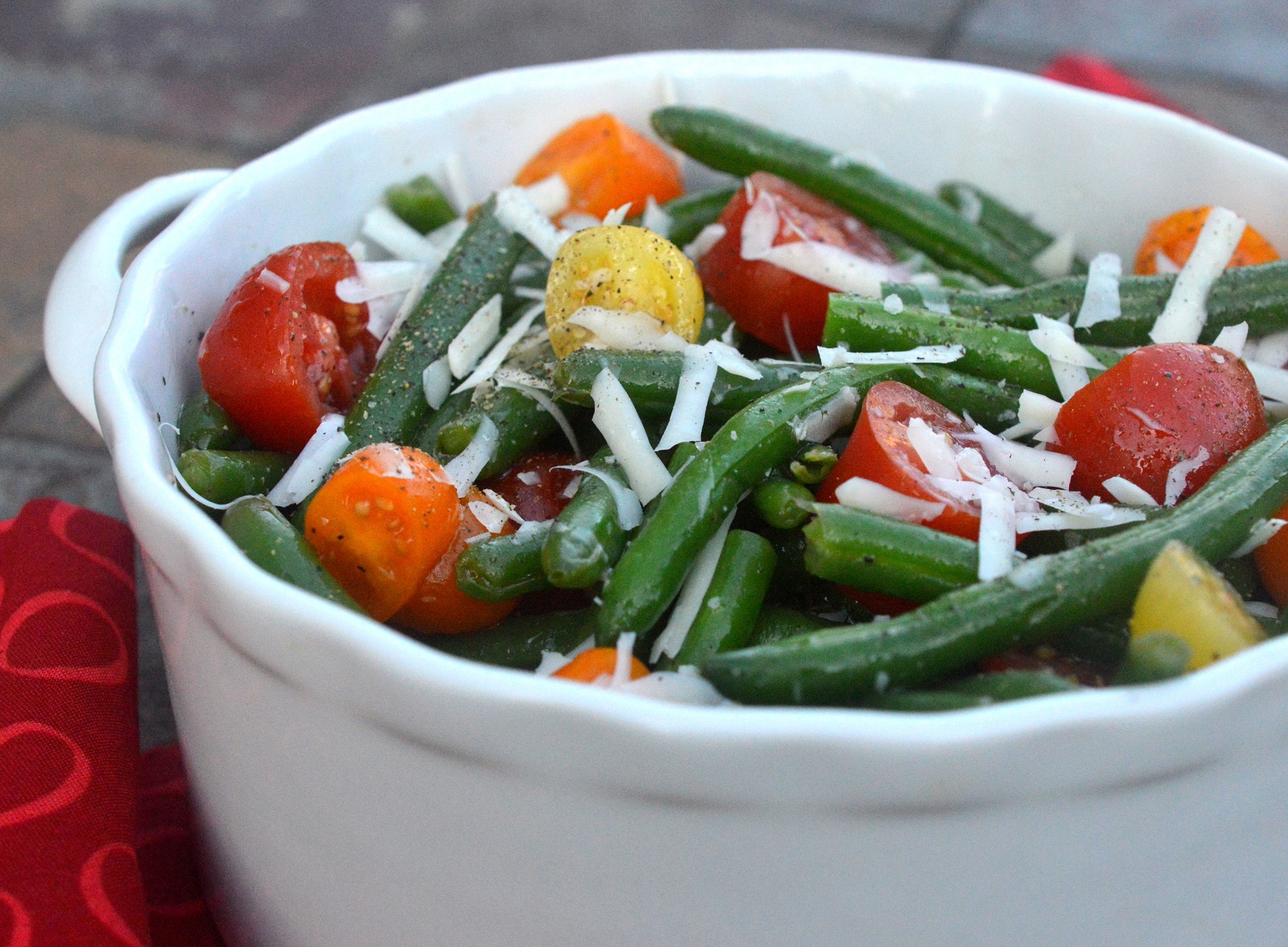 This is the 4th year I have collaborated with Produce for Kids to help spread their Power Your Lunchbox Pledge, a fabulous cause that helps feed families across the country! 
I am so funny about a number of vegetables when it comes to what they taste like cooked vs raw. I go for a crisp-tender when it comes to carrots, zucchini, string beans, and a few other vegetables, so this simple green bean salad is for me!
Making this is a snap! (Ha! Pun intended) All you need are a few simple ingredients and then the flavor just pops! The crisp string beans and tomatoes mingling with the simple dressing and seasoning is somewhat addictive, and this is a dish that you'll have no guilt about (unlike my current obsession over the Cow Tails candy…OMGosh, I can't stop!! I think about them every day, lol).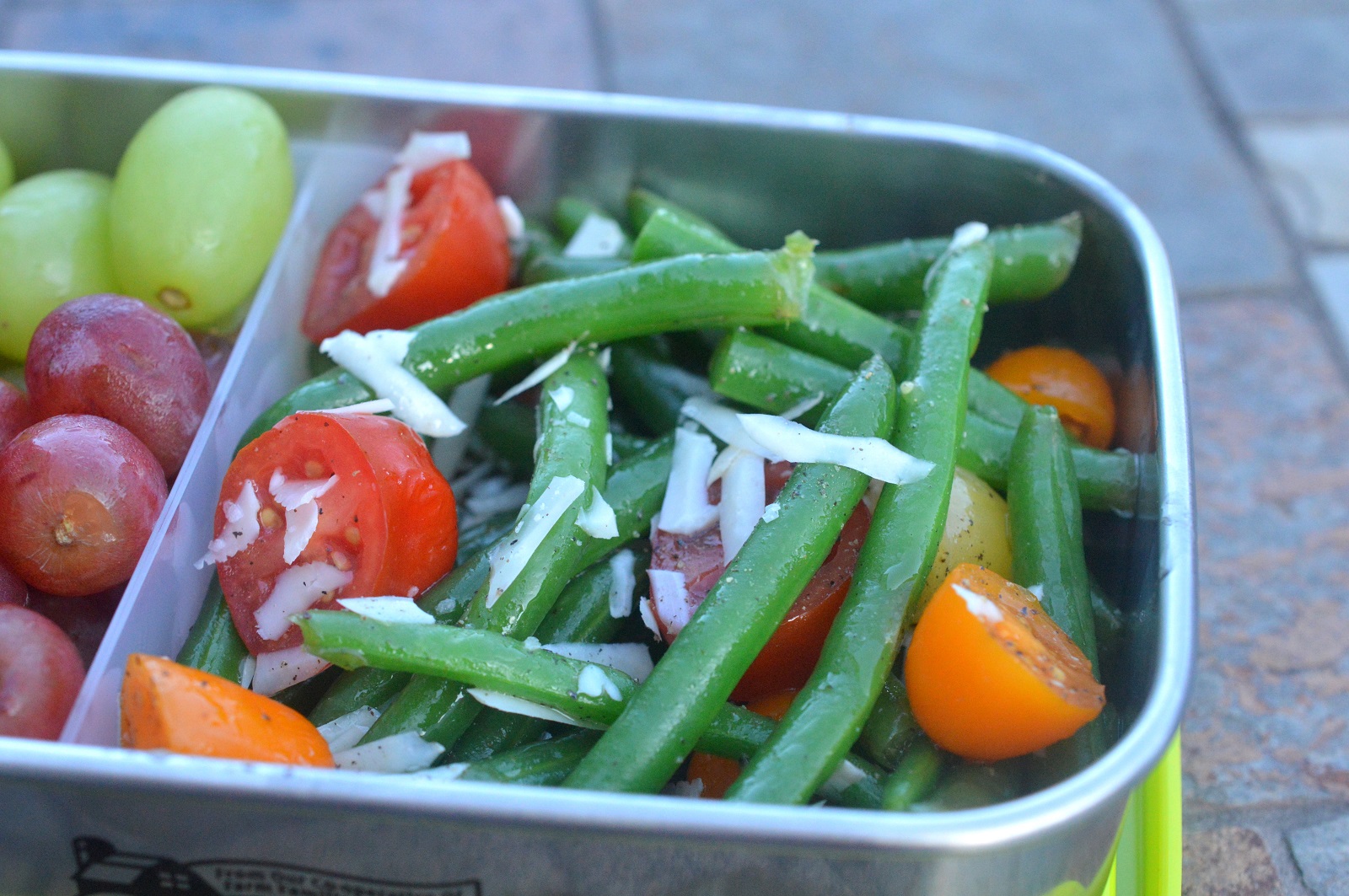 Okay, okay banishing all thoughts of those little caramel delights…back to how to make this simple green bean salad recipe! Shaving some fresh Parmesan onto the green beans does wonders for this salad, as does a good does of salt and black pepper, so don't skimp on either.
You won't be able to stop crunching on this!
I do my best to give my kids healthy choices in their school lunch as well as at home. My daughter is crazy for Wholly Guacamole and their Guacamole Snack & Chip Cups (and I love the spicy one!!). She also loves taking the individual Litehouse Ranch Dip cups with broccoli florets and carrots. My daughter does not eat meats (just fish and some a little poultry) due to her food allergies. So making sure she has a well-stocked lunch box of vegetable and dairy products is important to me and satisfying to her. She also seriously loves Crispy Green dried fruit snacks…especially the Asian Pear. If I had a case-full, she would tear through it, lol! I always look for Pero Family Farms produce and Sun World grapes (theirs are the BEST!!). Knowing these same brands that I/we favorite find ways to give back…makes me like them even better!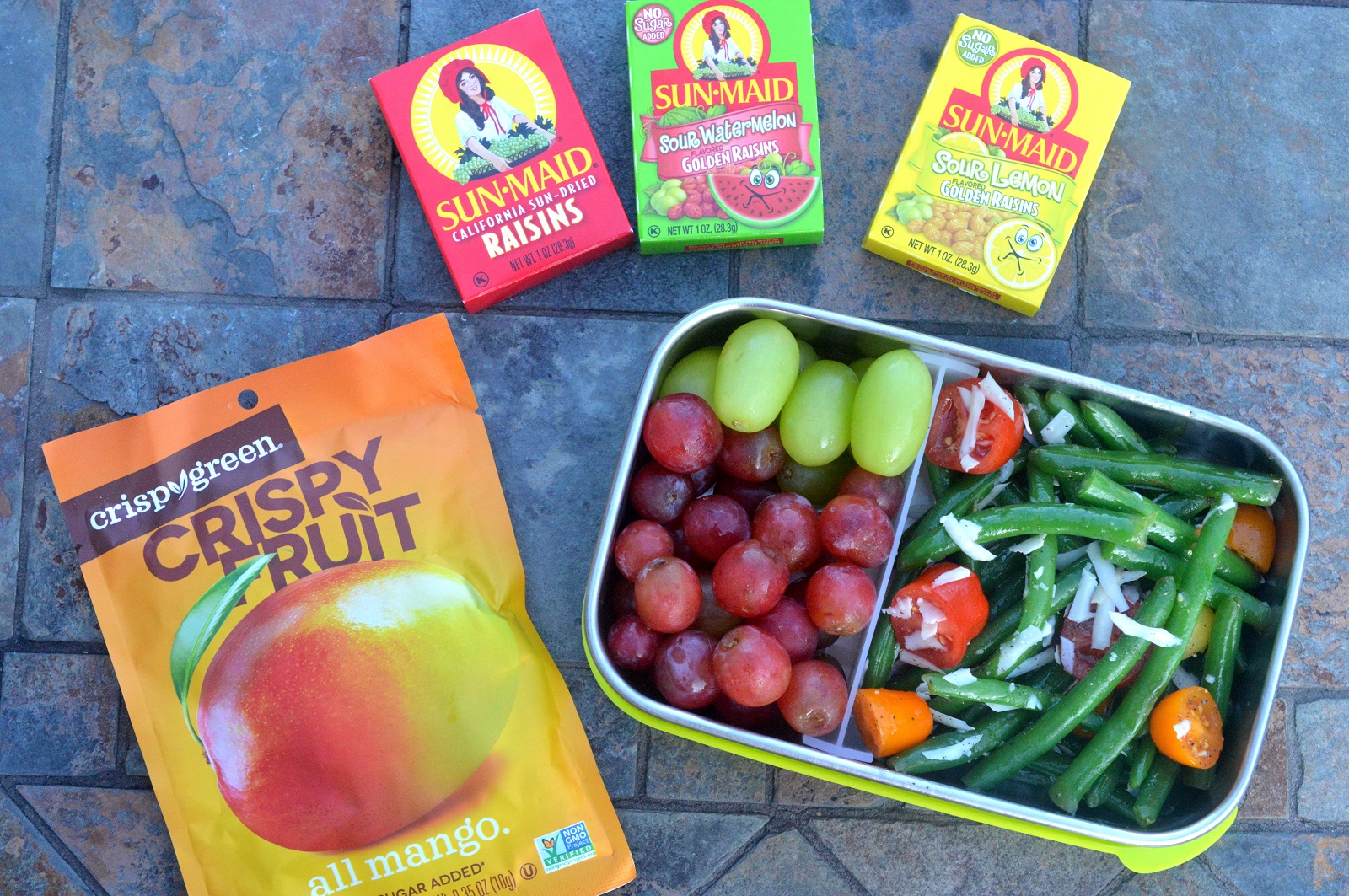 This is how YOU can help!
Produce for Kids is encouraging families nationwide to kick off the school year right by pledging to eat a healthier lunch with their Power Your Lunch Box Pledge! Now through September 22, for every for every online pledge given at PowerYourLunchbox.com, produce companies supporting Power Your Lunchbox Pledge will make a collective $1 donation to Feeding America® children's programs such as Kids Café, Backpack program, and Child Hunger Corps. The Power Your Lunchbox Pledge has raised nearly $60,000 for Feeding America® programs that benefit families and children. It's such a fantastic program, take a minute and join in! 
This year's sponsors for the campaign include Bee Sweet Citrus, Crispy Green®, Litehouse, NatureFresh™ Farms, Ninja® Kitchen, Pero Family Farms®, Sun-Maid, Sun World Grapes, Wholly Guacamole® and Zespri® Kiwifruit.
I sure do love supporting brands that give back! 
Visit Produce for Kids all year long for recipes, tips, news and more!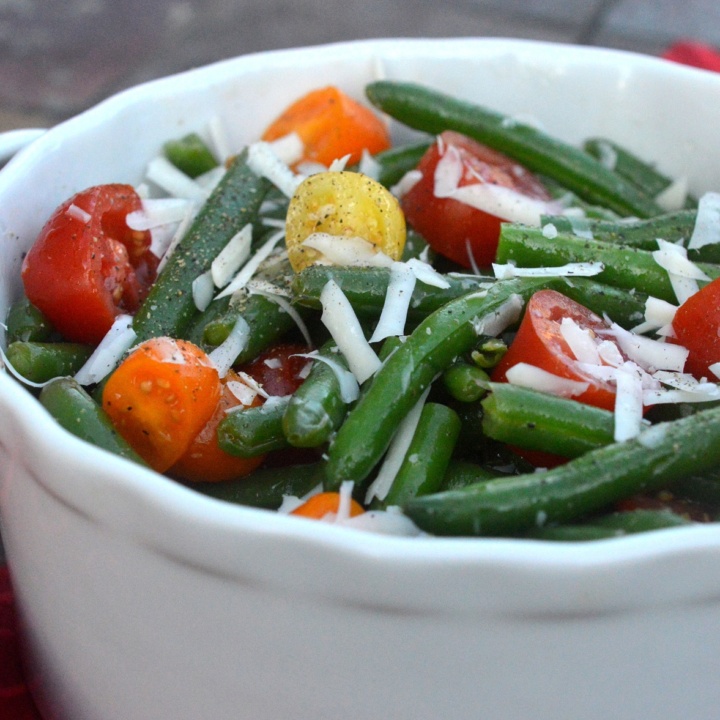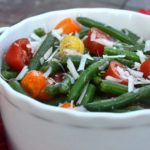 Print Recipe
Easy Green Bean Salad
Ingredients
1

pound

of fresh green beans

1

cup

halved grape

or small tomatoes

1/4

cup

grapeseed or olive oil

1/4

cup

balsamic vinegar

1/2

TBS

honey

1

tsp

garlic paste

Salt and pepper

1/2

cup

Fresh shaved Parmesan or Romano cheese
Instructions
Blanch your green beans in a pot of salted boiling water for 1 minute. Quickly strain green beans (or use a slotted spoon to scoop out) and submerge in an ice bath (a bowl filled with cold water and a couple handfuls of ice) to halt the cooking process.

Pat green beans dry, place in a bowl add in tomatoes and set aside.

In a mason jar or lidded container, combine oil, vinegar, honey and garlic and shake well until emulsified.

Toss beans with as much dressing as you like.

Season with salt and pepper (I like a lot of pepper on this) and add in cheese. Toss and add in more cheese (why not)!

Enjoy!