This Spinach & Cheese Ravioli With Francaise Sauce makes a delicious & easy weeknight dinner!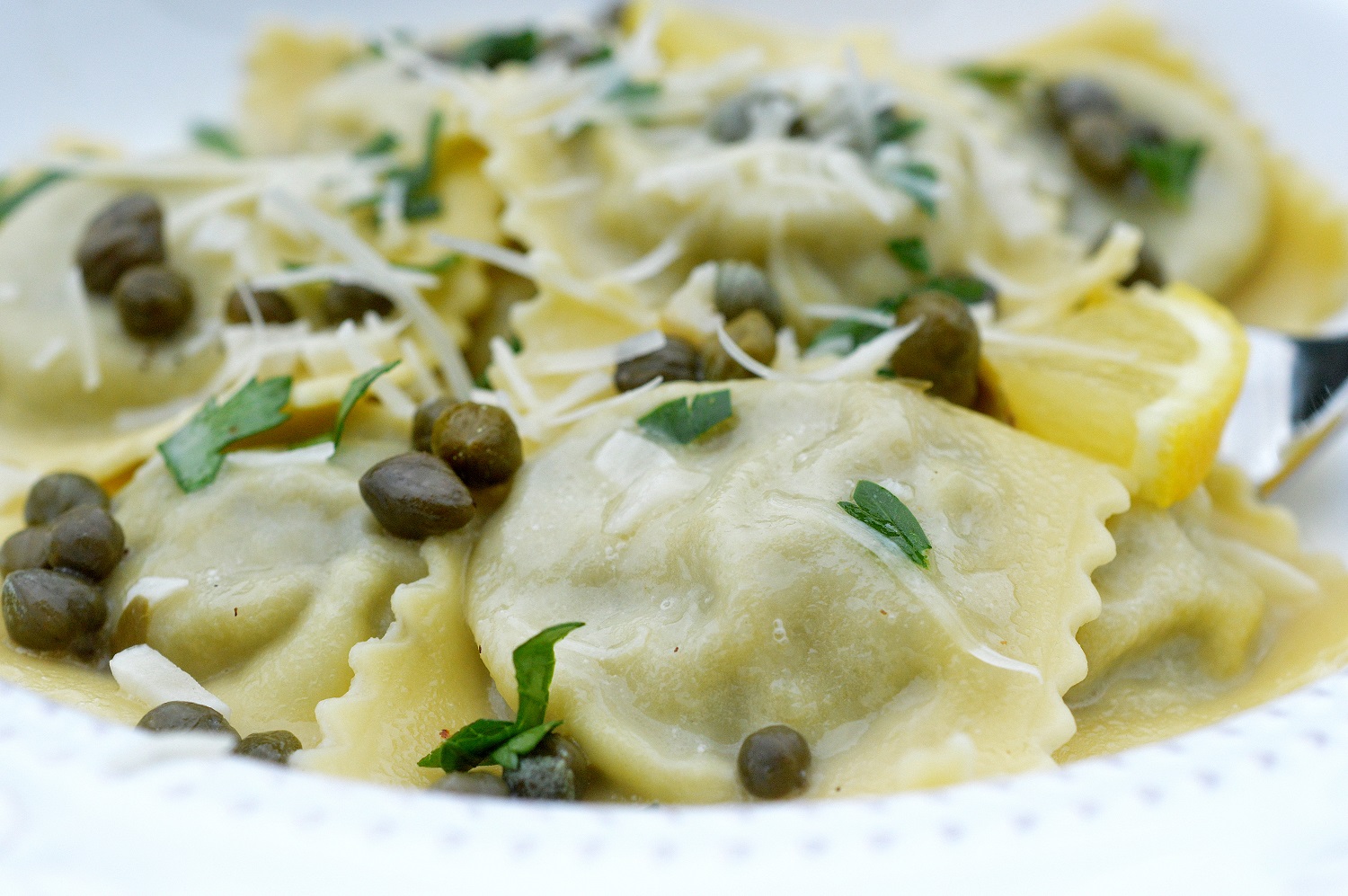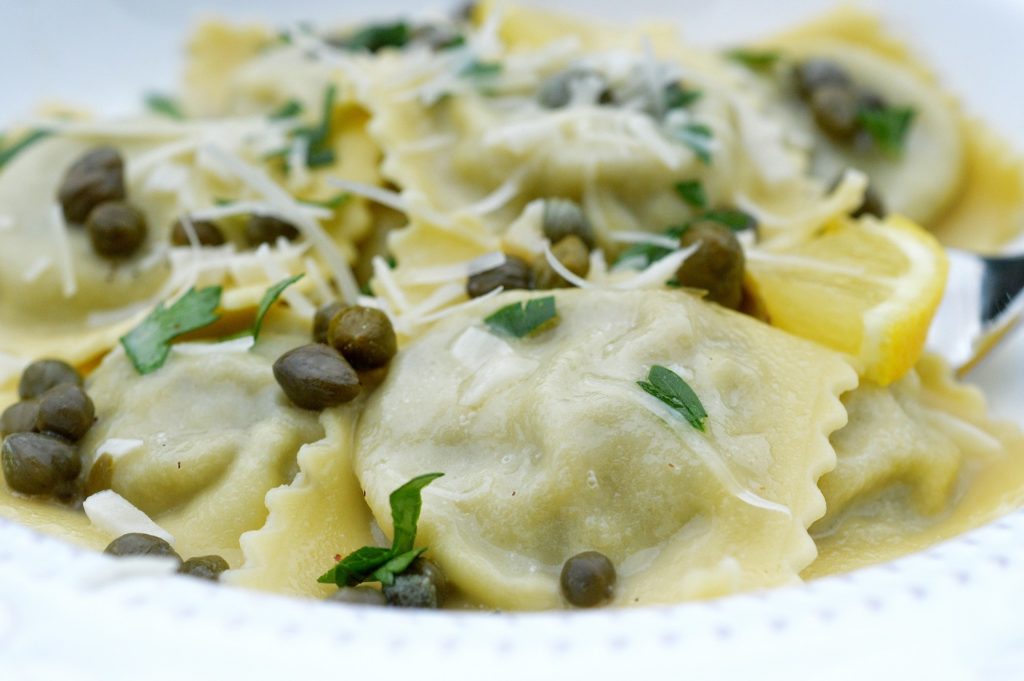 My kids LOVE Chicken Francaise. It was probably the first "adult" food they began ordering off menu's when they were about 6 or 7. And now one of my 11-year-old daughter and niece's specialties in the kitchen is, in fact, Chicken Francaise.
Since the sauce is so good, I decided to whip up a basic Francaise sauce to go with a new ravioli I came across in my area called Ravino. The sauce is not exactly the same as a typical Chicken Francaise, since there is no deglazing of the pan from cooking the chicken, but it is similar.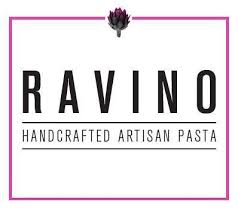 Ravino Handcrafted Artisan Pasta is a family owned business specializing in hand-made ravioli and pasta. "Our products are a marriage between traditional Italian cooking methods and modern flavors that create a truly one of a kind product," says Ms. DePalma. "We set our ravioli apart by creating a filling composed primarily of fresh, seasonal, local produce. Cheese is used only to highlight the natural flavors of the ingredients, making our product a nutritious choice."
This is not a sponsored post, I decided to try out their product. I have always enjoyed finding new products, new music, places and food then passing that along to friends and family. These days I especially enjoy when said products are from a small business starting out. Plus…I love a well-made ravioli! So does my daughter! Samantha doesn't eat meat other than fish and some chicken (food allergies) so when I find convenient food that I feel good about feeding her, I like it. Making 2 variations on dinner is not easy, especially on weeknights.
Samantha and I tried the traditional cheese as well as the Ravoino's Spinach and Cheese Ravioli and we both gave them 2 thumbs up and are now consistent customers. You can see just by looking at the ravioli that they are quality, so delicate and no scrimping of the filling…Just take a look at those babies!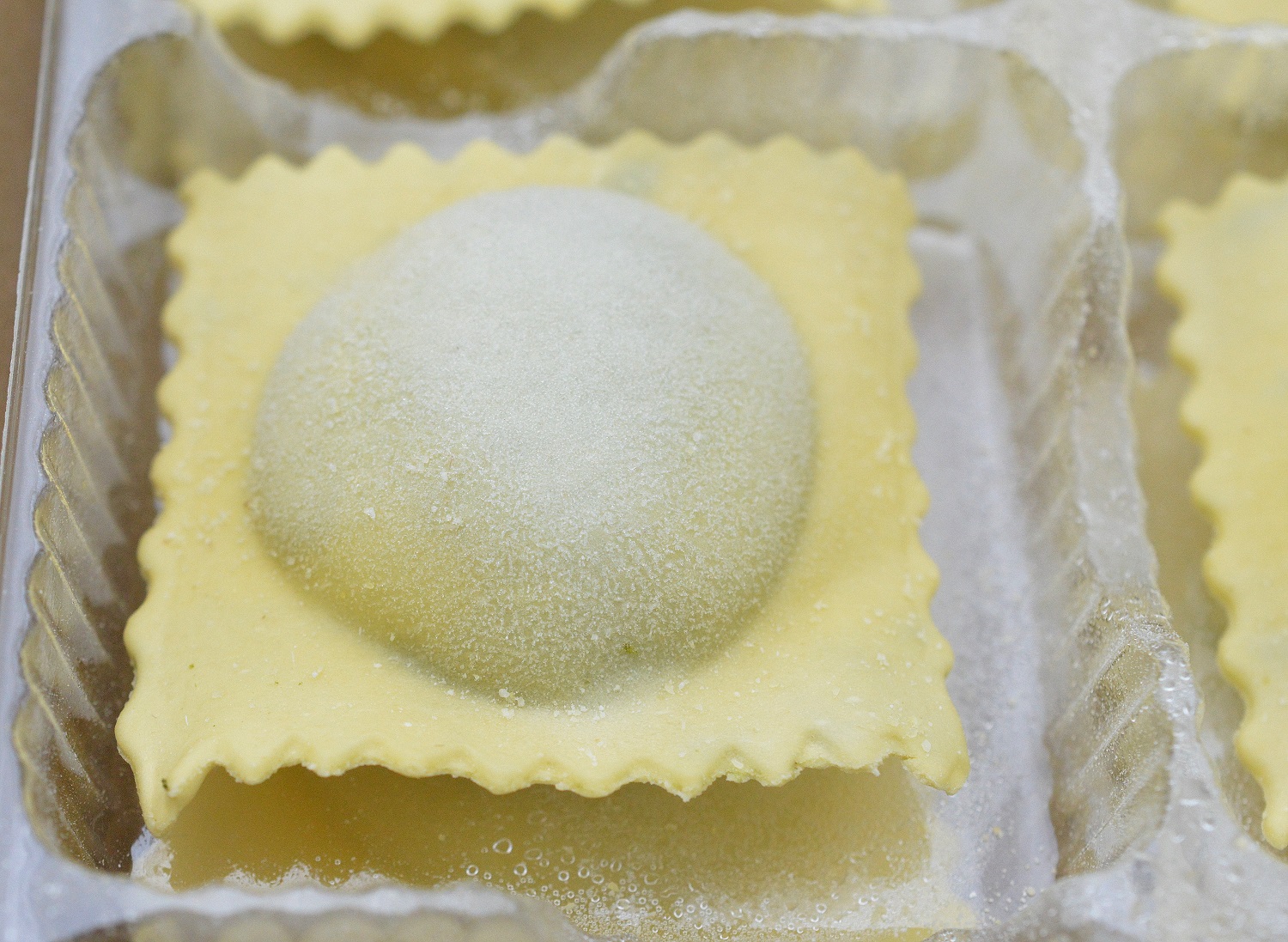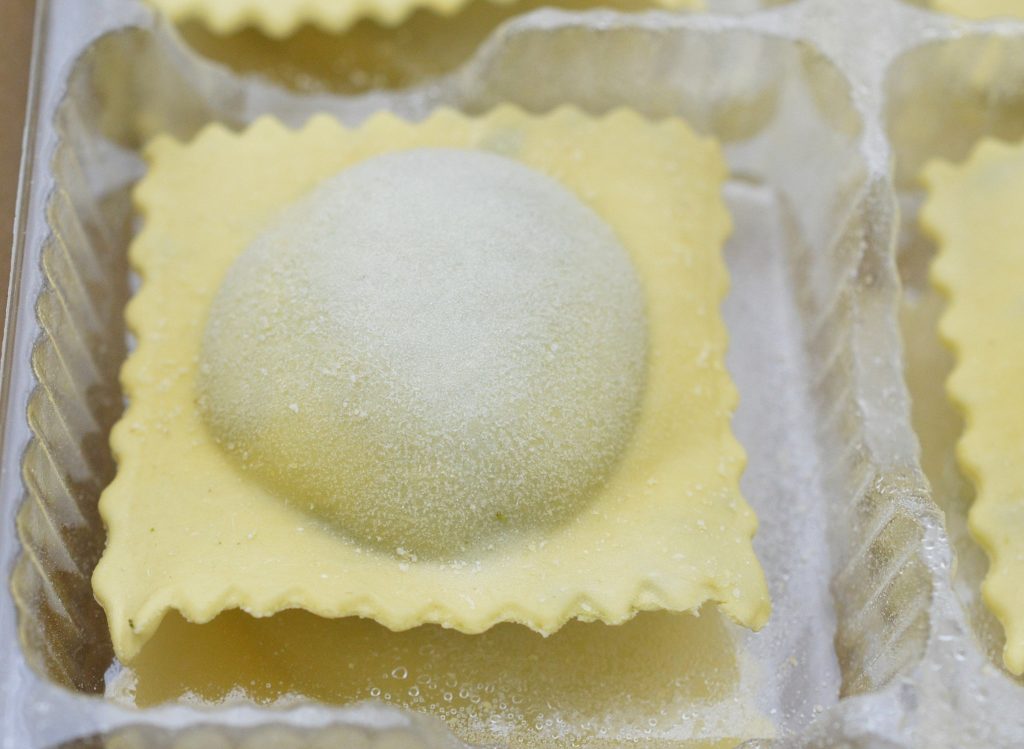 These ravioli did not need a homemade sauce, but seriously, the sauce took less than 10 minutes to make and in that time, dinner was ready and could have been mistaken for a restaurant dish. I added capers since I can eat them straight out of the jar. As I type this my mouth literally watering thinking about capers!
The ravioli, which took 4 minutes to cook, the sauce, a sprinkle of cheese and a salad and we were good to go! Give this Spinach & Cheese Ravioli With Francaise Sauce a try and if you see Ravino, pick up a couple of boxes and taste the difference and the quality.
Ravino's current ravioli flavors: Cheese Ravioli, Chickpea & Kale Ravioli, Mushroom & Fontina Ravioli, Spinach & Ricotta Ravioli.
They also make olive oil – Ravino Extra Virgin Olive Oil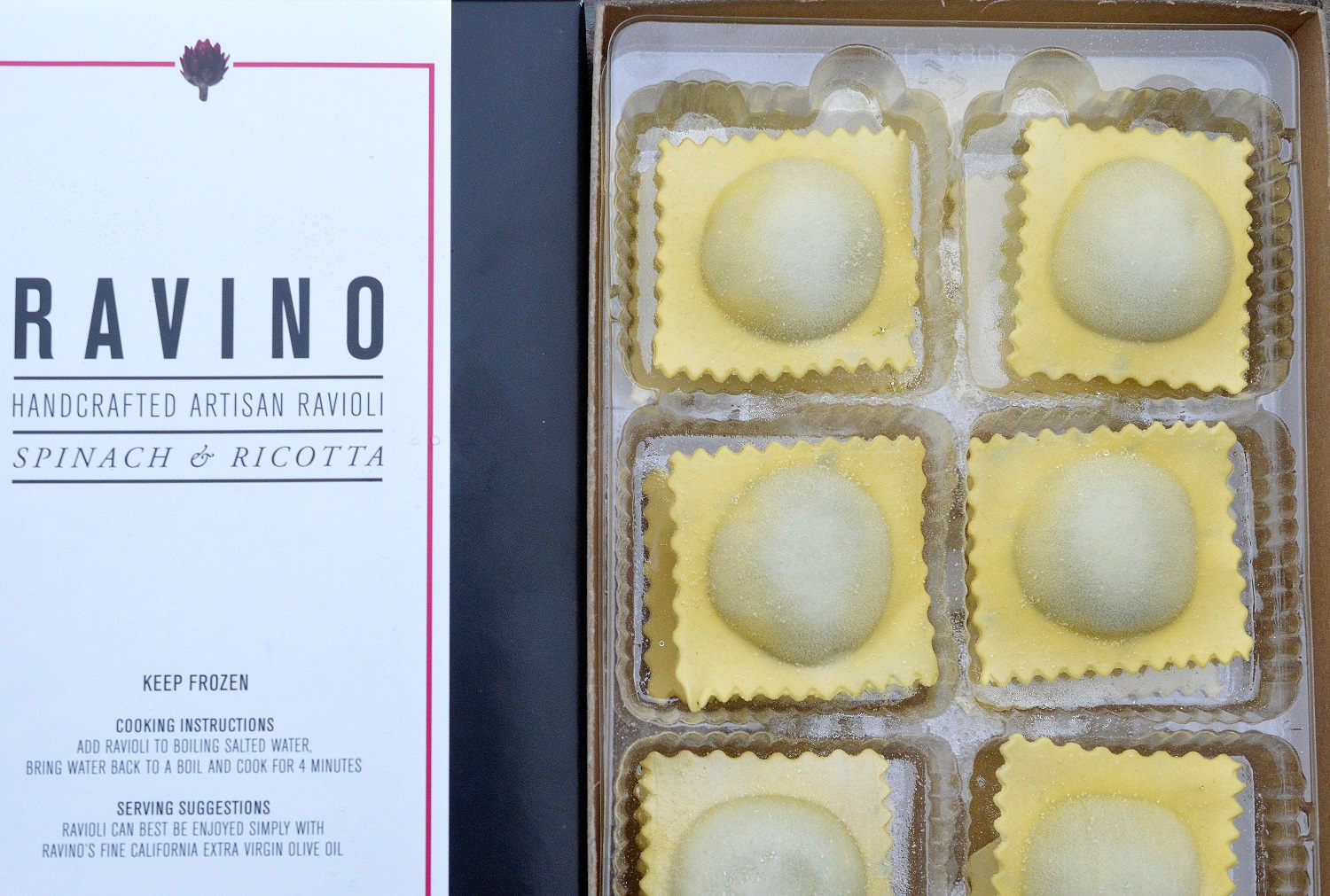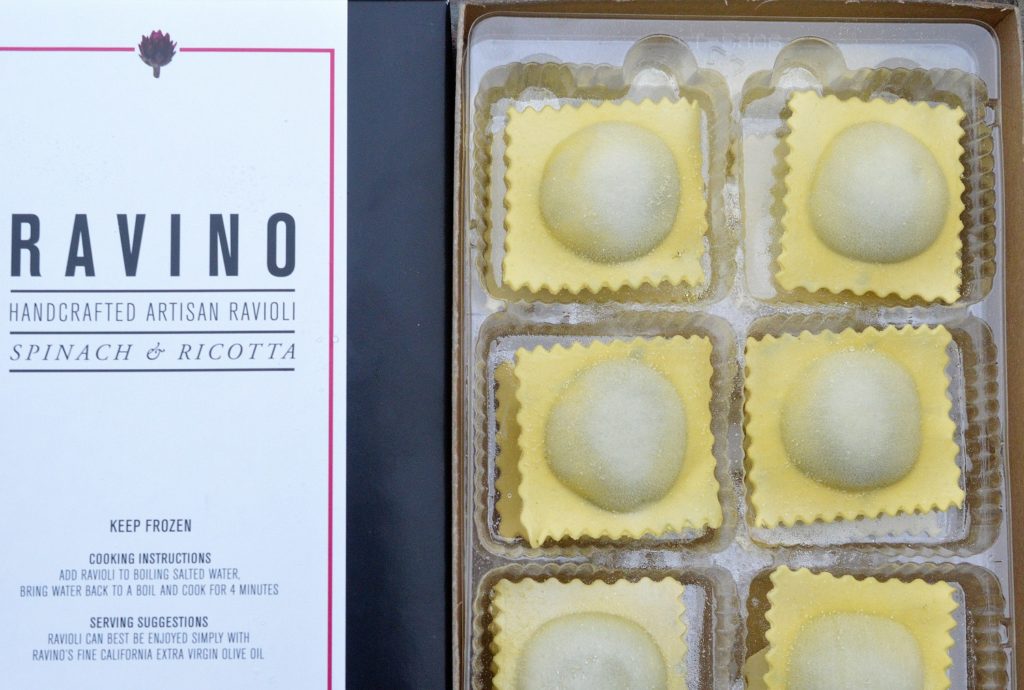 So if you are looking for a quality ravioli, which seems to me to be made with love, give Ravino a try. Here's where you can find them in PA, NJ, NY & MA. Hope you enjoy them as much as we did!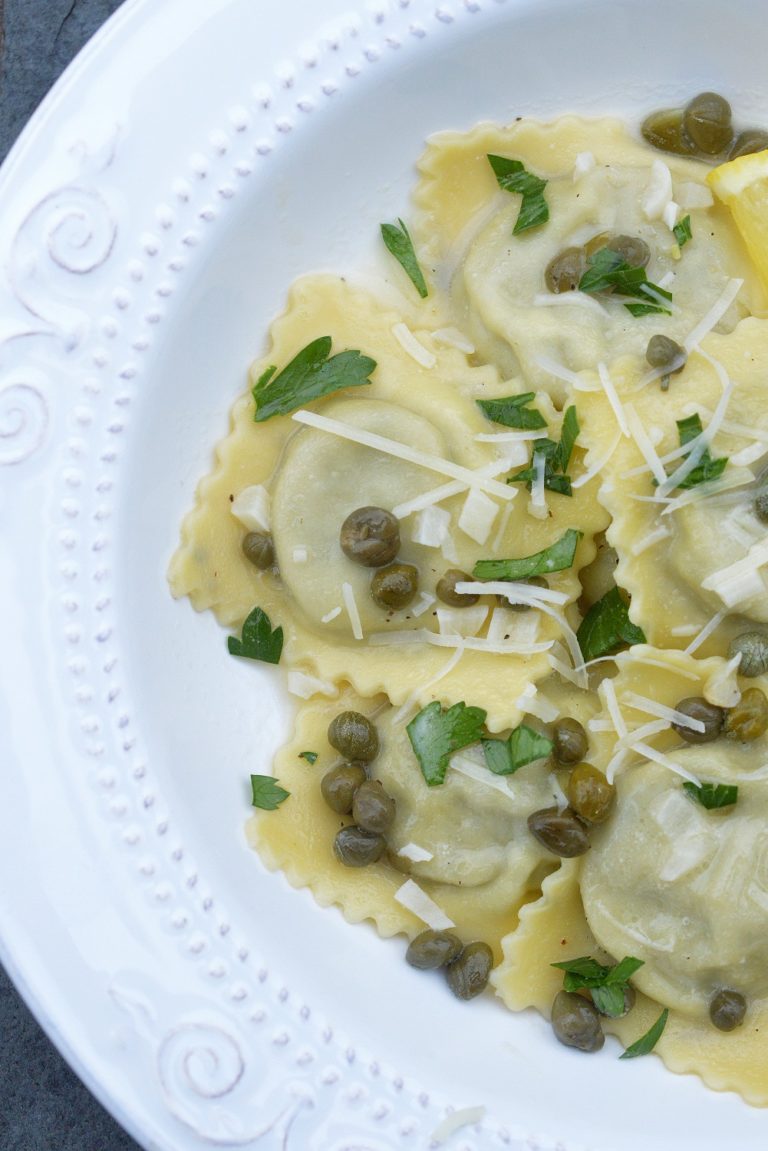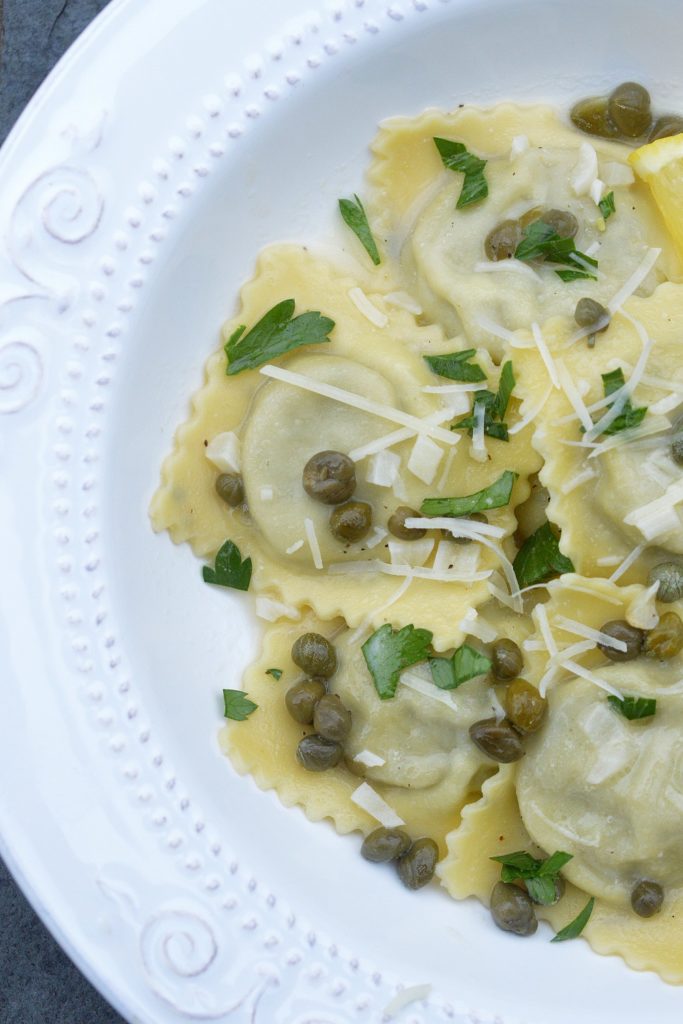 Enjoy!!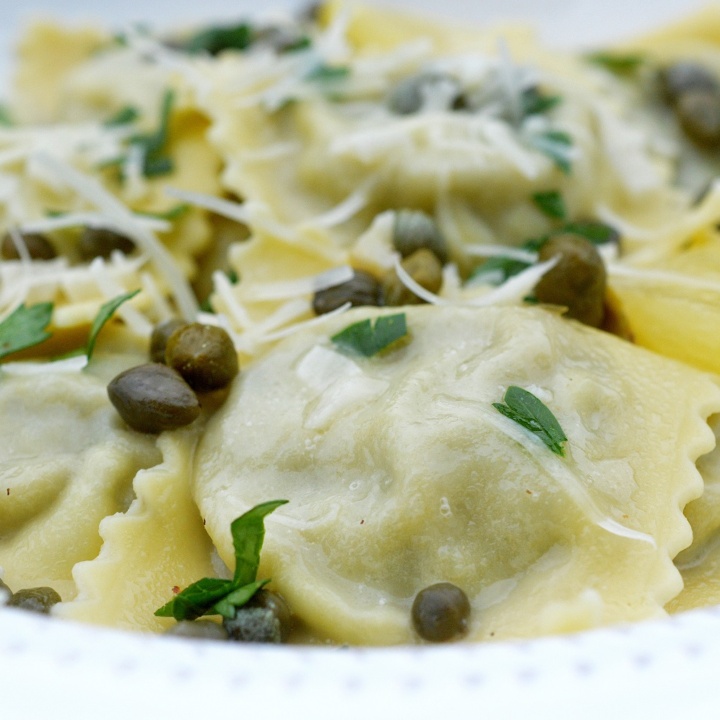 Print Recipe
Spinach & Cheese Ravioli With Francaise Sauce
Ingredients
12-24

Ravioli

cheese or spinach & cheese

2

TBS

butter

1

clove

garlic

minced

1

tsp

flour

1/2

cup

white wine

1/2

cup

chicken stock

2

TBS

lemon

Salt & pepper

2

TBS

capers

Chopped parsley

Sprinkle of Parmesan or Asiago cheese
Instructions
In a saucepan, melt your butter. add in garlic and saute for 1-2 minutes (until fragrant but not browned).

Whisk in flour, add wine, stock and lemon and bring to a boil.

Remove from heat.

Season with salt & pepper, add capers, sprinkle with parsley and serve over pasta or ravioli.
Notes
This makes a small amount of sauce. You can double it if serving more people.
The flour is added in to thicken it up just a bit since typically the sauce is made in the pan that cooked the floured and egged chicken for the Francaise.