Summertime Orzo Salad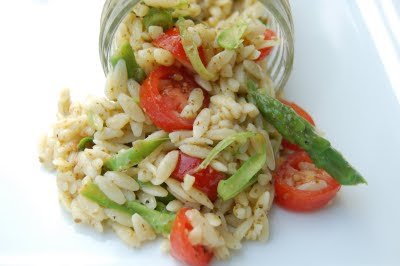 Sometimes the simplest, cleanest flavors are the best…do you know what I mean?
One of the things I love best about this time of year (besides watching my children frolic on the beach, picnics, swimming and hanging outside late into the night, looking up at the stars with a tasty cocktail in my hands with my husband and friends) is the food!
Grilled meats and seafood paired with fresh and flavorful salads and side – that is a winning combination for me!
Orzo is one of those staples that you can take in many directions, here I have just highlighted a few vegetables by tossing in some store-bought pesto and seasoning and the result… great light and refreshing side dish. Perfect alongside any grilled meat or on its own as a wonderful lunch. Add in some grilled shredded chicken for a heartier dish.
You can really take this anywhere…add in chickpeas or black beans or some feta cheese. Drizzle balsamic over or just toss with some flavored oil – anything will work.
Summertime Orzo Salad
1/2 box (or 1/2 pound)of Orzo Olive oil
1 bunch of asparagus
1 pint of grape tomatoes
4 scallions, sliced thin (white and greens)
1 tsp fresh lemon juice
4-5 TBS pesto
Spices to taste (see note)
Cook Orzo to package directions (al dente). Pour into your colander to drain and immediately begin running cold water over it to completely cool it down. Toss with a TBS of olive oil and set aside.
Slice the tips off of your asparagus, set aside. Using a peeler, lay your asparagus stem on your cutting board and peel "up" against your flat asparagus, getting some nice shavings…continue until you have about a cup full, set aside.
Halve your tomatoes, set aside.
Fill a small pot with water and throw in a pinch of salt, bring to a boil. Add your asparagus tips and blanch for 1-2 minutes (depends on how thick your asparagus is…you want it crisp-tender). Remove to a paper towel with a slotted spoon.
As soon as your water goes back to a boil, add in your asparagus shavings and blanch for 20 seconds. Remove with a slotted spoon to a paper towel.
Combine your vegetables with the orzo, add in the lemon, pesto and seasonings.
This can be made a day ahead…cover it tightly and keep in the refrigerator. Add a TBS or two of pesto to refresh it just prior to serving.
I am a huge fan of A Salt for All Seasonings made by Market Day Gourmet. If you have kids in elementary school, chances are you have the option to place a monthly order with Market Day, as a continuous fundraiser for your school. I swear by this spice. If you do not have access to it…just combine some sea (or kosher) salt, dehydrated onion and garlic, paprika, dried parsley and if you can find it dehydrated lemon peel and you will be good to go!
Enjoy!!