Zucchini Parmesan Cakes

Dear Mom and Dad,
I apologize for never eating my veggies as a kid and for all the times I hid the food I didn't want to eat (or flushed it down the toilet...oops, who knew that could lead to emergency plumber calls).
Love,
Colleen
Now that I got THAT off my chest, let's talk about zucchini! I really didn't begin allowing zucchini into my mouth (or life) until about 15 years ago. Often while out to dinner, alongside an entree, some julienne crisp-tender veggies would arrive. I began to nibble at them and quickly realized:
1. I didn't die
2. They tasted pretty darn good!
3. I was getting older, and it was about time I began eating a bit more food that was "good" for me.
SO, I began playing around with zucchini. Grilled is my favorite way BTW.
Since I spent half of my life avoiding cooked vegetables, once I began allowing them slowly into my life, I often "disguised them. You know what I mean...veggies in a casserole, hidden in a cream sauce or smothered in a crunchy topping. My mind was set against them.
Slowly I began liking more and more cooked veggies.
Maybe it was because I was happy with myself for cooking them and wanted to like them.
Maybe it was because I now knew how nutrient filled so many of them were.
Maybe it was because I had become a mama and knew I had to set a good example.
Who knows really, I'm just happy I changed 🙂
Mushrooms, however, have nooooo place in my life (except to please others). And that's one thing I'm not gonna change!! lol
Anyone out there do any funny...err I mean embarrassing things as a kid when YOU didn't want to eat your meat or veggies? I know I can't be alone in this. Come on...spill it!!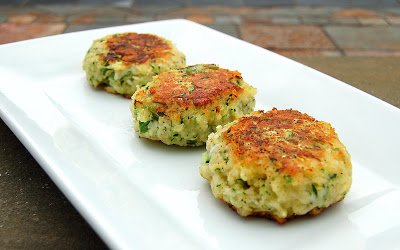 This is one of my favorite was to enjoy zucchini. It's my interpretation of a side a local restaurant (now closed...sniff) used to serve. I just changed up the cheese (they used Haloumi) and added a few things I knew I would like. They called it a fritter, I call it a cake.
Zucchini Parmesan Cakes
1 large zucchini, grated
½ cup plain Panko
¼ cup shredded (or grated) Parmesan cheese
3 TBS chopped scallions
Kosher salt and pepper to taste
1 egg
Olive oil for cooking
After grating your zucchini, be sure you squeeze out as much liquid as you can. Then blot with a paper towel. In a medium bowl combine zucchini, Panko, Parmesan cheese, scallions, salt and pepper. Toss until combined. Add in the egg and gently toss until combined. Shape into small cakes. Allow them to set for at least 20 minutes in the refrigerator before cooking.
Coat your frying pan with oil, heat over medium high heat and cook your cakes 2-3 minutes per side or until golden brown on each side. Serve.
Options: You can make these the size of crab cakes for a fantastic side dish, or you can make them smaller for a fun party appetizer. I have made these with dill as the prominent flavor, I have topped them with a bit of Greek yogurt, I have squeezed a bit of lemon in them and I have spiced them up a bit with red pepper - customize them as you like 🙂
Enjoy!!