5 Ingredient Hot Vidalia Onion Dip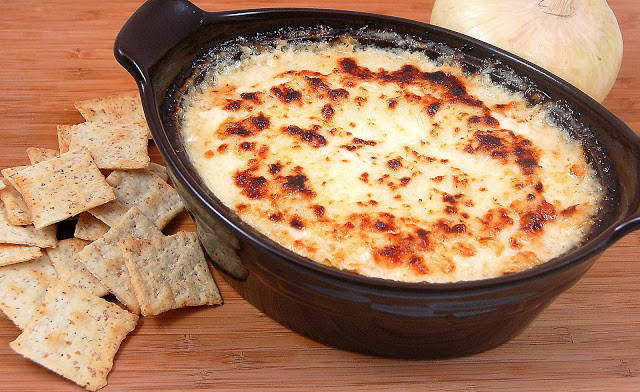 One of the appetizers I have been making a lot lately is this incredible, easy, and oh so addictive Hot Onion Dip.
Sometimes the simpler the dish and the fewer ingredients it takes to make it yields incredible flavors!
This is GOOD! Like "get outta my way….move my seat next to the dish….forget about the other apps kinda good"!
Now I have a problem – my husband who was too busy eating all the other offerings around all the other times I made this was immune to its power – however NOW that I made it just to toke a photo of it to share with you all – the jig is up….he went crazy for this. I need to think of a good strategy for the next time I make this if he is around…so I can get my fair share! Lol
The trick is to keep it cooking – you want the top nice and brown – of course all the other times I made this it was really brown on top however this time, I was out of time in order to get a picture, so I pulled it out a little early. I had to get the kids to CCD on time – lol! See the brown patches below you want more of those – over about 75% of the dish.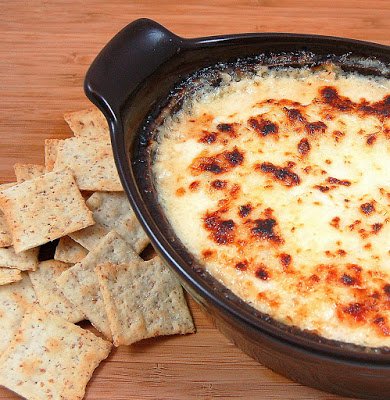 This comes from the White on Rice Couple – who I have to say make the most AMAZING videos – they know how to touch your heart and they have a gift for pairing the perfect music to each video they do!
5 Ingredient Hot Vidalia Onion Dip
-White on Rice Couple
1 8oz package of cream cheese, softened (as a gal from Philly, I adore the one and only Philly Cream Cheese)
1 cup mayo
1 cup shredded Parmesan cheese
1 cup of diced Vidalia onion
1 tsp pepper
Serve with slices of crusty bread or some Stoned Wheat Crackers
Combine all the above (make sure your cream cheese is soft and mixes well).
Scrape into a baking dish. Let the flavors mingle while you heat the oven to 350 degrees. Bake for about 45 minutes or until the top is nice and brown – the browner it gets the more flavorful it will be. OH and invite me over!!!! Yum!!!
Enjoy!!