Apple Raisin Bread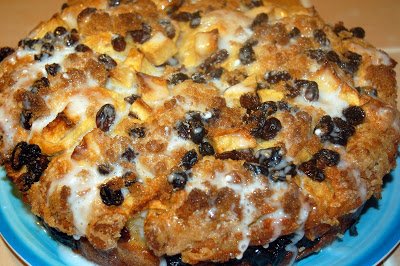 OOOOOH Mamma!! My 5 year old and I were tooling around trying to mimic the Cobblestone Muffins they sell at Panera (so stinkin' good) and this was what we ended up with.
We made it as one huge Apple Raisin Bread instead of as muffins.
My husband, kids and I really enjoyed it. Hope you do too – I think looking at it you expect a cake, but it is actually a bread…so the topping is sweet but the bread part is not. You could make the batter more cake or muffin like if that is more to your liking, throw in the apples, raisins and spices then top it the same.
I am sure it would be great that way as well.
Apple Raisin Bread
For the Dough
4 eggs
1 cup sugar
dash of salt
2 cups of warm milk
1 stick of butter, melted
7 1/2 cups flour
1 packet yeast, dissolved per packet instructions
Fruit Filling
1 cup raisins
2 apples, peeled and cut into chunks
Topping
2 cups brown sugar
1/2 cup sugar
5 TBS Cinnamon
1 cup butter, melted
Drizzle
1 cup powdered sugar
bit of milk
In a large mixing bowl beat eggs, sugar and salt.
Add in in the melted butter and warmed milk and eggs, mix well on low speed.
Add in half of the flour, one cup at a time. Add in the yeast, mixing well.
Add in the remainder of your flour.
Turn out your dough into a greased bowl and let it double in size.
In a medium bowl combine the brown sugar, sugar and cinnamon.
Have your melted butter ready in a small bowl.
In a bowl combine your raisins and apples, toss with some of your cinnamon sugar mixture, set aside.
Line a circle cake pan with parchment paper (or a large muffin pan or 2 loaf pans).
Begin to grab a bit of dough and roll it into a ball, about the size of a walnut (2 inches), dip the ball into the butter mixture, roll in the cinnamon, sugar mixture and place in pan. Repeat until your pan is covered.
Place about 50% of your apple raisin mixture over the balls in the pan.
Continue topping with dough balls. Once finished, top with the remaining apple raisin mixture., sprinkle with any remaining cinnamon sugar mixture and bake at 350 degrees for about an hour.
Place a baking sheet under your cake pan to catch drips.
If you are making large muffins bake time will be about 30 minutes.
Make drizzle by adding a bit if milk to the powdered sugar, you want a thick icing, so start with a teaspoon of milk at a time.
Once cool, drizzle with your icing mixture.
Get a pot of tea ready and enjoy!
Colleen