Avocado Crab Cake Sandwich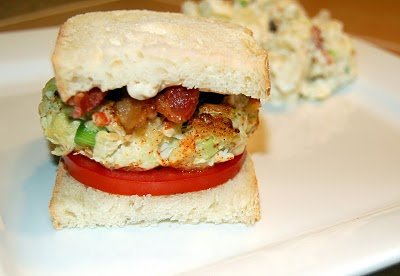 I LOVE crab cakes!
I love making them, tasting them as I make them, cooking them up and serving them to my guests. I love opening up a can of Phillips Jumbo Lump Crab meat and plucking one or two (ok...or three) meaty chunks of crab meat and popping them in my mouth. I have never published my crab cake recipe (and it's only one of about 5 recipes I keep to myself) and plan to keep it that way...I have something percolating in the back of my mind about them.
Anyway, I wanted to share a completely different crab cake from my go to crab cake.
This one is a lot of fun and as everyone always says - bacon never hurts!
One beautiful day while on a family outing, I had a sandwich similar to this.
It was good! I remember offering my husband a bite and then him looking at his burger, then longingly looking back at my sandwich, lol...all attraction to his burger vanished! You KNOW I did in fact hand over the last 2 bites of my sandwich to him in the end - Hey that's what love is...for me anyway!!
Can you just see the beautiful bits of avocado in these uncooked cakes? YUM!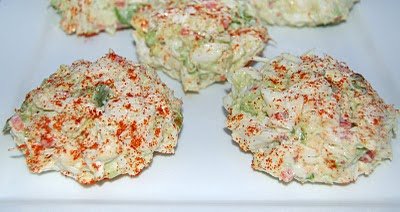 For a special lunch or light dinner try these babies out!
I do not think you will be disappointed 🙂
Avocado Crab Cake Sandwich
1 16 oz can jumbo lump crab meat (I am a Phillips fan)
1 cup fresh breadcrumbs (pulled out from a loaf of French bread)
4 scallions chopped (both whites and greens)
½ to ¾ cup mayonnaise
3 TBS chopped red pepper
1 teaspoon coarse mustard
Few squeezes of a half of a lime
A few good sprinkles of cayenne/red pepper
1 ripe, soft avocado
Olive oil for cooking
Sandwich
Bread or roll of your choice
Bacon (I like slab bacon, sprinkled with a bit of brown sugar and red pepper prior to cooking)
Tomato, sliced
Your favorite remoulade or tarter sauce or use the simple one below.
Sauce
½ cup mayonnaise
Few dashes of red pepper
Few dashes of lemon juice
Dash of Worcestershire sauce
Optional: A few TBS of mashed avocado
For crab cakes: Combine all ingredients except avocado into a medium bowl. Halve avocado, remove pit and scoop out the inside and add to the mixture (avocado should be soft) in small chunks. Combine the mixture with your hands or a spatula until incorporated.
Form into cakes...if your first cake is not holding together well, add a bit more mayo. When forming the cakes, really put some pressure on each by cupping your hands, hard. Place cakes on a plate, cover loosely with plastic wrap and let them set in the fridge for 30 minutes or so.
When ready to cook, heat a frying pan with a couple teaspoons of olive oil in it over medium high heat, once hot add crab cakes, cook 3 minutes per side or until crispy brown.
Assemble sandwich as pictured and enjoy!
Colleen