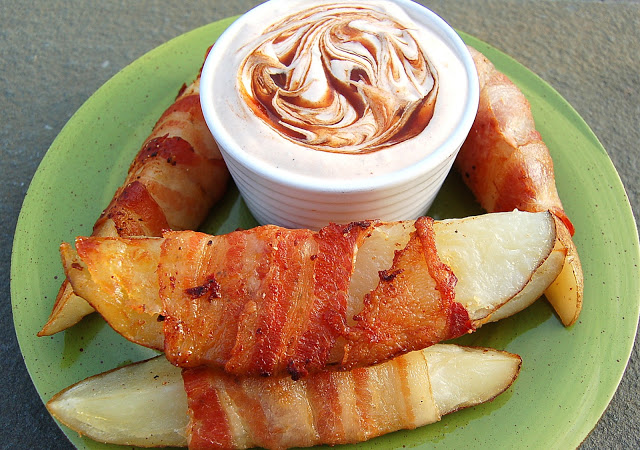 First, you know I struggle with the whole I-have-to-take-a-picture-of-what-I-make-for-my-blog-thing.  My passion is making food, feeding others and cooking with my kids.  I struggled to get a decent photo of these potatoes…so much so that I made them twice in a week…so this is what you get.  I just can't figure out what to do with them besides eating them, lol! BUT we did get to enjoy them twice in 2 weeks!!
Second, I have no clue what is going on with me and bacon lately…this is it's 4th appearance in the last 12 posts. (AND It will show up again next week in an incredible salad that you do not want to miss…trust me!)  After this I will try to behave myself.  I am a big believer in balance and moderation.  So I think the 3000 Cuties aka California Mandarin Clementine's that my kids and I have been gorging on these last 2 months or so erase any bacon overindulgence.  I am in my happy place at that thought…let me be 🙂
Last summer 4 girlfriends and I were food shopping for a weeks vacation with our families to Deep Creek lake Maryland, which BTW is a fantastic family friendly vacation spot!  My family has vacationed there twice in the last 4 years.  Just before we hit Costco for our shopping frenzy we grabbed a quick dinner and a couple of drinks.  The seasonal app we ordered was so good that even though I had only had 1 piece, almost a year later I still think about it.  SO for a party I recreated it – I figured any self-respecting St Patrick's Day party needs potatoes of some sort.  I brought 2 trays full and they were a huge hit!  They were gone in minutes!
I think this makes a great and easy appetizer for small gatherings or a good one for large parties as long as you have the oven space.  Kids and adults alike will gobble these up in no time.  They are so easy to prepare and you can have them prepped hours ahead of time.   Which to me is always a good thing!
If you like potatoes, here are a few other potato recipes that I make from time to time: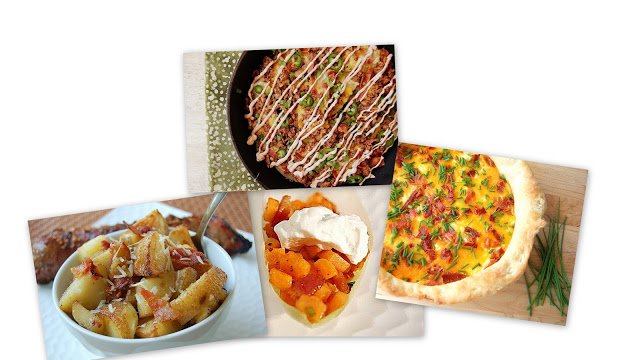 These Roasted Potatoes with Bacon & Parmesan  are SO good and make an appearance as a side dish year round in my house once a month or so –
These Loaded Potato Nachos are a fun twist on the traditional!
This Mashed Potato Pie is just plain crazy fun!
And THIS is a FAVORITE app of mine, I always make it for Thanksgiving as well as anytime I am in the mood – Endive with Sweet Potatoes and Chives
Bacon Wrapped Potato Wedges with BBQ Ranch Dipping Sauce


4 baking potatoes
Olive oil
Kosher salt and pepper
16-24 strips of bacon
BBQ Ranch Dipping Sauce


1 cup of sour cream
1/2 packet ranch seasoning (.5 oz)
3 TBS BBQ sauce
For the potatoes:
Clean your potatoes, slice each potato into wedges (slice in half then in halve again OR if you potatoes are large slice in half and then slice each half into 3 wedges).  Place your wedges into a pot full of salted water and bring to a boil.  Boil for about 5 minutes or until the potatoes are slightly tender.  You don't want them to cook to much or they will fall apart later.  Immediately and gently, run the pot of potatoes under cold water to cool them down. Once the potatoes are cool enough to handle,drain them, gently pat blot them dry then  put a bit of olive oil on your hands and gently oil each potato a bit.  Season the potatoes with Kosher salt and pepper and wrap each potato in a piece of bacon.  Place the potatoes on the tray after you wrap each one, bacon seam side down.
Once ready to cook, preheat oven to 425 degrees and cook your potatoes until they bacon crisps and they are tender.  About 25-35 minutes, depending on the size of your potatoes.  Serve when done.
For the sauce:
Mix the sour cream and ranch dressing until smooth, add in the BBQ sauce and stir until incorporated.
Notes:  Ovens are different, if your oven runs hot, cook these at 400 degrees.  Or you can start out at 425, see whats happening and choose to lower it for the last 10 minutes or so.
Enjoy!!