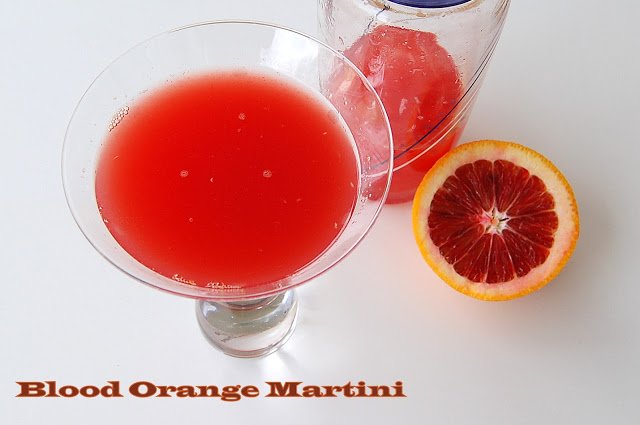 I-Love-These!! Love, love love them!!


Years ago our friends Derek and Karen introduced us to them and I have been know to get a wee bit tipsy whenever these babies are around, or so people say lol! My husband knows to go on high alert if he see's me with my old fashioned juicer out and oranges anywhere in the vicinity.
What can I say? It has always been hard for me to find something I like to drink more than one or two of. I do not like beer…at all. I have found a couple of wines that I enjoy. I am always up for a fun cocktail, but other than Long Island Iced Teas or Sweet Caroline's Sweet Tea Vodka mixed with fresh squeezed lemonade, the only other drink I can really get into are my Chambord Margarita's. Oh and I can't for get Martini & Rossi Asti Spumante…if I ever had a last drink request…it would be a glass of asti…sigh!
My friends say I am high maintenance when it comes to getting my drink on.
The way I see it, when I break out these Blood Orange (or Cara Cara orange) Martini's, I am doing myself and my friends a service, after all vitamin C is a good thing…right?? Oh and I may or may not have had 2 of these last Friday morning at 11:15….what can I say, I couldn't just throw them out after taking a picture...and it was Friday!
What is your absolute (no pun intended) favorite cocktail?

Blood Orange Martini's
2 cups of Blood Orange juice (about 6-7 Blood Oranges)
1/2 cup to a cup of good quality vodka, depending on your taste
1 TBS pure vanilla extract
Optional: sugar

Martini Glasses
Cocktail Shaker
Ice

Squeeze your oranges and reserve the orange juice in a small pitcher or large measuring cup. Sometimes depending on the sweetness (or tartness) of the oranges, I add a bit of sugar…no one even knows it. If you feel your oranges are a bit on the tart side, add a bit of sugar until you get the taste you want.
When ready to serve, combine orange juice, vodka and vanilla in your ice filled cocktail shaker. Do a fancy over the shoulder shakey-shake and strain into your glasses.
I am telling your now – you will want to grab a crate of oranges because this drink goes down smooth and easy – absolutely perfect for a girls night in!! I have been known to bring a huge container of freshly squeezed Blood orange juice or Cara Cara Orange juice to gatherings…and it is always GONE!

I know that vanilla vodka is available, however I like the taste of adding my own much better. Let me know if you tried this out and what you think…and I am I apologize in advance for any mischief you may get into 🙂
Cheers!