Are you ready for the BEST Garlic Bread of you life??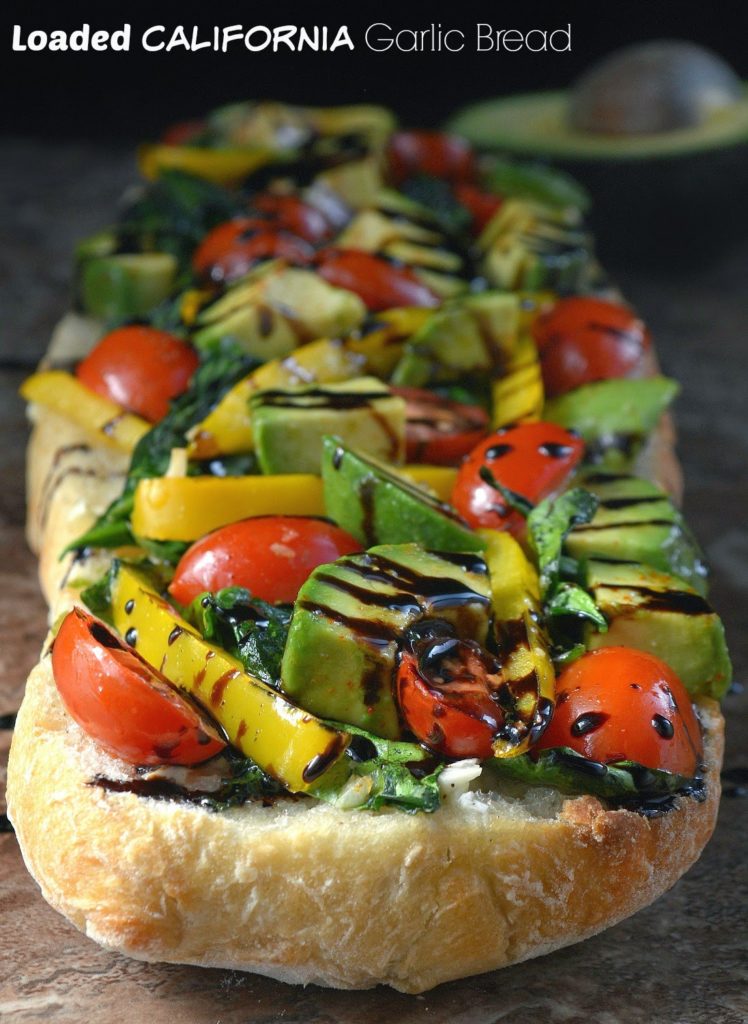 I'm
thrilled
to share that this year I am partnering with
California Avocados
 as one of their 2015 Ambassadors, which means I will have some seriously delicious recipes coming at you featuring their deliciously decadent and good-for-you too avocados! To kick it off take a look at this California Garlic Bread With Sauteed Spinach & Avocados. It is soooooo good!
And (cue the cherubs with the trumpets) California Avocados are beginning their season!! From now till September or so, we get to taste the delicious difference of a sun-kissed, hand-grown, California Avocado! I have never been to California, however I imagine the colors of all of the fruits and vegetables grown there to be as colorful as this garlic bread!
I am SO excited to share the first recipe I came up with. This California Garlic Bread With Sauteed Spinach & Avocados is a twist on the traditional garlic bread.  California Avocados asked me to "California-ize" something I enjoy, since ya know avocados just scream Cali!  For whatever reason, garlic bread popped in my mind, so I ran with it!
And I am so happy I did!
This may be one of the most delicious bites I have ever put in my mouth! This California Garlic Bread With Sauteed Spinach & Avocados is perfect for a snack, side or even a meal all on its own.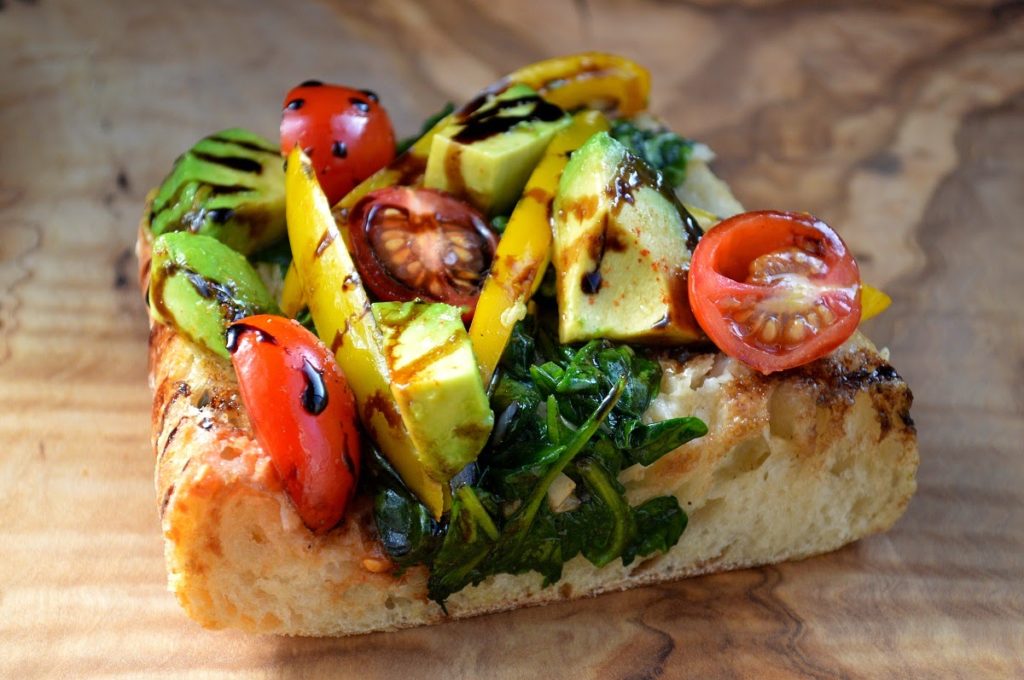 This dish is so insanely delicious that I wish I had thought of it sooner!  I keep saying to my husband "a restaurant should put this on their menu, it would be such a great appetizer or lunch offering!" Just talking about this California Garlic Bread With Sauteed Spinach & Avocados makes me want to run to the kitchen and make it again...I actually think I will, lol!
Who doesn't love a hunk of hot and crispy garlic bread, pulled fresh from the oven...am I right?
Well, the addition of a few unexpected ingredients transforms it from a simple side, into a meal!  A meal with some value too! Avocados, sauteed spinach, tomatoes, peppers, these are some good for you toppings!  Dress it up with a generous drizzle of balsamic reduction/glaze and wow! I admit, I have a serious addiction to balsamic glaze, I can drink the stuff !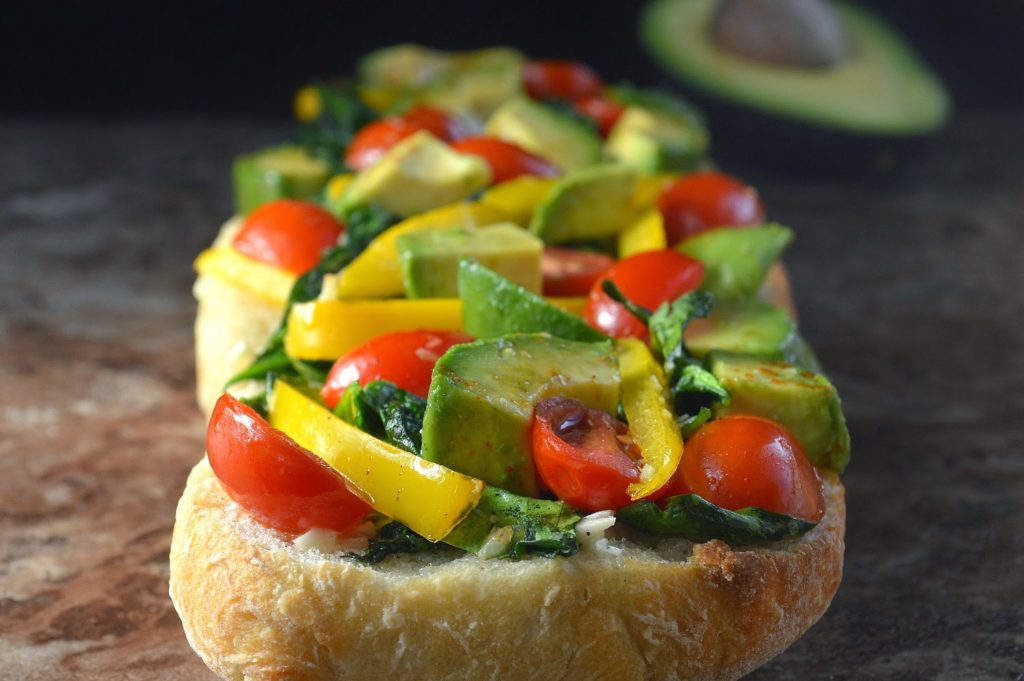 This really is pretty, delicious, and it gives you way more substance that a regular old hunk of garlic bread and if a balsamic drizzle is not your thing (gasp!) simply leave it off!!
The hardest part of making this dish?? Not eating all of the avocado chunks you tossed in a bit of oil, salt & red pepper. Ummm, yeah...I had to cut some more by the time my bread came out of the oven!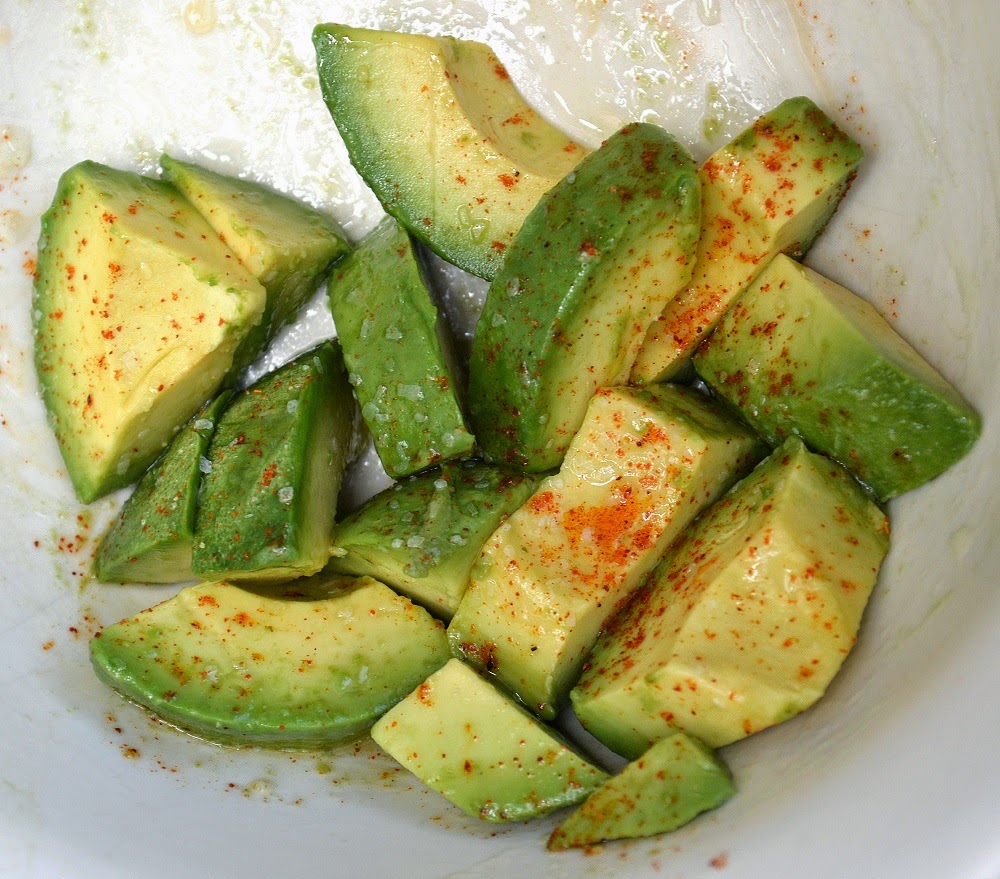 I hope, hope, hope you try this recipe! If you do I'd love you to tag me (Souffle Bombay) & California Avocados on Instagram or Facebook! We'd love to see your creation!
This recipe is brought to you by California Avocados, I was compensated to create a series of recipes for them, which I am super-excited about...enjoy!
To learn more about California Avocados find delicious recipes or simply learn or how to buy, peel, cut or store them visit www.californiaavocados.com. They have a gorgeous website, enjoy looking around it!


California Garlic Bread With Sauteed Spinach & Avocados 
1 Large loaf of Ciabatta or Italian Bread (or your favorite)
¾ stick (6 TBS) butter
3 TBS minced garlic (divided)
Kosher salt & pepper
4 cups fresh spinach
1 lemon
1 TBS grapeseed or olive oil
1 cup halved grape tomatoes
1 yellow pepper
1 Fresh California Avocado
Red pepper
Balsamic Reduction/Glaze


Preheat your oven 400 degrees.
Slice your bread right down the middle lengthwise.  Reserve one side for another use (or use it and double the above ingredients).
In a small microwave safe bowl, melt your butter, add in 2 TBS of minced garlic, season with Kosher salt and some black pepper, stir and allow it to sit for a few minutes for the flavors to mingle.
Place your half loaf of bread onto a baking sheet, liberally brush it with your garlic-butter mixture. Set aside.
In a small skillet, saute your oil and garlic for 1 minute add in your spinach and stir for another minute or so, just until spinach begins to wilt.  Remove it from the heat, squeeze a few drops of fresh lemon juice, give it a stir and then spread it our over-top your prepared bread. In the same pan, add in your tomatoes, and peppers and saute for 2 minutes.  Place them atop the spinach-topped garlic bread, season with a bit of Kosher salt & pepper (and red pepper if you want some heat) and bake for 10-12 minutes or until done to your liking.
While the bread bakes, cut up your avocado into bite sized chunks.  Toss the chunks with a teaspoon of grapeseed or olive oil, Kosher salt and red pepper.  Give it a small squeeze of fresh lemon juice and toss.
Once the bread is out of the oven, add the avocado pieces over-top, drizzle with balsamic reduction/glaze, cut into sections and enjoy!!
Colleen's Notes: The size of a loaf of bread varies, the above recipe was made multiple times using half of a large ciabatta loaf.  I don't like my garlic bread to-be super-crunchy.  If you do, leave yours in the oven 3-5 additional minutes.
Enjoy!!