Candied Popcorn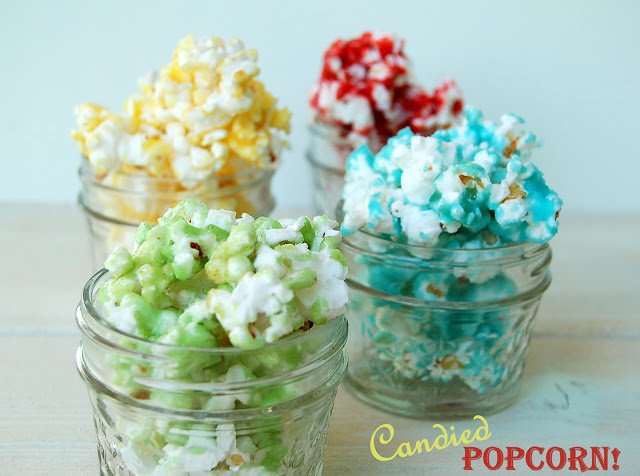 I was at a party earlier this year and spied a bowl of vibrant green popcorn my friend Maria made and was instantly intrigued.  I popped a few pieces in my mouth and was like "what WAS that??"
It was crunchy and sweet and it had a somewhat familiar flavor but I couldn't place it.  All I knew is that I wanted more and that I couldn't wait to get me kids to try it!
It was FUN!!!
I love fun food for kids, I have always gone above and beyond to excite them, their friends, cousins and classmates with fin and tasty treats for whatever the occasion.
This weekend one of my nieces made her First Holy Communion and I wanted to do something fun for her.  At first I thought I would hand decorate cross-shaped cookies, but then I thought…how about a fun and colorful popcorn bar??  So THAT is just what I did and boy was it a hit with the kiddos (both big and small…ahem you know who you are…suuuure the baggies you were taking home were for the kids, lol!!)!  The kids kept gathering around the "Popcorn Bar" and trying all the colors and asking each other what their favorite was.  Even my soon to be 2 year old niece was obsessed, happily chomping away throughout the day, while in her parents arms.


My beautiful niece on her special day!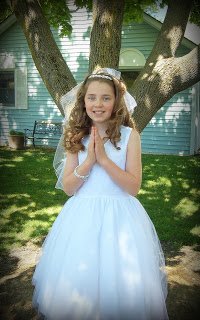 Let me tell you…if you are ever going to a party where kids will be and you don't really know many people – THIS is an amazing ice breaker, everyone will be asking you about it.  Your welcome for that tip lol!

Two of my favorite things about this recipe are: 1. You can make it ahead and 2. It's SO easy to transport.  I didn't have a chance to snap a pic of the set up I had the day of – just place each color in its own bowl – inexpensive white plastic bowls work great – they contrast the colors and make it all stand out.


The popcorn setup looked so pretty and complimentary to the yellow dipped and decorated marshmallow pops my sister and our friend Becky made and the delicious chocolate and chocolate mousse filled cake – the kids and adults all had a great day filled with friends, family and fun food!
If you like surprising and delighting the kids in your life with fun food you might want to check out: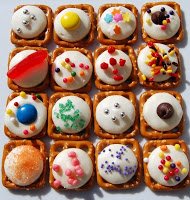 Edible Pretzel Art for kids to make and eat!Fun, easy and they travel well!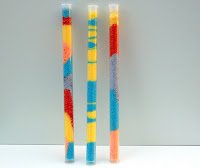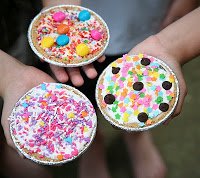 Edible Sand Art – Perfect activity  for a party activity AND it doubles as the kids goodie-bag treat!
Another project they can make then eat – Ice Cream Pies…unleash their inner Picasso!
For more fun food for kids click on the link to the right "recipes for kids".
Candied Popcorn
8-9 cups popped popcorn (I used 1- 3.5 oz bag of Newman's Own Natural Tender White kernels for each batch)
1/4 cup butter
3 TBS light corn syrup
1/2 cup sugar
1 small package Jello, any flavor/colors that will work with your theme (I used Lime, Strawberry, Lemon and Blue Raspberry)
Pop your popcorn according to package directions (I chose to use a white popcorn with out butter).  After you pop it, pour the popcorn into a large bowl, swirl it around and allow any remaining kernels to sink to the bottom, place the popcorn in a larger bowl (one twice the size of the popcorn) and set aside.  Throw out the kernels from the other bowl.  Line a baking sheet with parchment paper, set aside.  Preheat your oven to 350 degrees.
Combine the butter and corn syrup in a pot and over medium heat melt the butter, stirring once or twice.  Add in the sugar and jello package and stir to combine.  Bring mixture to a boil. Allow it to boil for 1 minute, stirring the whole time.  Remove pot from heat and continue to stir for another minute.  Immediately pour the mixture over the popcorn, trying to drizzle it over as much of it as you can.  Simultaneously, using a big rubber spatula, quickly toss the popcorn all around to try and get as much area covered as you can. Quickly turn it out onto your prepared baking sheet and pop it in the oven for 9 minutes.
Once done, remove from the oven and allow it to cool on the tray, once completely cool, break it up into small hunks and store in an airtight container or large (2.5 gallon) storage bag.  Repeat with each color you are using.
Notes: As you know by now, I am a HUGE advocate when it comes to allowing your kids to cook alongside you in the kitchen.  However this recipe – no way!  They only part they can help with is the popping of the corn and or the breaking up of the finished treat for storage.  The sugar mixture is boiling hot and will burn them in an instant – you too if you are not slow and methodical when you mix it up.  So be careful.
I wash my pot between each batch – it's a bit of a pain – you really need to let hot water help do most of it.  Initially I washed by huge metal bowl in between each batch…but realized i didn't have to, since any bits of candy clinging to it stayed there and didn't color-contaminate the next batch.  That stuff really sticks to the bowl and pot – whew…BUT it is so worth it!
Once you do the first batch and figure it all out…the process is a snap!
Last – do not in any way-shape-or-form burn the popcorn when you first cook it – if you do, throw it out and start again – no one wants to eat burnt popcorn.
-Recipe adapted from The Mother Huddle
Enjoy this fun treat!!