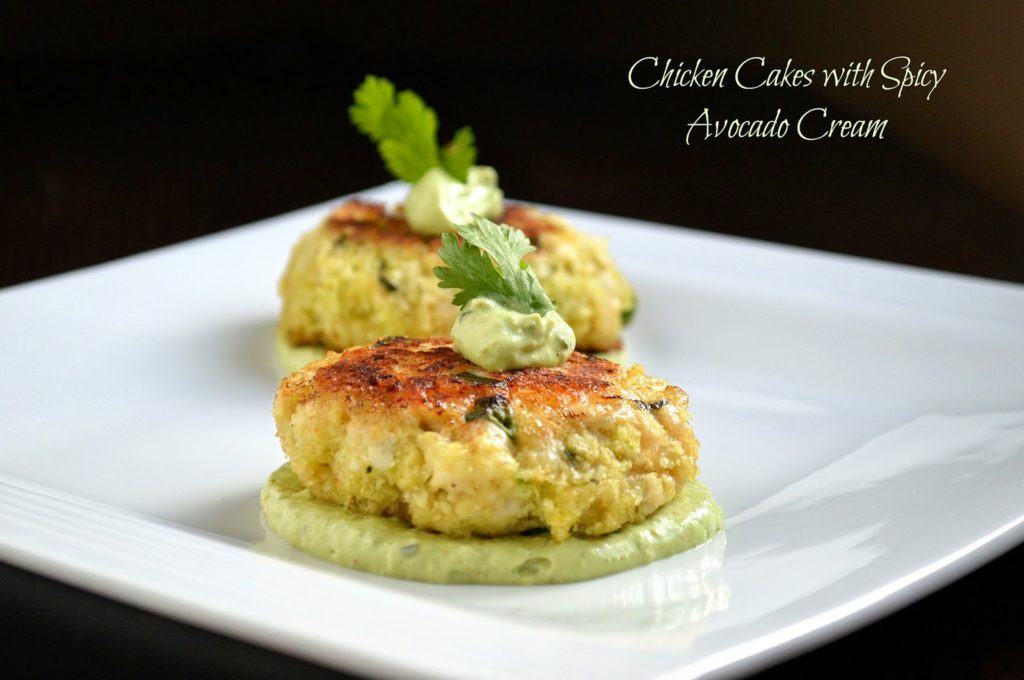 The other week I was lucky enough to receive a handful of early season avocado's from the California Avocado Commission, I call THAT a good mail day! I instantly mashed one up one of those beautiful avocados for my favorite Bacon & Tomato Guacamole as lunch that day.  As I was enjoying that I thought about the full crop of avocados that will soon be in season from the almost 5000 growers in California, I was wondering what the growing process and harvest was like each year and if they celebrate it in some fashion, then I thought about what to do with the other avocados sitting on my table.
I had ground chicken on hand from the farmers market so I decided whatever I would make for dinner was going to involve that.  I was going for something my whole family would eat.  Now that my kids are 9 and 12 they will try anything I offer. I love seeing their reactions to every new forkful coming their way. The trick however is to get them to open their mind to deciding they like it and ask for more.  My daughter is so polite she usually says "Mmmmm, that's good," but then often says she doesn't want any more.  My son always gives it to me straight – "Ugh no mom that is terrible" or "THAT is a-mazing" or small critiques like he is a judge on a food show like "It's ok mom, but its not your best".  He cracks me up!  The best thing when it comes to my son and his food is this…for years he has been coming over to me and giving me a kiss after a meal, especially after a dinner he thought was fantastic.  We call it "Kiss the Cook", sometimes he sneaks up behind me and wraps his arms around my waist and says "Thanks mom that was really good".  I melt…and it makes me want to run right back to the kitchen and cook him something else.  I hope this continues for the rest of our lives….Love you Connor!
I decided to make chicken cakes, fashioned after a crab cake. I am happy to report that my son ate two…my daughter on the other hand, who rarely eats meat (food allergies – she can only eat fish & chicken) ate only a few forkfuls, however she did eat all of her sauteed spinach!
These were fun, they would be great made as minis for an appetizer offering.
Chicken Cakes
1 TBS olive or grapeseed oil
1 TBS minced garlic
1 TBS minced ginger
3/4 pound ground chicken
1/4 cup thinly sliced scallions
1/2 a jalapeno, minced (for extra heat leave in the seeds & stems)
A few dashes of red pepper (if you like heat)
A few dashes cumin
Salt & pepper
In a small pan, saute your garlic and ginger for about 2 minutes or until fragrant over medium heat, stirring constantly (be careful to not burn the garlic).
In a work bowl, combine your ground chicken, scallions, jalapeno, salt and pepper.  Add in your sauteed garlic and ginger.  Combine until it comes together and form into mini or full sized cakes.  If you feel your mixture is too wet, add in  just a bit of Panko or breadcrumbs.  I have done it both ways, it just depends on your ground chicken – I like to use a combo of white and dark meat that I get fresh ground from our farmers market.  Place your cakes in your fridge to set for at least 30 minutes.
Colleen's Notes: You can grind your own meat in your food processor.  Give it small pulses until it is ground.  You can experiment and add in various flavors to your chicken cakes if you like, like fish sauce and soy sauce or you could throw in some chili with garlic sauce (you know how much I love that!!). If you are adding in wet ingredients, just add in some breadcrumbs or Panko to help hold it together.
when ready to cook the Chicken cakes, heat 2 TBS olive or grapeseed oil in a frying pan and cook your cakes over medium-high heat until done.  For small cakes 4-4 minutes per side, for larger cakes 5-6 minutes per side (lower the heat a bit when you flip them).  You can also bake them in the oven on a greased baking sheet at 400 degrees – 11-12 minutes for minis and 15-16 minutes for larger cakes, however baking them does not give them the nice brown crust.
Spicy Avocado Cream
2 ripe avocados, peeled & seeded
3 oz (6 TBS) plain Greek yogurt
3 oz (6 TBS)  sour cream
2 cloves of garlic, minced (if big cloves, just 1)
A few dashes of red pepper (if you like heat)
A handful of Cilantro leaves
1/2 a jalapeno pepper, minced (I include some of the seeds for extra heat)
1 TBS lime juice
Kosher salt to taste
Add all ingredients to your food processor (or blender) and pulse a until smooth. Adjust your seasonings to your liking, then scrape into a bowl. Cover tightly with plastic wrap (you want the wrap to touch the Avocado Cream) and chill for 20-30 minutes.
When ready to serve, dollop some Spicy Avocado Cream on to each plate, top with a Chicken cake, top with a small dollop of additional Spicy Avocado Cream and serve.
Enjoy!