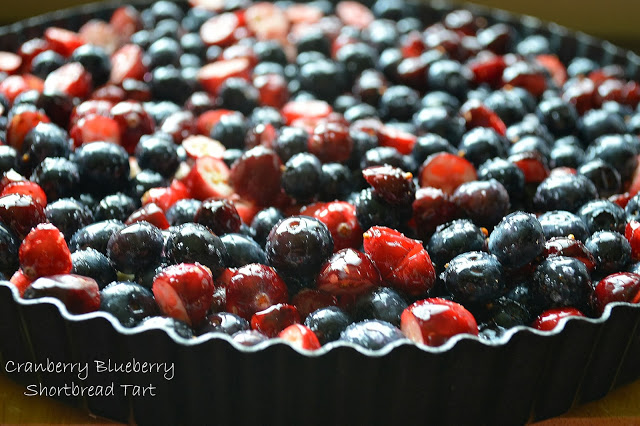 A go-to dessert of mine is a Blueberry Lemon Shortbread Tart. I love that it's easy to make, it travels well, and the taste is just incredible! You have an simple yet incredible shortbread, blueberries, custard, powdered sugar and lemon all meeting up to create a party in your mouth…bite after bite. Other than chocolate…a dessert just doesn't get much better than that! So many people I have made that tart for have fallen in love with it.
My first food blogger friend Monica, from Lick The Bowl Good (who answered the email from a random stranger asking questions about blogging then gave me the confidence to press the button to begin Souffle Bombay…thanks Monica!) is the one who inspired the recipe I share with you today. The only changes I made to her recipe were to increase the custard by half and commingle cranberries with blueberries.
I figured why not add in some cranberries for Thanksgiving/Christmas and make it festive for the season. So I tested it out and made this tart this weekend for a gathering we had at one of our friends houses. Saturday was a gorgeous day, after everyone finished up running the kids to hockey, dance, soccer and more we headed over to our friends Pat & Maria's house for some Cornhole (which is my husbands favorite outdoor activity) and ribs. Pat made 6 racks of ribs and big tray of grilled chicken wings. Man were they both good!!
Pat gave those ribs more attention than a newborn babe for hours until he knew they had reached perfection! Even the kids were chowing down on them – my son who never wants a rib – ate 3, my niece Skylar ate about 5….many of the kids faces were streaked with the evidence of just how much they enjoyed their meal – I really should have snapped a picture!! My husband & I totally enjoyed the ribs as well, but for me the star were those wings – OMGosh, the char and the flavor were spot on…loved them!
Ohhhh, we also had Moonshine! I made a big batch of Apple Pie Moonshine…but THAT is another story and post…coming soon!
Since nothing can slow my husband down when a game of Cornhole is in his future, the only photos I took of the tart were prior to my pouring the custard over the berries and it being cooked…we literally "evacuated" the house as if a zombie apocalypse was upon us the second the tart came out of the oven!
This Cranberry Blueberry Shortbread Tart is in my opinion a lighter offering for dessert. Small pieces are easily cut and it's not a bite that is heavy if you know what I mean. The addition of cranberries does lend it a bit of tartness which I enjoyed.
One more thing!! My friend Monica ALSO just had her first cookbook published…squeal!! It's called…yup, you guessed it Lick The Bowl Good and it is over 150 pages of Classic Home-Style Desserts with a twist! I am SOOOO excited for her…she is such a sweetie and that clearly shines through in her desserts! If you or someone you know like to bake…this book just might need to be in your/their future!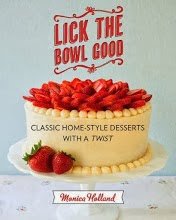 Cranberry Blueberry Shortbread Tart

1 cup fresh cranberries, halved
2 TBS sugar
1 stick plus 6 tablespoons cold unsalted butter, cut into pieces
1/2 cup granulated sugar
1 1/2 cups all-purpose flour
2 cups fresh or frozen blueberries


Lemon Custard
4 large eggs, plus 1 egg white
1 cup, plus 2 TBS sugar
6 TBS flour
Zest and juice of 2 lemons (about 6 TBS juice)
Powdered sugar, for dusting


Preheat the oven to 400 degrees. In a small bowl, toss your cranberries with 2 TBS sugar and set aside.


For the shortbread crust: Using your fingers, combine the butter, 1/2 cup of the sugar and 1 1/2 cups of the flour and blend together until coarse crumbs form (I use a pastry blender to incorporate the ingredients). Pour the mixture into an ungreased nonstick 9-inch springform or cake pan and press down evenly to form a crust. Bake the shortbread crust until lightly golden, about 20 minutes.


Remove the shortbread from the oven and reduce the temperature to 325°. Add the blueberries into the cranberries and toss. Scatter the berries evenly over the baked shortbread.


While the shortbread crust is baking make the lemon custard: Beat the eggs with the sugar until thick and pale yellow. Whisk in the lemon zest, the lemon juice and the flour (6 TBS). Pour the lemon cream over the raspberries.


Bake the tart until the custard is set (the middle of the tart should just barely wiggle), about 35-45 minutes. Let the tart cool completely, then dust with powdered sugar.


Colleen's Notes: The top of the custard doesn't brown much so it's hard to tell if it's done, but it shouldn't be wet and liquid. The custard is done when it firms up in the center. This may take longer than 35-40 minutes depending on the size pan used as well as your particular oven.
I keep this in the refrigerator until about 30 minutes prior to serving (unless it is a hot day and I am making the all blueberry version, I keep it in the fridge till serving).
If its not cranberry season – just make this with all blueberries! It's absolutely delicious that way – our summer favorite!


When cutting that first piece of your tart, use a sharp knife and press down firmly, as you are cutting through a shortbread crust…it will just "snap" and you are good to go! Just before serving sprinkle a bit more powdered sugar over top, it makes it so pretty! If you don't have a sugar shaker, just put a bit of powdered sugar in a small strainer and whack it on the side as you move it around over top the tart.


Enjoy!!