Death By Chocolate Shooters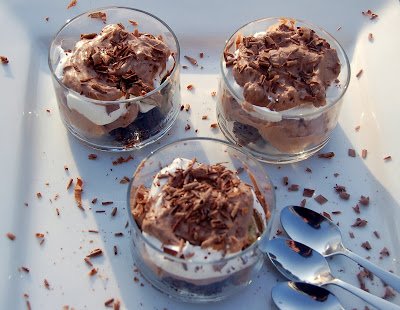 My girlfriend Susie is known for her chocolate desserts (as well as her chocolate addiction and her Jon Bon Jovi addiction…separately, however I am quite sure she wouldn't object if her 2 favorite things collided…LOL)! It's not possible to go to her house and not see remnants of the latest dessert she may have whipped up or smell chocolatey goodness floating out of her oven in the form of brownies or a chocolate cake.
And…I kid you not – she has chocolate candles…who knew! Ever wonder who buys those gigantic 5 pound Hershey Bars?? I won't mention any names!! However, I do have it on a good authority that a few Christmases ago Susie's Gran devoured all 5 pounds of the 5 pound bar a certain granddaughter bought her…all-by-herself!
I can see where her addiction comes from!
My husband goes crazy for her Dirt and her Death By Chocolate. Seeing as how I am not a huge chocolate lover (give me lemon, give me creme brulee, give me cooked fruit), he knows he can get his chocolate fix at her house.
A couple of months ago I ran a big fundraiser for a very sick young girl and Susie helped me out with the dessert table – it was covered with 250 desert shooter cups half of which were these chocolate delights and folks were loving them, I hope you will too!
This is a fun dessert to put out for a party. Kids love it, adults love it and it goes down easy! Plus you can make it a day ahead and it is perfect!
I am not sure where this recipe comes from, I did a few searches to find out but didn't come across one like this. All Recipes is the most similar I could find – many of the recipes I came across call for cake, toffee etc. I know my kids love the Twix Bars in Susie's version. I have to say that I am not a fan of Cool Whip (I always make my own whip cream) – however for this dessert it really is what you need to use. Enjoy!
Death By Chocolate Shooters
-My good friend Susie
1 box of brownies, made according to package directions
2 boxes of instant chocolate mousse, made to package directions
5 full sized Twix bars, chopped into small bites
1 large tub of cool whip (16 oz)
Chocolate bar for curls
Choose shooter cups a large bowl…begin by layering the bottom of your dish with pieces of brownie, top with 1/2 of the mousse, 1/2 your Twix bites, then 1/2 the whipped cream. Repeat. Shave some chocolate on top, chill then serve. You can make this a full day ahead – it stays perfect.
Enjoy