The holidays are here, gatherings, cookies swaps and parties are in full swing and we are often left thinking "what can I make that's easy, quick & a crowd-pleaser?"
This is one question I love and to me…party food is THE best!
Party food is just so fun. You get to taste whatever you want in quantities small as a bite or piled on a plate and I almost always new favorites!
Today's post is sponsored by Mezzetta who has been family owned since 1935.  The fourth generation of the Mezzetta family is continuing the commitment to bring their customers the highest quality foods available. They source the finest fresh produce from the sun-drenched soils of California, Italy, Spain, France, and Greece and prepare them according to their Italian family recipes.
I have been a fan of Mezzetta's products for a few years now and always have a few jars in my fridge.
What I like most about them is the fact, the assist me in making quick appetizers and those appetizers are not heavy with creams or mayo.  They are great for anitpasto trays, tapenades, sandwiches and more!
Growing up in Philly, hoagies and cheesesteaks were always around, especially around the holidays when we were extra busy doing this & that.  Growing up in a household of 7 required some downtime when it came to cooking and hoagies were one thing my parents enjoyed!  Whenever we had out of state visitors they always wanted a hoagie the day they arrived!
This Hoagie Dip is SO easy to make with the help of a few Mezzetta jars, its full of flavor, quick to make and travels well.  Plus you don't feel guilty enjoying it…really it's like a sandwich!  You can customize this to lean towards the hoagie or the muffeletta or even your favorite Italian style sandwich, the possibilities are almost endless.
Chop up the meat, give your chosen add in's a few pulses in your food processor, a drizzle of oil and seasoning and you my friend have yourself a party dish!
Usually, I make Hoagie Dip with mayonnaise however I have a couple friends who don't like condiments like mayo and decided to make a variation like you see here/ Since I was not using mayo, I decided to also leave some of the meats and cheese in large chunks than what we typically do when we make this.
When I make traditional Philadelphia Style Hoagie Dip it looks more like this: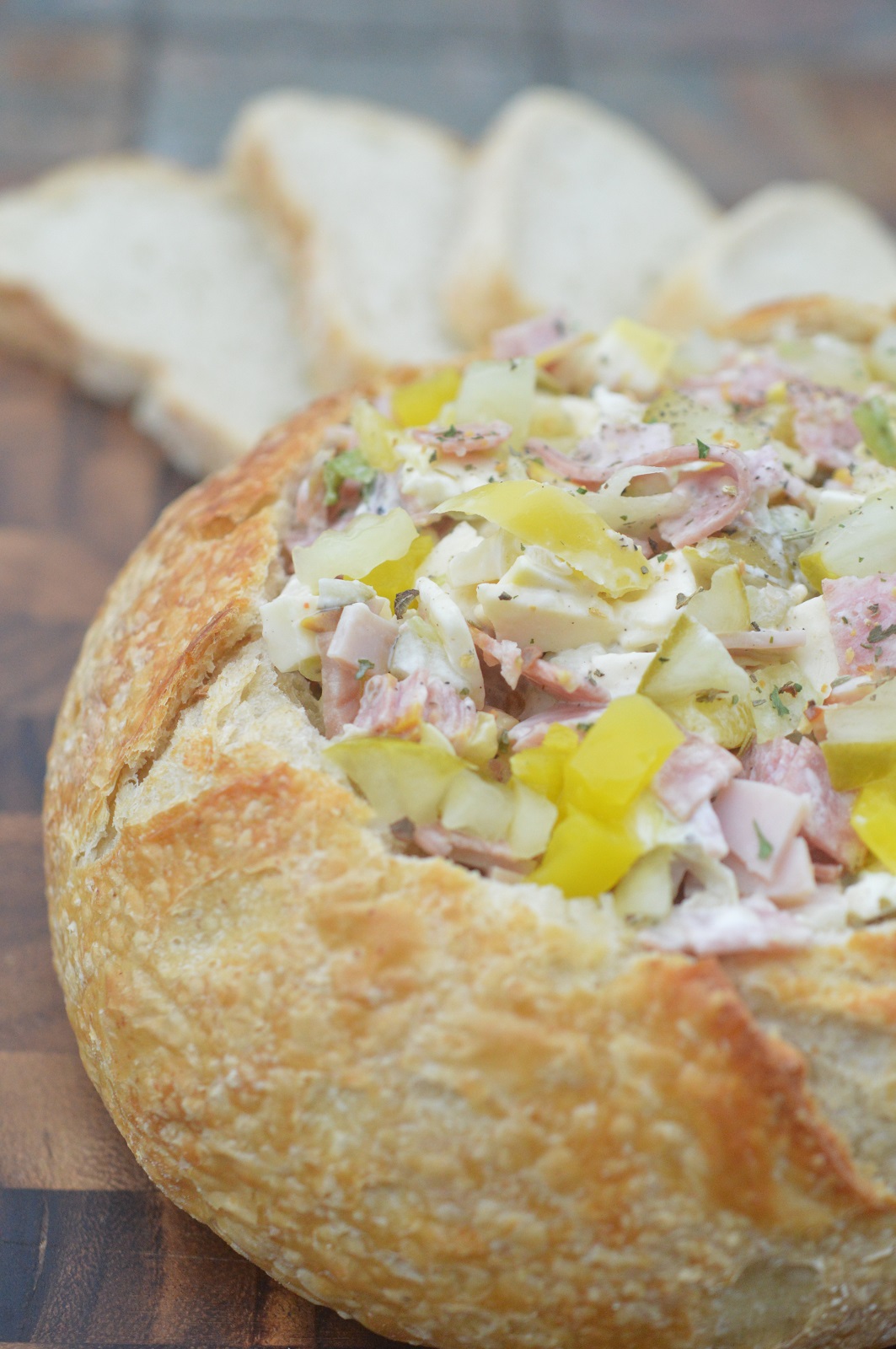 Both ways are fun and delicious and ALWAYS a hit especially with the men. They sure do love their hoagies!
Enjoy!