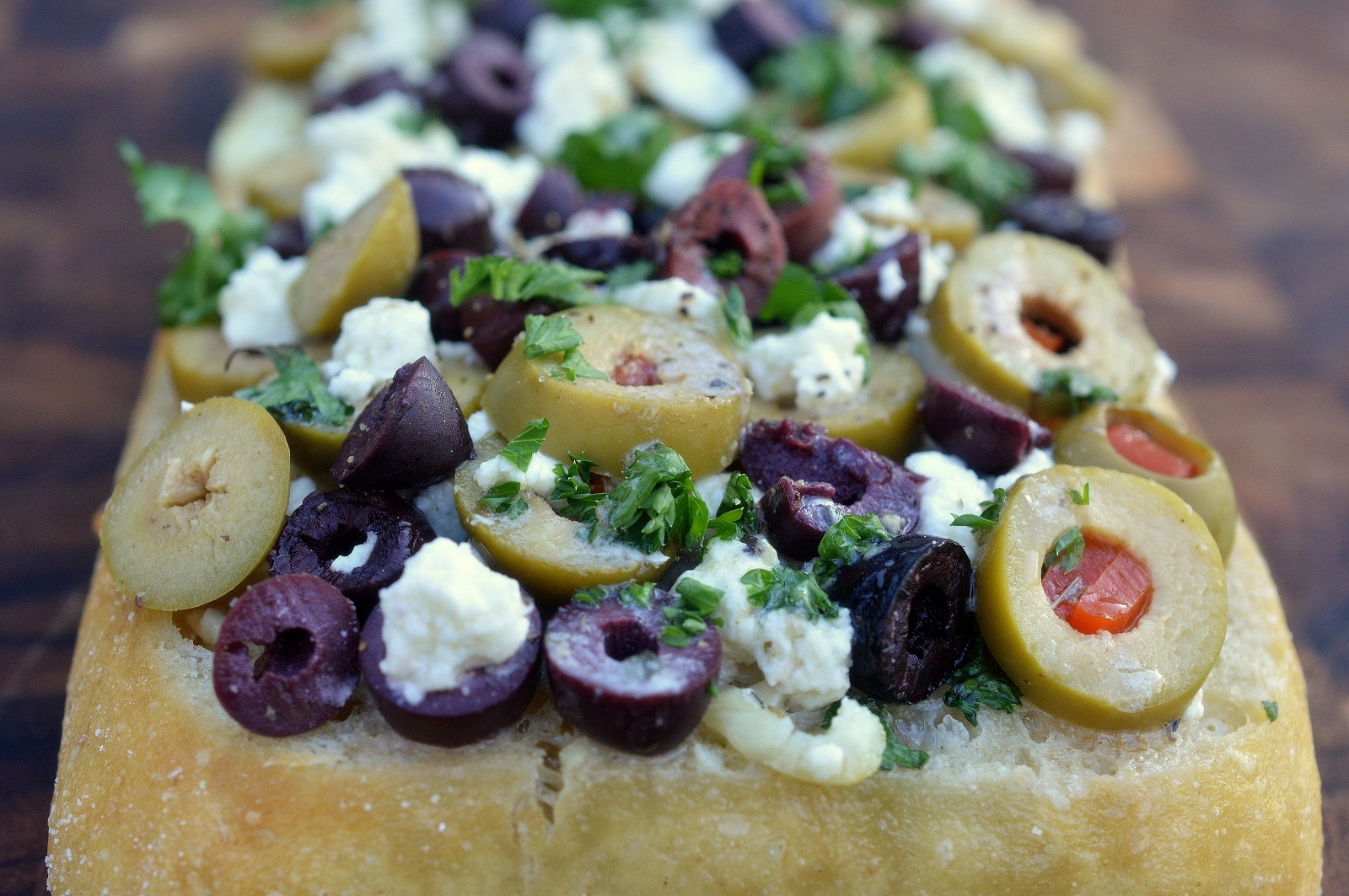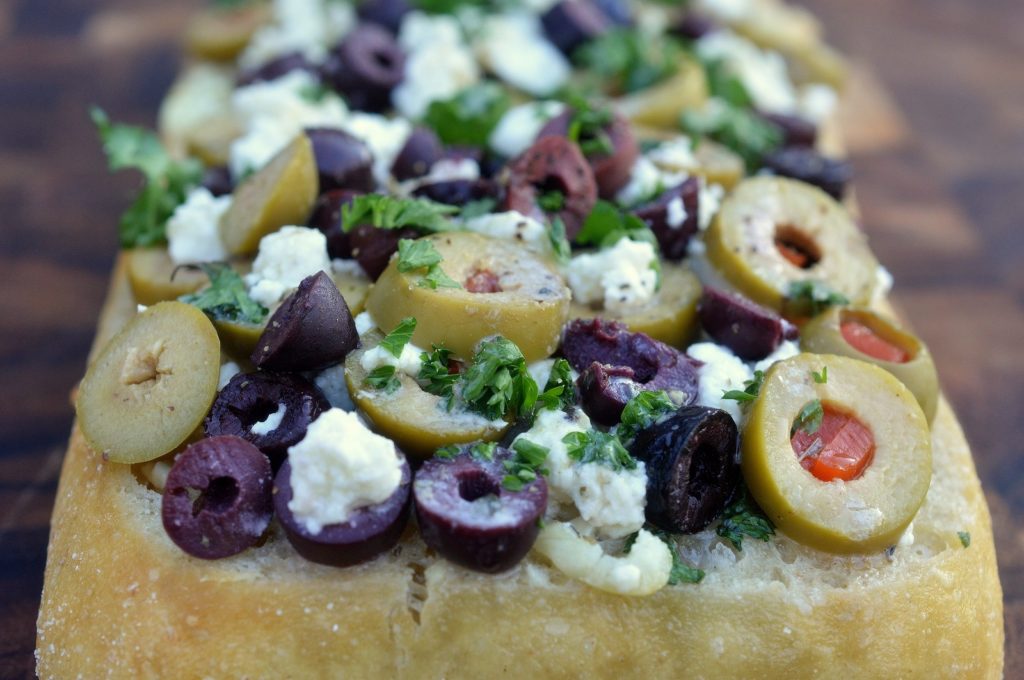 Need a quick appetizer or light meal to feed holiday guests? This pretty Garlic Bread with Olives and Greek Flavors will do the trick! It's easy, uses ingredients that you can almost always have on-hand, comes together quick and is deliciously different!
I get excited by new ideas and flavor combinations when it comes to food and this easy dish did not disappoint!
Thanks to Mezzetta Olives, this dish comes together in a snap and is full of flavor and quality ingredients and would make a fantastic holiday recipe.
Every year my husband and I arrange for someone to take our kids for 3-5 hours while we sort and wrap their holiday gifts.  We play music or put on a movie, have wine or cocktails and I make us a great nibble to fuel us as we plat Santa.  This Garlic Bread with Olives and Greek Flavors is exactly like something I would make.  So I will make this again for our ho-ho-hoing this year.  Sure wrapping like a lunatic is crazy, yet it's also fun! It's an annual window of time that belongs only to my husband and I and I kinda love that!  I sure will miss it when it comes to an end!
Are you a fan of Mezzetta Products?  We sure are! They scream of quality and I find myself buying them again and again and again!  See below or click here for an exciting opportunity to win some great prizes from Mezzetta!! 
"Family owned since 1935, the fourth generation of Mezzetta family is continuing the commitment to bring our customers the highest quality foods available. We source the finest fresh produce from the sun-drenched soils of California, Italy, Spain, France, and Greece and prepare them according to our Italian family recipes at our state-of-the-art production facility in the Napa Valley".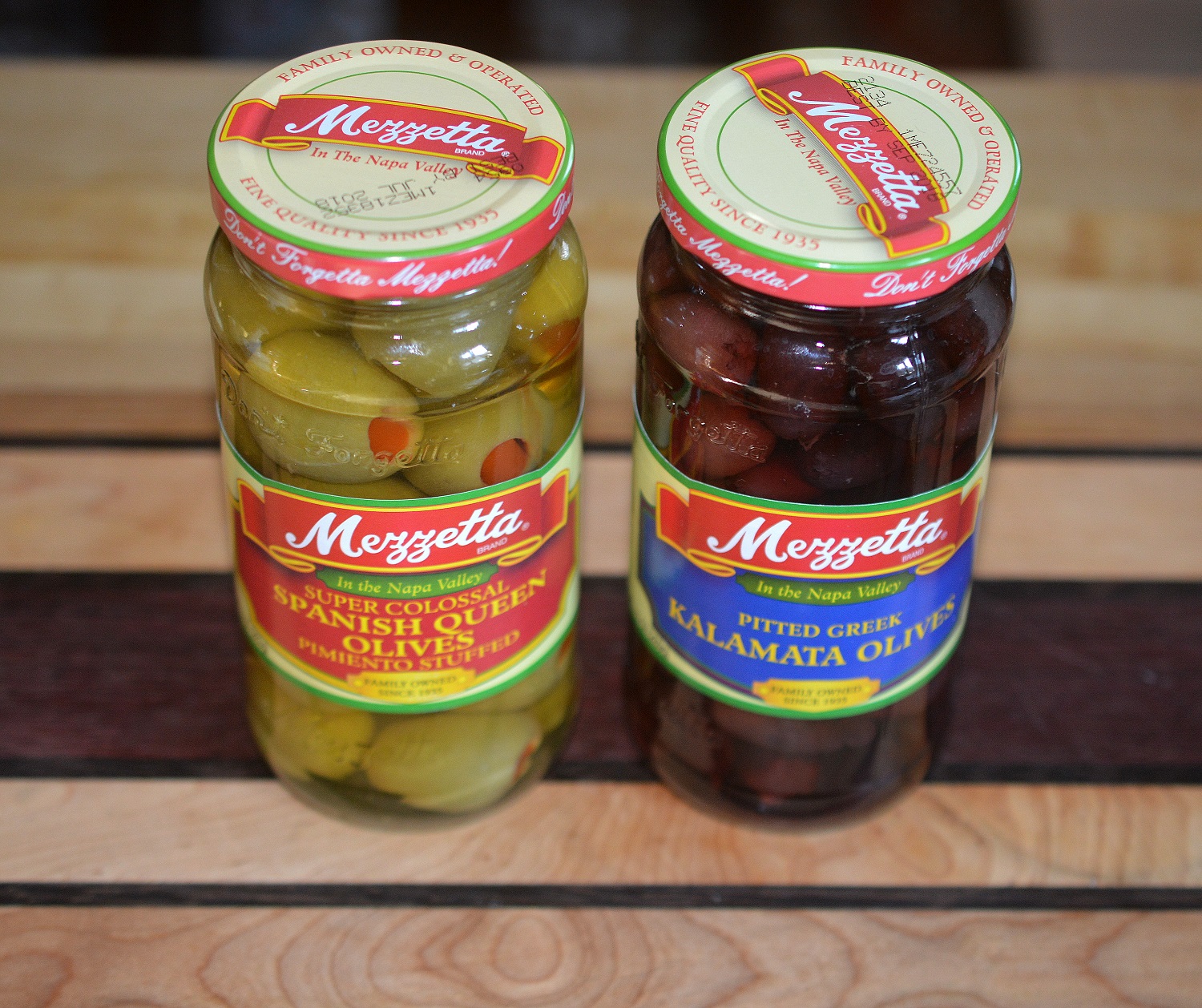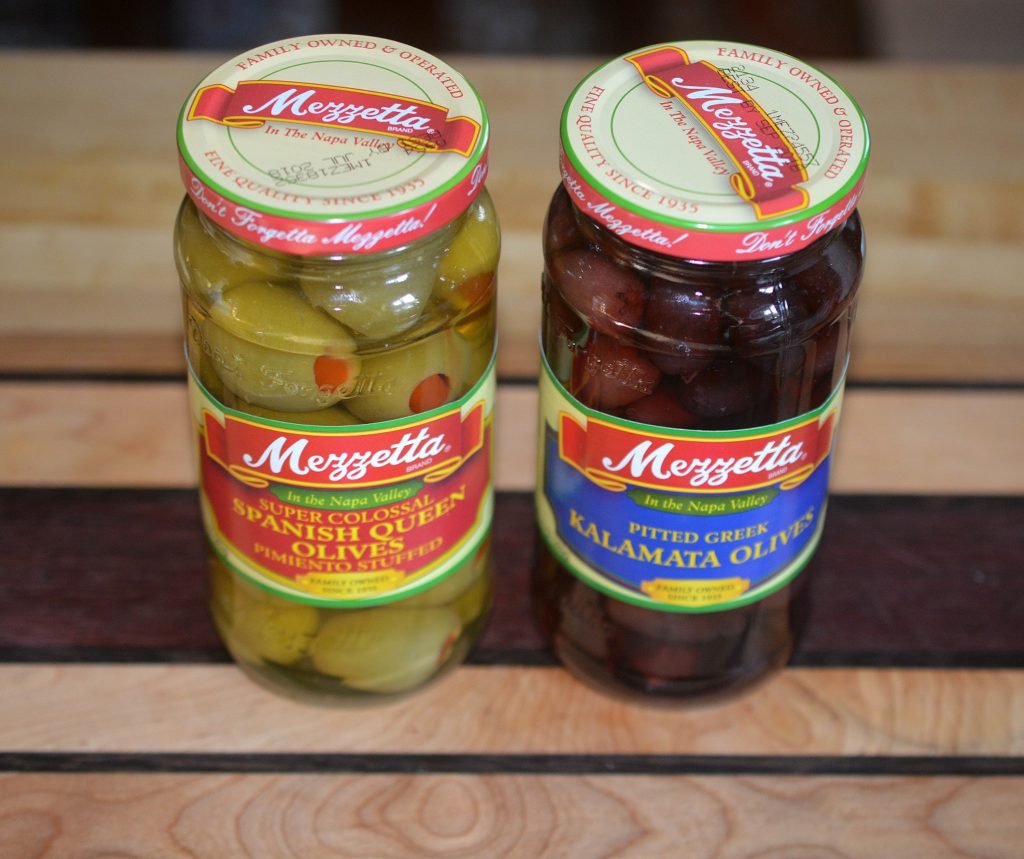 In my opinion…you can taste Mezzetta's commitment to quality in every bite!
To make a 11 people's holiday season a little more exciting Mezzetta is giving away a 11 fabulous prize baskets to help make you some Mezzetta Memories!
Click here to enter and best of luck!! 
One Grand Prize of a Instant Print Digital Camera plus a Ultimate Olive Lover's Gift Basket including Mezzetta Olives, Olive Spoon, Cutting Board, Olive Bowl, Cocktail Napkins and Recipe Card.
(10) Runner Up Prizes  of a  Ultimate Olive Lover's Gift Basket including Mezzetta Olives, Olive Spoon, Cutting Board, Olive Bowl, Cocktail Napkins and Recipe Card.
Good Luck!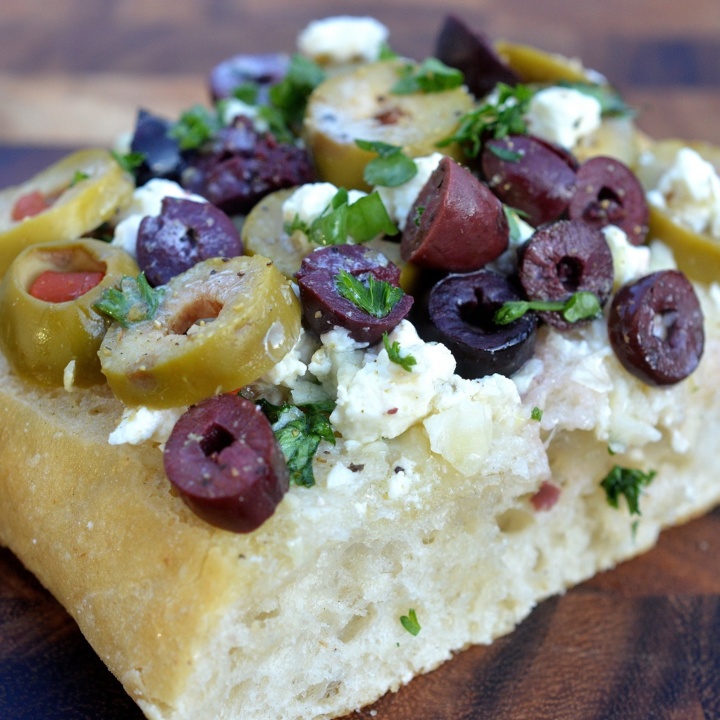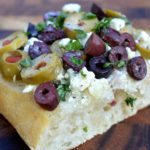 Print Recipe
Garlic Bread With Olives & Greek Flavors
Ingredients
1

loaf ciabatta bread

1/2

cup

melted butter

6

large garlic cloves

minced

Kosher salt & pepper

1/2

cup

chopped fresh parsley

1

cup

sliced Mezzetta Green Olives

1

cup

slices Mezzetta Kalamata Olives

1

cup

crumbled Feta cheese

Greek Seasoning

2

TBS

olive or grapeseed oil
Instructions
Preheat your oven to 400 degrees F.

Slice off the top quarter of your ciabatta bread (reserve top to make breadcrumbs or croutons).

Combine melted butter, garlic, Kosher salt & black pepper. Mix well and allow it to sit for 5 minutes or so.

Liberally coat the top of your bread with the butter-garlic mixture.

Place the bread on a baking sheet and bake for 6 minutes.

Remove the bread from the oven, sprinkle with 1/2 the parsley, followed by the olives and then return it to the oven for 4-5 minutes or until bread is crisped on the perimeter yet still soft in the middle.

Sprinkle loaf with Feta, and remaining parsley.

Shake some Greek seasoning over-top.

Drizzle with your oil/seasoning mixture (which you can whip up while bread is baking), slice and serve.