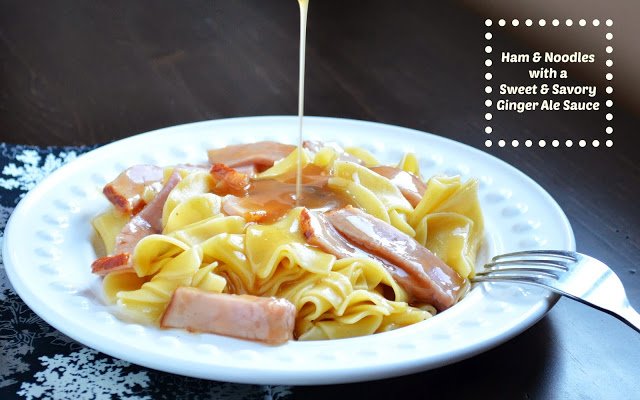 When I met my husbands grandmother, besides her amazing sweet potatoes (truly the best I have ever had) the one dish of hers everyone talked about was her "Ham & Noodles" which she only makes for Easter and Christmas holidays.
I have never come across a recipe quite like this one. The noodles and ham are coated in a delicious sweet and savory ginger ale sauce which is a nice change from other sauces and always a hit with the kiddos!
She calls this ham and bow ties and always uses Farfalle pasta noodles, however when the people from
Pennsylvania Dutch Noodles
asked me to participate in a fun contest they were having, I thought…hmmm since I have yet to come across this recipe while searching the web for it over the years – why not take this opportunity and pair it with a noodle my family has been familiar with since we were kids.
During the hustle and bustle of the Christmas holidays, My husband kids and I make sure we find a couple of days that we like to call "pajama days". We spend the day at home in our pj's relaxing, playing games and watching a movie or two. We just enjoy not having to be anywhere or do anything. This is one of those recipes I like to whip up for that occasion. Making the ham gives us this dinner, sandwiches the next day and some bits for an omelette or ham n eggs. The Pennsylvania Dutch Noodles are so easy to prepare…that whenever someone wants another helping later in the day or the next day I either easily warm up leftover noodles or quickly prepare new ones. I really enjoyed this with the PA Dutch Noodles and think from now on they will be our noodles of choice for this dish.
This recipe is included in the Pennsylvania Dutch Tastes Like Home Sweepstakes.
You can VOTE HERE once a day. Every time you vote through the matching up of recipes you gain an entry to the $250 gift card prize. Each match-up has a $250 winner!
Voting for this recipe and match-up is December 2, 2013 – January 1, 2014.
You do need to be on Facebook to play
Good Luck!
GG's Ham & Noodles in a Sweet Savory Ginger Ale Sauce
5 TBS flour
1/2 tsp cinnamon
1/8 tsp nutmeg
1/2 cup pineapple juice
1 cup brown sugar
3/4 cup Karo syrup (dark if you have it)
1 1/2 cups water
12 oz ginger ale
1/2 cup of Ham juice (optional but tasty)
12 oz bag of PA Dutch Noodles (I like Hearty or Wide Egg Noodles for this)
1 5-10 lb Spiral Ham (or your favorite ham, you can also just use leftover ham for this)
Combine flour, cinnamon, nutmeg, pineapple juice, brown sugar, Karo and water in a quart sized mason jar or other comparable sealable container. Shake very well, slowly add in the ginger ale (it will fizz), seal the jar and shake again then and set aside (this can be done an hour in advance). Cook your ham according to the directions for they type of ham purchased. While ham is cooking shake your sauce mixture again, then pour it into a medium sized pot. Bring mixture to a simmer, continue simmering for about 15 minutes. If your ham came with a pouch of liquid or you ham has given off some juice, add 1/2 cup of that to the sauce and bring to a vigorous boil, stirring often until the sauce has thickened to the consistence of maple syrup or a little bit thicker. Remove sauce from heat, do not cover until completely cool.
Cook your noodles according to package directions to al dente, strain and serve noodles with a bowl of the warm sauce and slices of ham.
Notes:
You can make the sauce a day in advance if you wish – just add the ham juice to it when reheating (sauce will be thick but the ham juice will thin it out a bit). When making the sauce a day prior, it always seems to be thicker and that is when my husbands family enjoys it the most. If you don't have any ham juice, don't worry the sauce will still work, you just may need to add 1/2 cup of additional water to it to thin it out a bit.
If you prepared this by cooking a ham, it will be have a more savory taste. If you did not and want a less sweet sauce, add in some ground ginger and or some ground cloves and cut the pineapple juice to 1/4 cup. Taste and adjust to find the flavor you and your family enjoy the most.
Enjoy!