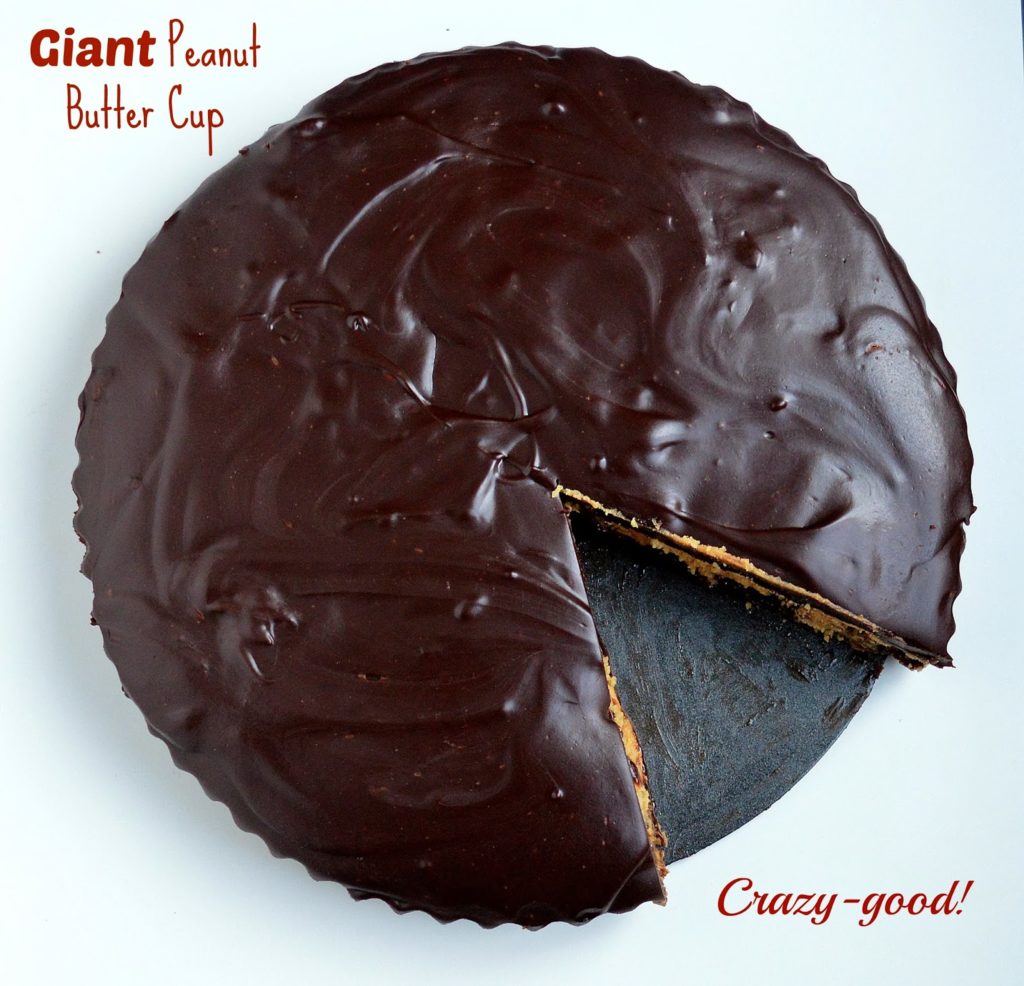 Bacon Stuffed Peaches, Vietnamese Burritos, Meat Wrapped Corn on the Cob (what!!) Queso Fundido Stuffed Burgers and Meatball Wellingtons! In case you're wondering, I am not sitting here dreaming up crazy yet deliciously decadent dishes, instead I'm flipping through the cookbook of someone who did just that...then made them!! These creations are from Dan Whalen's (aka Food in My Beard) new cookbook: Stuffed - The Ultimate Comfort Food Cookbook! Whooooweeebaby this book is jam-packed with some delicious looking recipes!
When I was asked to be a part of the Stuffed Book Tour I quickly said YES!! I had to see this book and I was not disappointed! I was torn between making either the Cheesesteak Stuffed Soft Pretzel Calzones (after all I was born & raised in Philly) or the Giant Peanut Butter Cup. As you can see it was the Giant Peanut Butter Cup that I went with.
Ok my friends - THIS dessert is crazy decadent and delicious! I made it on the day of our last snowstorm, my husband and I each had a slice. We then drove out and about in the middle of a 1 foot snowfall on unplowed roads to deliver our daughter to a friends house to play in the snow. When we picked her up 5 hours later, we delivered slices of this to 3 different houses on our journey - sometimes you just have to share the love (ooooor get temptation the heck outta-your-house, lol)!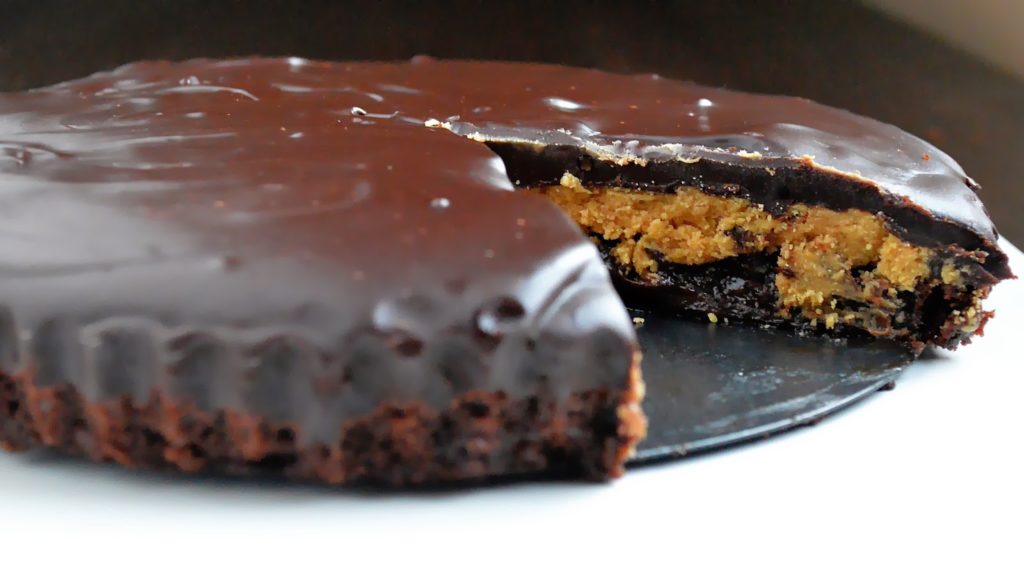 Feedback was bonkers - people LOVED this! Literally, this could be served in a restaurant as its signature dessert - its THAT good! You do NOT need a huge slice of this - it's so rich that a thin slice will do you just fine. The Peanut Butter Frosting is amazing! That combined with the brownie bottom and chocolate ganache top Mmmmm! If you like Reese's Cups - you are going to go nuts over this (no pun intended)!
This dessert would make a fantastic Valentines Day Surprise for someone you love!
I am SO making a few of these to sell as slices for our upcoming elementary school fundraiser - I already know I need to bring copies of the recipe with me...Enjoy this!!!
Who wants to win a copy of Stuffed? I have a copy to give away - Good Luck!!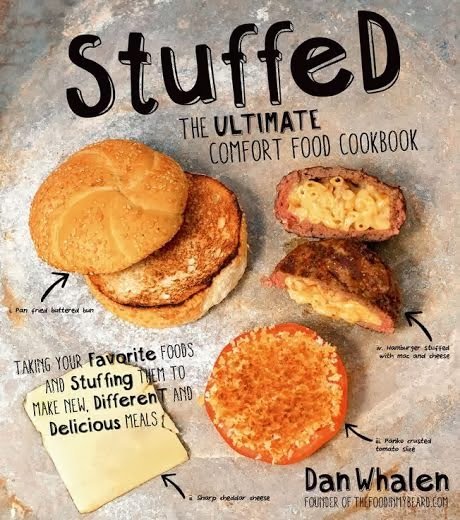 You might also enjoy this beautiful (and easy) Turtle Cheesecake - I swoon for chocolate & caramel!
Giant Peanut Butter Cup
Brownie
½ cup (112 g) butter
5 ounces (140 g) 60% dark chocolate chips
1 teaspoon good-quality instant coffee
2 eggs
¾ cup (150 g) sugar
1 teaspoon vanilla extract
½ teaspoon salt
½ cup (60 g) plus 1 tablespoon (8 g) flour
Peanut Butter Frosting
1 cup (260 g) creamy peanut butter
1 cup (120 g) confectioners' sugar
4 tablespoons (56 g) butter, softened
1 teaspoon vanilla extract
Pinch of salt
¼ cup (60 ml) heavy cream
Chocolate Ganache
1 cup (235 ml) heavy cream
2 pounds (908 g) milk chocolate
1 tablespoon (15 ml) light corn syrup
Make the Brownie: Preheat the oven to 325°F. Butter a 12-inch tart pan with a removable bottom.
In a double boiler, heat the butter, chocolate and coffee, stirring often, just until melted and smooth. Remove from the heat and allow to cool slightly. Whisk in the eggs, sugar, vanilla and salt. Stir in the flour with a spatula until the mixture comes together. Pour the brownie mixture into the tart pan. It is kind of a thick brownie, so use a spatula to spread the brownie evenly. Put the tart pan onto a baking sheet in case some of the batter drips out. Bake the brownies for about 18 minutes, until just set. Remove from the oven and let cool.
Make the Frosting: Combine the peanut butter, confectioners' sugar, butter, vanilla and salt in a stand mixer with a paddle attachment and beat until combined. Add the cream and beat until light and creamy.
Make the Chocolate Ganache: Melt the ganache ingredients together in a double boiler. Stir to combine.
Stuff It!: Re-grease the visible area of the tart pan above where the brownie is. Also cut the brownie away from the sides of the pan to make it easier to slice later. Spread the peanut butter frosting all over the brownie, but leave about 1 inch (2.5 cm) around the edges, and make sure it doesn't go higher than the sides of the pan. Pour the ganache over the peanut butter and let it drip down the sides and fill the pan up to the very top. Refrigerate the tart for 2 hours. Take it out of the fridge and gently try and lift the tart out using the pull-away bottom of the pan. If it doesn't come out, run a toothpick along the edge of the pan in certain areas that seem extra stuck.
Colleens Notes: I also made this with boxed brownie mix just to see if you could in a pinch - and you can 🙂
Enjoy!