THIS is one of my favorite things to eat AND bring to parties or barbecues. It is simple, just 5 ingredients, however the flavors are in-cred-i-ble and truly addictive. Everywhere I have ever brought it, people go crazy for it and the platter I pour it out onto is always scraped clean! I say scraped clean because my favorite way to eat it is to drag a Stone Wheat Thins across and under…scoop up chunks of tomato, scallion and feta with just enough of the dressing and pop it in my mouth…then quickly do it again! Mmmm!!!
I never truly enjoyed feta cheese until this.
Weird but true.
You can eat this as a salad too…I would just go lighter on the dressing.
I think this is also a perfect picnic basket bring along. Grab the biggest wide-mouth Mason jar you have and layer it up – so pretty! Give it a good shake and turn it out onto a plastic dish and you have a beautiful salad or dip to enjoy while you are out and about…don't forget the crackers…or a fork and if you do…when no one is looking, just pour some into your mouth. I can be our secret!
Put this on your must make list, pretty please!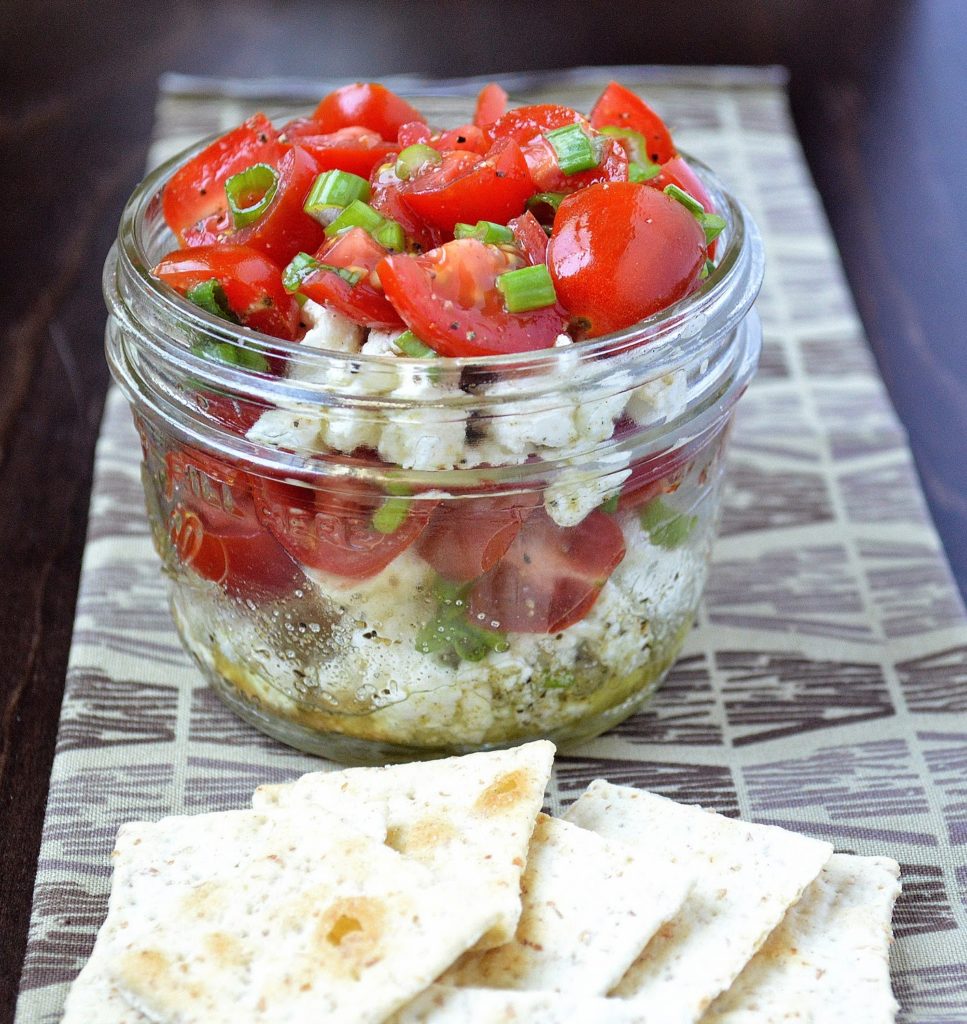 Greek Tomato & Feta Dip / Salad


2 pints of grape tomatoes, diced
1 bunch of scallions, sliced thin (greens and whites)
1 block plain feta cheese (about 8-10 ounces)
1/2 cup olive oil or grapeseed oil
1 TBS teaspoon of Greek seasoning which can be found in your spice section the brand I always see is Cavender's its in a small salt shaker container and its white, yellow and red packaging – do not use the salt free variety)


In a large bowl combine your tomatoes and scallions. Break apart the block of feta cheese and sprinkle it over the tomatoes and scallions. In a mason or shaker jar, combine your oil and spice shake well. Pour it over your tomatoes, feta and cheese mixture and toss gently. Turn it out on a big plate or platter, spreading it around. This can be made an hour ahead. It holds up well and just keeps getting better tasting 🙂 The more folks keep digging in with crackers or a spoon – the better it gets! You can also assemble it in a jar as I did, just layer your ingredients, pour in your dressing, give it a little shake and bring it along with you.


Don't lump it in a bowl or on a too small plate – you want to spread it out in a thin layer. Also don't use the pre-crumbled feta…it's to soft.


Serve with Stoned Wheat Thins (in the blue box…my favorite cracker) or your favorite simple tasting crackers or French bread slices.
Colleen's Notes: The better the tomatoes, the better the dip. Block feta is firmer that the crumbles, for this you really want to crumble your own. You can use plum or Roma tomatoes for this as well, I just prefer the texture and look of grape tomatoes.
Enjoy!