Grilled Jalapeno Popper Stuffed Mushrooms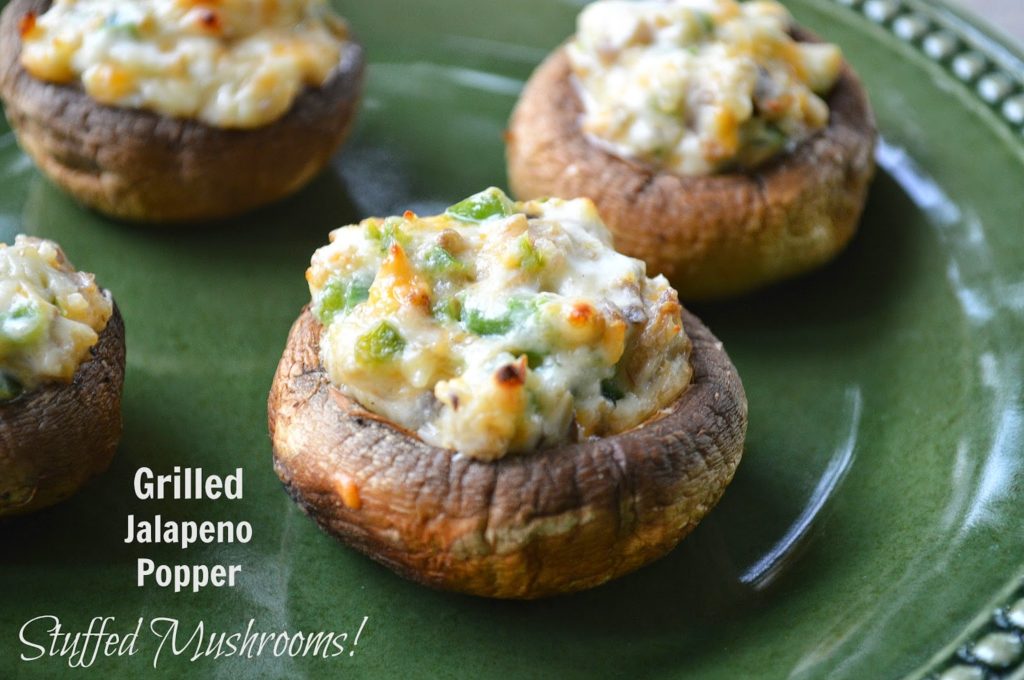 Welcome to the Let's Grill Summer Extravaganza hosted by my friend Larisha from We're Parents!
16 bloggers are bringing you a grilling extravaganza with 16 recipes that just might leave your mouth watering!
One day I started thinking about how a jalapeno popper could be incorporated into a stuffed mushroom…and could I grill it for a nice summer app…I thought, my husband has always been obsessed with popper (seriously obsessed) and he adores mushroom…so if I could pull this off…maybe I'd get an awesome foot or back rub out of the deal…bartering always seems to work!

Well it worked (and I did).  My husband totally enjoyed these.  Cream cheese stuffed poppers are his thing, in a pinch he'll east cheddar but the man seeks out the cream cheese ones.  I decided to combine the two.
Don't skip brushing the shrooms with the seasoned oil inside and out sicne when grilling…all the juice runs out of the mushrooms – actually you could cook them on foil for to retain some of that – I think I will try that the next time.
Also…Last week, I experienced a "love at first bite"! I tried a new cheese spread, called Hop Devil Jalapeno Spread by Victory Brewing Company (a local brewing company and restaurant) and time stood still for a few minutes.  Then, I began shoving it into my husbands mouth to see if he felt the same – and he did!  See why I love that man!
Thank goodness my husband liked it as much as I did or I would have inhaled the whole darn container myself! Then a light-bulb went off and I wondered what and was curious as to what the Hop Devil Spread would taste like in a mushroom…I figured…what the heck, why not fill a mushroom with the spread (no work required there) and grill it up.  Yup…It was delicious! And THEN…we put it on freshly grilled  Jalapeno Bacon Turkey Burgers…oh, my goodness! I hear Whole Foods will be carrying that as well as other beer-inspired flavored cheese spreads from them soon and I for one will be grabbing some once they do.  For now, you can find it at Di Bruno Brothers or Victory Brewing.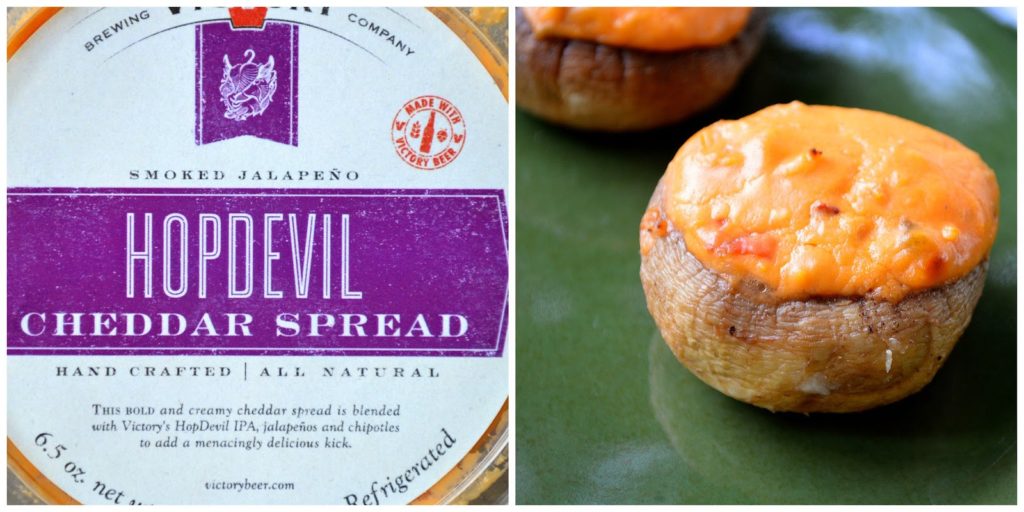 Grilled Jalapeno Popper Stuffed Mushrooms

12 Stuffing mushrooms
3 TBS olive or grapeseed oil
1-2 Jalapenos, minced *see note
4 oz cream cheese
1/2 cup shredded cheddar cheese (I like a Mexican blend for this)
A few shakes of garlic salt
Black pepper to taste
Clean your mushrooms, break off the stems and slice the very tip where it is dry off and discard.  Chop your mushroom stems then chop your jalapeno(s).  Heat 1 (only 1) TBS of your oil in a small saute pan and saute them for about 3 minutes until tender. Remove from the heat and add in your cheeses and mix until combined.  In a small bowl, combine the remaining 2 TBS oil, garlic salt and pepper and mix well.  taste and adjust to your liking…you want the oil seasoned well.  Brush the inside and outside of each mushroom with the oil mixture, stuff your mushrooms and grill over medium heat until the mushrooms are done to your liking (varies on the size of mushrooms used) about 4-6 minutes and serve.
Colleen's Note's: Depending on your heat preference use either one or two jalapenos.  If you like it spicy, go ahead and leave in the seeds and stems, if not take them out…but beware all jalapenos are not created equal lol!
Burger Recipes
Other Grilled Meat Recipes
Momma Lew – Chicken & Peppers Shish Kabobs
Defining Dad – Rosemary Had a Little Lamb
Grilled Vegetable and Fruit Side Recipes
Grilled Desserts 
Other Grilled Recipes
Souffle Bombay
 – Grilled Mushroom Poppers / Grilled Mushrooms Stuffed w/ Cheese, Jalapeno & Bacon
Enjoy!!