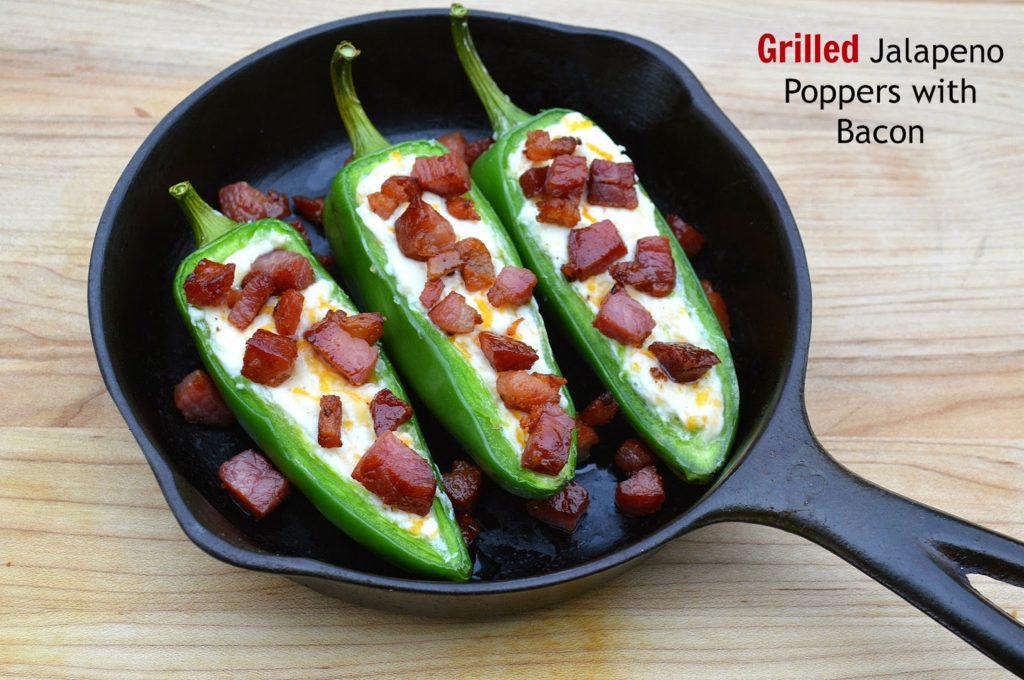 My husband has long been obsessed with Jalapeno Poppers.
Oh the stories I could tell you about where he has gone to get the ones he loves most!  He's kind-of a Jalapeno Popper Connoisseur....or something like that!
So I made him this version, on the grill and he ate them right up!
Me thinks that means they were ok...you be the judge.
Grilled Jalapeno Poppers with Bacon Bits
4 large jalapenos
4 oz cream cheese
3 TBS shredded cheddar cheese
Salt and pepper
¼ cup of cooked bacon chunks (cut from a slab of bacon) or pancetta
Preheat your grill.
Slice you jalapenos open.  Just take the top 15% part of them off, enough to allow you to see the seeds and stems inside of each one. Hollow out each pepper with a small spoon or mellon baller.  Set aside.  In a small bowl, cream together your cream cheese, cheddar cheese, salt and pepper.  Fill each pepper with the cream cheese mixture.
Place the peppers directly on the grill, close it an allow them to sit undisturbed for 5-6 minutes.  Turn off the burner below the peppers, but leave one one and continue to cook them on indirect heat for another 15 minutes.  If they begin to char more than you might like, move them to the top rack of your grill and finish them there.  Remove from the grill, sprinkle with your bacon bits and serve.
Colleen's Notes: The filling to pepper ratio will depend on the size of your peppers.
The funny thing about jalapenos is that you either get some tame ones or some that feel like they are blowing your head off - so you never quite know what to expect...beware and enjoy!