Grilled Romaine with Avocado-Caesar Dressing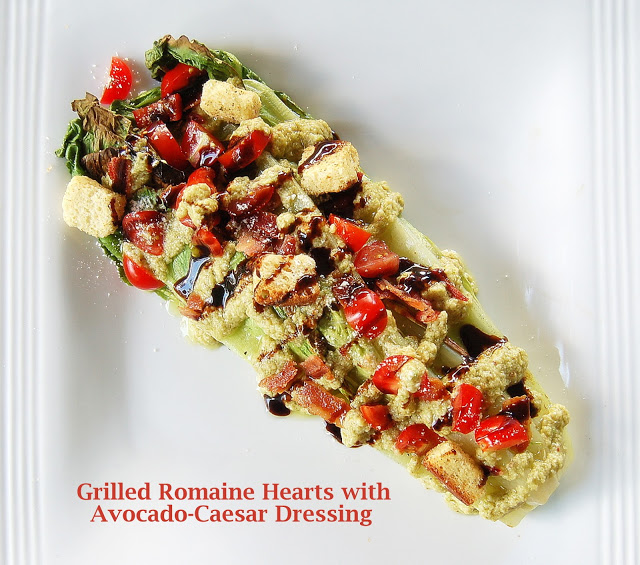 I love a good salad when and where I want it.  I am not an eat-a-salad-every-day-kinda-gal.  I want to crave one and then enjoy it so much that I don't leave a trace of it behind on my plate.
If someone asked me what my absolute favorite type of salad was - I think it would be very difficult for me to answer, BUT if I think about the type of salad I have made the most of as well as ordered out over the course of my life to date, I would be a Caesar salad....hands  down.
Maybe it's all the garlic or the creamy dressing or the fresh shaved cheese...I really don't know. I'm just grateful that many years ago, someone thought it up!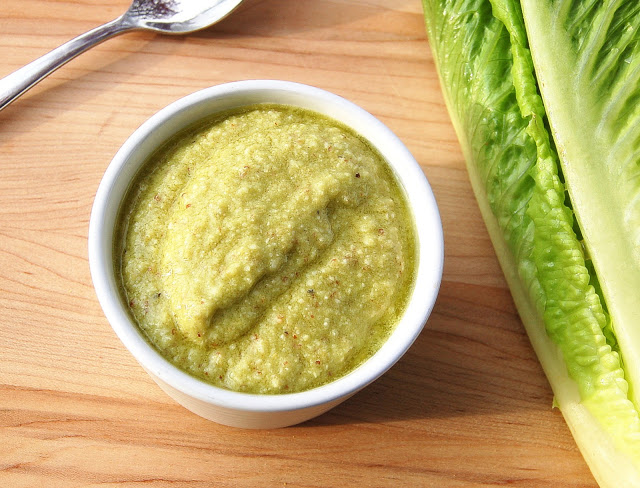 To easily take a Caesar salad to a slightly different level I enjoy grilling the Romaine.  Something about a warm salad satisfies me more than a cold one.  The evening I made this salad, I spied 1 lonely avocado sitting on my counter and thought...hmmmm, I wonder if I could replace the 5 egg yolks I typically put in my dressing with that?
And I did!
And you can!
I was SOOOOOO yummy to me!  Rich and creamy and still the similar Caesar flavor I crave.
This is a salad I could happily eat 3 times a week!
What is your favorite salad??  I always enjoy trying out a new one!
Here are a few other salads to try:
Simply put this Crispy Avocado, Bacon & Tomato Salad is a symphony of complimentary flavors and textures. - It's perfection on a plate!
THIS is my favorite summer salad I love to make it for when I am out by the pool, watching the kids.  This Asian Salad with Fried Calamari satisfies me and always leaves me craving more.
If you enjoy figs, this Caramelized Fig & Goat Cheese Salad is for you!  The beauty of this salad is that you can use fresh or dried figs so you can enjoy figs in your salad any time of the year!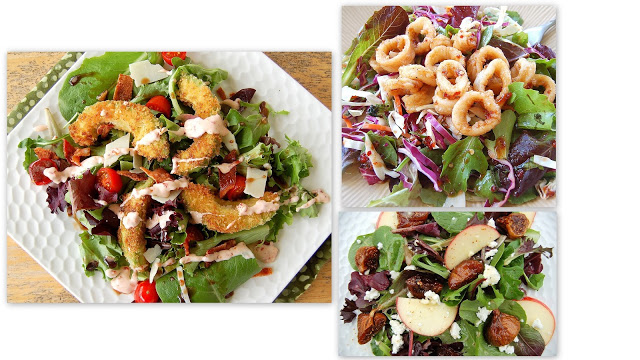 6 flat anchovies
4 cloves or garlic, minced
2 TBS Worcestershire sauce
1 ripe avocado (halved, pit discarded and skin removed, you don't want it to firm for this)
1 TBS capers
½ TBS grainy Dijon Mustard (I use Grey Poupon Country)
2 ½ oz red wine vinegar
1 TBS fresh lime juice
¼ cup grated Parmesan cheese
8 oz light olive oil
5 dashes of Tabasco
Salt and pepper to taste (more salt if you don't use the anchovies)
Head of Romaine Lettuce, rinsed and spun or blotted dry
Croutons (optional)
Additional shaved, shredded or grated Parmesan for garnish
Place the anchovies, garlic and Worcestershire in the bowl of your food processor, and pulse the garlic and anchovies are minced.  Add in the avocado, capers, mustard, vinegar, lime juice and cheese and pulse until combined.  Slowly drizzle in the olive oil, pulsing as you do so.  Add in the Tabasco, salt and pepper, give it a good whirl until it's smooth and creamy and serve.
Colleen's Notes: The anchovies and capers are optional but each lends good flavor.  This dressing is a bit thicker than most, however once it is tossed with your salad it is delicious! If you are using the anchovies and capers, you really do not need to add salt.  I have stored this dressing overnight and enjoyed it the next day, just make sure the dressing is in an airtight container or wrapped firmly.  It may look like a lot of ingredients - however this comes together in a snap!
Grilled Romaine Salad


3 Whole Romaine hearts
6 slices of bacon, cooked till crisp
1 cup chopped tomatoes (I like grape tomatoes for this)
Avocado-Caesar Dressing
Optional toppings: Croutons, shaved or shredded Parmesan cheese, chopped egg or Balsamic reduction
Heat your grill to med-high.  Lightly oil your hands with a bit of olive oil and run them over each of the Romaine hearts.  Place the Romaine hearts on your grill and grill for a couple minutes on each side.  Decide if you just want to warm and wilt them a bit or if you would like them a bit charred.
Remove from grill, drizzle with Avocado-Caesar Dressing, scatter bacon and tomatoes over top as well as any other toppings you choose and serve.
Colleen's Notes:  You can choose to not grill your Romaine hearts as well as not serve them whole.  If you want to toss a typical salad, just chop your lettuce, add toppings and toss with dressing just prior to serving.
If you want my straight up Caesar Salad Dressing, click here.
Enjoy!!