How many times a month do you reach for breadcrumbs? Like when you are making meatballs, a meatloaf, pasta dishes vegetable dishes, crab cakes, soups, etc. Today I want to share how to make and store homemade breadcrumbs and share a few of my resolutions for 2019. I swear this year I am sticking to them!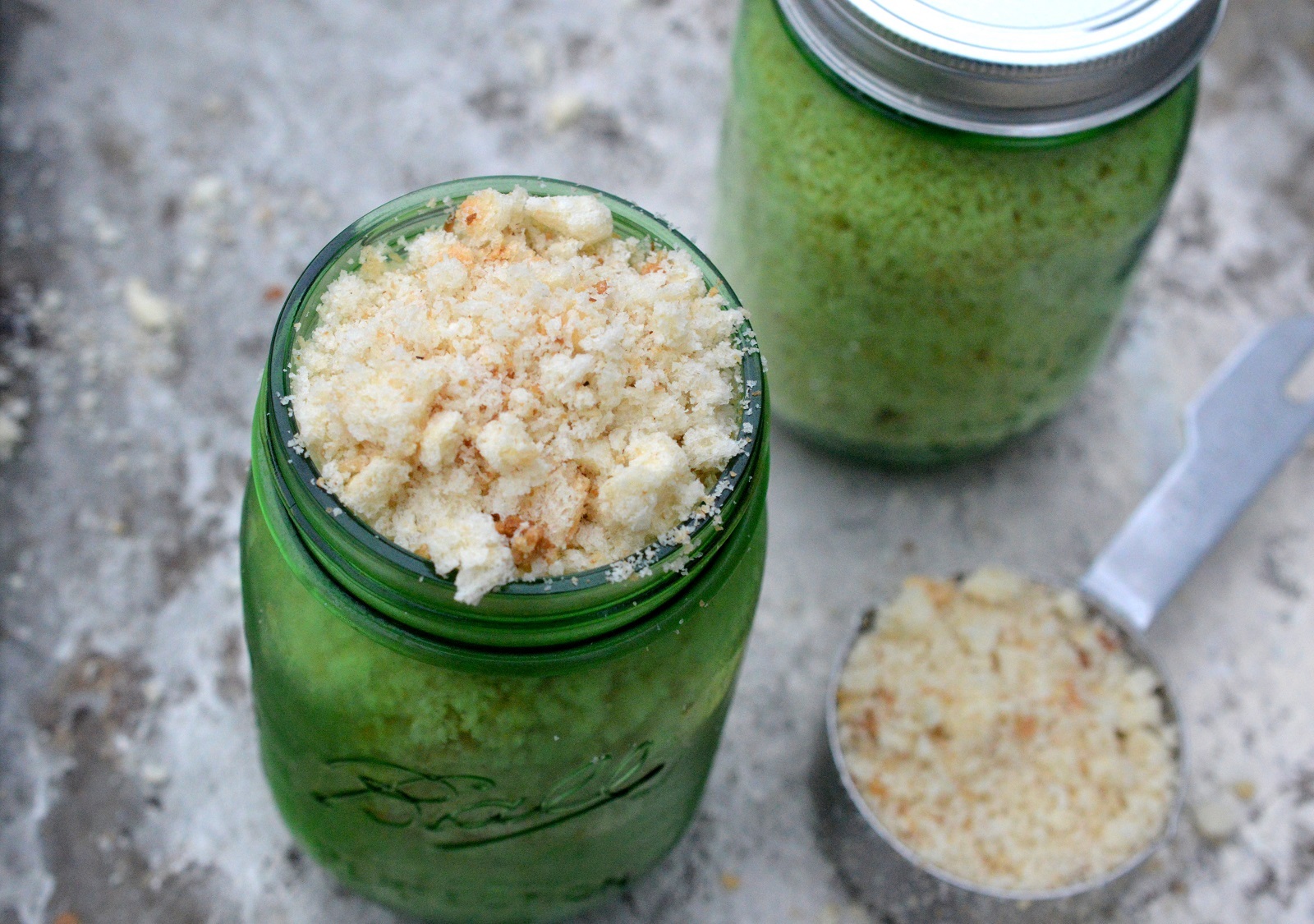 Commercial varieties of breadcrumbs are good however homemade breadcrumbs are better in my opinion. Homemade breadcrumbs taste better, there are no preservatives, you can flavor them as you wish, and you can control the sodium. They are also more economical. In my opinion, making breadcrumbs yourself is an all-around win!
Do you make your own breadcrumbs?
Sure I like a charcuterie board from time to time, pork belly, cocktails, and cheesecakes however I am not one into crazy fancy foods. I just like food that tastes great.
One of my resolutions for 2019 is less waste when it comes to cooking as well as more control over the ingredients I am using to feed myself and my family. I want to consistently be a little bit heather. Knowing how to make and store homemade breadcrumbs is just one of the simple things I will be doing to accomplish that resolution.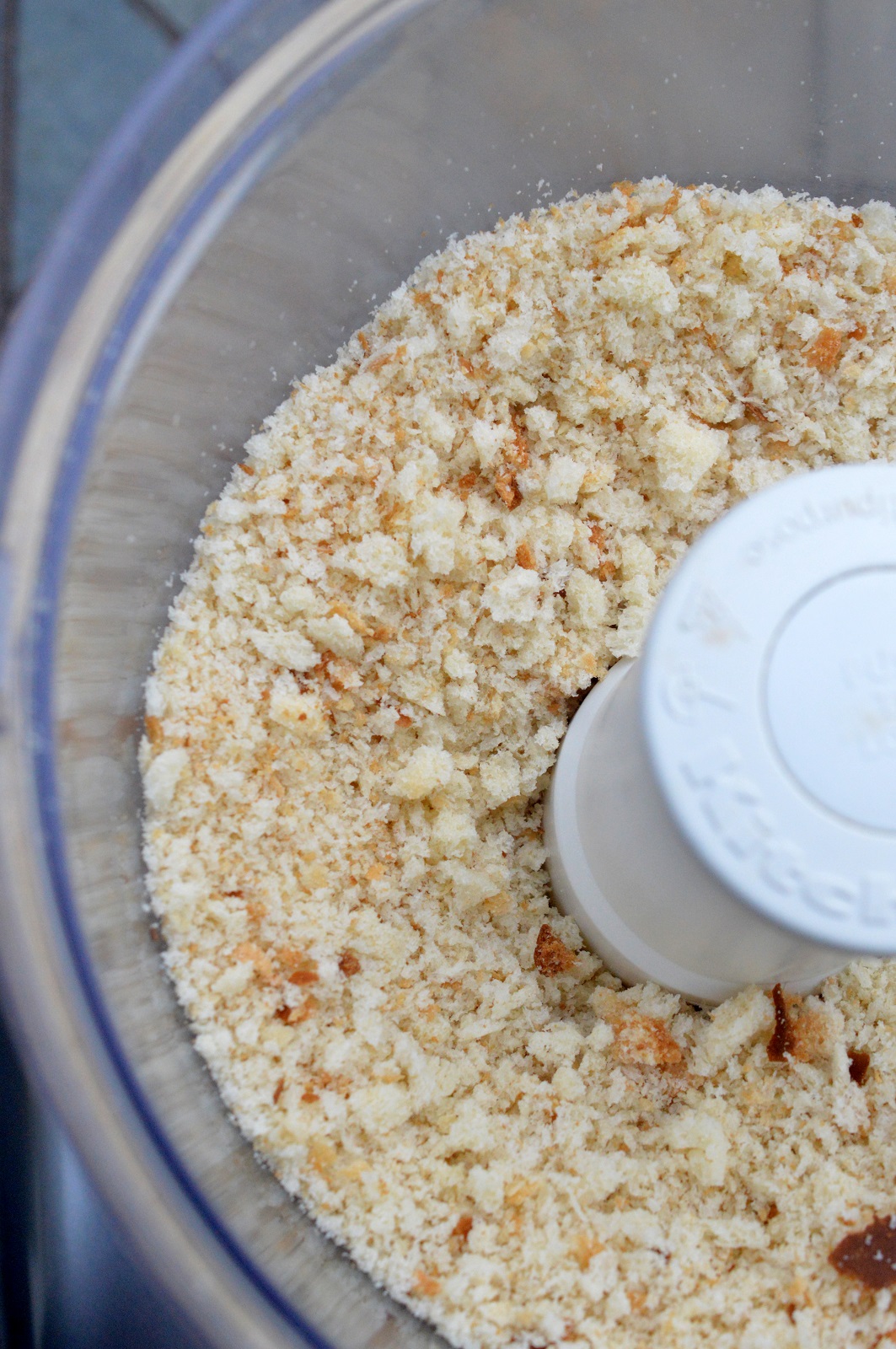 A few of my other resolutions are to be more present when my kids are around. I love spending time with my kids, I have always been an "all-in" kinda momma bear, however, I do get distracted by social media, Netflix, etc and kinda accidentally tune them out sometimes. Not anymore, I will be fully engaged and then expect the same from them. Because in what feels like a minute, they'll be on their own.
Another resolution is to take better care of me, which is multifaceted. Since becoming a mom, I always put myself last. For everything. SO I am scheduling a number of check-ups for me  (something I am terrible at when it comes to me), and I want to have more control over things I can do to maintain/improve my health. Like taking better care of my skin by investing in a skin care routine as well as upping my oral health routine. I dislike the dentist! Always have…the anxiety of going of goes back a long way.
The last couple of weeks I have been using an ultrasonic toothbrush, its a game changer! My teeth feel so clean, much cleaner than just brushing as usual. I can already see improvement in my gums. I have been using the cariPRO from Smile Brilliant. It was so timely when they reached out to me since taking care of better care of me is one of my resolutions, so I was happy to partner in exchange for their product.
The cariPRO ultrasonic toothbrush had 5 settings, which I love!
Clean
White
Massage
Gum Care
Sensitive
I have been using 4 of the 5 settings (I have not felt the need for the sensitive setting). The gum massage feature has really helped the one tooth that always seemed to bleed when brushing. I can't believe how clean my teeth are feeling!
You can purchase a single toothbrush, couples set and replacement heads and more. The battery charge is good for 30 days which makes things easy.
Using this toothbrush is simple. Once you choose your setting and turn it on, the brush signals you when to move from quadrant to quadrant. Unlike traditional electronic toothbrushes, the cariPRO ultrasonic toothbrush cleans uses vibrations a high frequency of vibration 40,000 vibrations a minute (not a spinning head), to clean plaque and bacteria from teeth. I can totally feel the difference after each cleaning!
From what I have been experiencing and from what I have read, the cariPRO is an amazing, affordable option with the same features of the highest quality electric toothbrush on the market!
Created by Smile Brilliant, who is a leader in teeth whitening products, created the cariPRO to bring quality, affordable, dynamic oral cleaning to everyone.
My husband is enjoying it as well, I didn't think he would stick with it over a traditional toothbrush but he too is feeling and seeing the benefits!
Smile Brilliant has a 100% money back guarantee on their products and are is the only professional teeth whitening company backed by Google's exclusive Trusted Store Program. They offer a 60-day trial period for their toothbrushes, read more here.
Check out the cariPRO if you want to up your oral care game this year! I am getting the whole family on board. Let me know what you think if you do!
———————————————————————————————————————————–
Get 20% off cariPRO Ultrasonic electric toothbrushes with code soufflebombay20
I also have a cariPro to giveaway. Click here to enter.
Good luck!
Value $119.00
————————————————————————————————————————————-
Next, I want to tackle another facet of my healthier/smarter focus of resolutions by changing up some of my kitchen cookware & bakeware to ensure I am cooking toxin-free. Any recommendations??
How Do You Store Homemade Breadcrumbs?
Store your homemade breadcrumbs in the freezer in an airtight mason jar, freezer bag, or freezer-safe container.
When you have a need to use them, simply open up your storage jar/bag, measure out what you need and add it to the recipe. No need for thawing.
How Long Are Homemade Breadcrumbs Good For?
Homemade Breadcrumbs keep very well in the freezer. They will be good for 3-4 months in an airtight mason jar, freezer bag, or freezer-safe container. Tip…When using a freezer bag, get most of the air out of the bag before you seal it (for this I do not use a vacuum sealer as I don't want to "smush" my fresh crumbs down. YOu can also use 2 bags to double the air-tight factor up if you like.
Tip: when it comes to how to make and store homemade breadcrumbs, look for sales after holidays. My local farmers market and grocery stores often have a ton of day-old bread or bread cubes the day or two after a holiday marked down to almost free. I scoop them up and make a big batch of breadcrumbs, then into the freezer they go!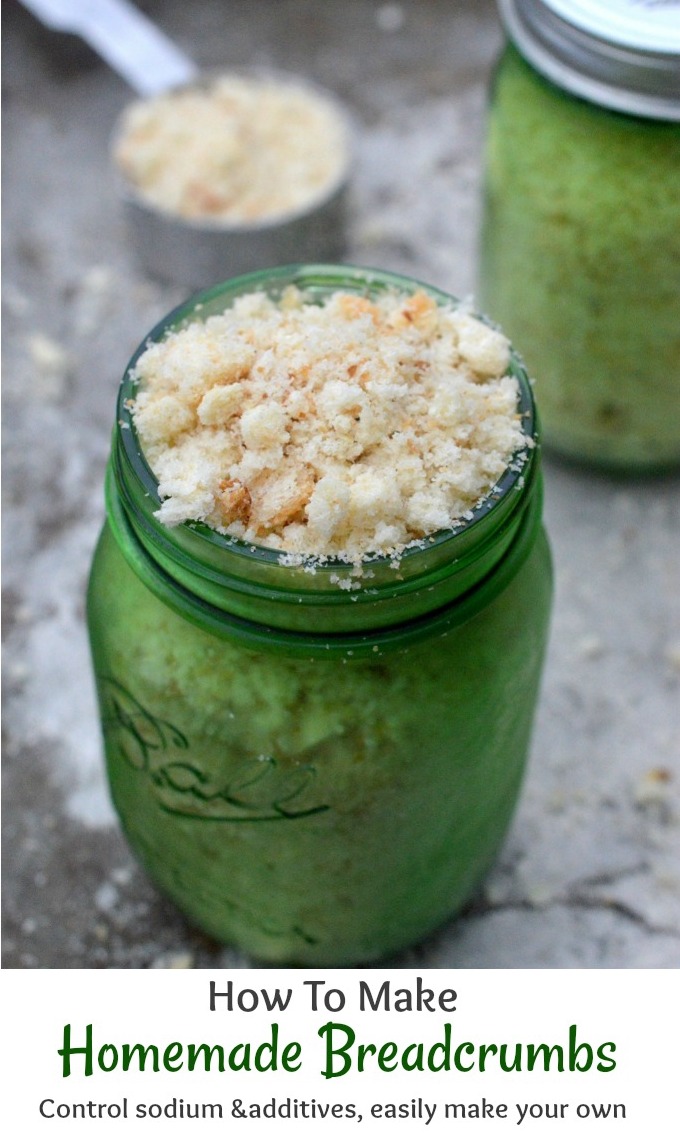 A few of the recipes I use my homemade breadcrumbs for are:
Cheesy Meatless Mushroom "Meatballs"  You will not even realize these are not made of meat! 
Salmon Cakes – A delicious alternative to traditional pan-seared or baked salmon.
Bacon Avocado Crab Cake Sandwiches – This sammie is a party in your mouth! 
Spinach Balls – A hit with the kiddos too!
Mozzarella Zucchini Balls – One of my daughter's favorites…cheesy & delish! 
Enjoy!!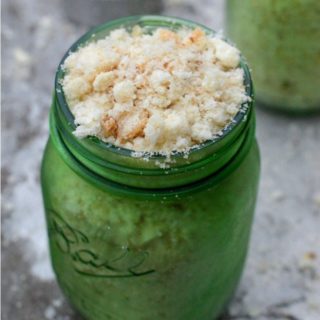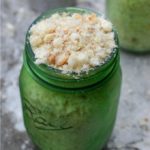 Print Recipe
How To Make (And Store) Homemade Breadcrumbs
SAve money and control the additives by making your own breadcrumbs.
Ingredients
Choose Your Bread:

Choose day-old or 2 day-old loaves of French bread or Italian bread or bags of bread already diced for stuffing. These are always leftover after holidays

especially Thanksgiving and Christmas. I also like to keep tossing the ends of white bread/wheat bread or whatever I have weekly in a baggie in the freezer till I have enough to use to make breadcrumbs.

Choose your add-in seasonings:

Add in salt

as little or as much as you enjoy...whichever variety you enjoy

Black pepper

After that

you choose to leave it as is or customize it for your need or taste. I leave it as is and customize when I use then breadcrumbs.

Additional add-in choices are red pepper flakes

grated Parmesan cheese, dried oregano or Italian seasoning, dried parsley, garlic powder or onion powder.
Instructions
If bread is not already cubed, cut it into 1-inch chunks.

Place bread in your food processor and pulse until the bread becomes breadcrumbs the size you enjoy.

Season with your chosen seasonings or leave plain.

Store in quart sized mason jars, freezer containers or gallon-sized freezer bags.

Pull out when needed and toss breadcrumbs right in...no need to thaw them.

See Notes
Notes
If your bread is very fresh, after you pulse the bread cubes into crumbs, sprad them out on a baking sheet and bake at 275 for 15minutes (tossing every 5) until they dry out a bit.
If you want drier crumbs no matter what kind of bread you are using, do the same as above...up to 20-25 minutes, just keep an eye on them and toss often towards the end.
Once completely cooled, store in the freezer.
Breadcrumbs keep for 3-4 months in the freezer in proper containers. I personally leave mine NOT toasted...I like them "fresh" for most recipes, when I want crisp, I reach for Panko.