Lettuce Wraps – A Party In My Mouth!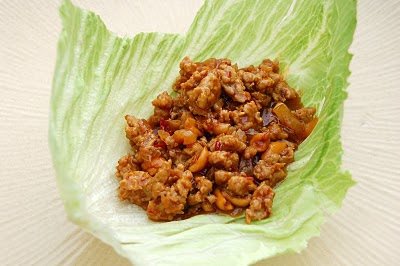 I am having so much fun with this blog! Thanks for all the kind words and I am so loving the interesting people I am meeting…virtual group hug!
I love to cook and those around me will say I love to talk…so this is a cool combination of the two, except YOU don't get to see the excited flying around of my hands as I jabber. lol!!
I was thinking about some of the recipes I have posted so far, some are favorites of mine and I had a random thought that I could have called this site A Party In My Mouth Ha! But I like the story of the name much better (smooch to my daughter).
Last year I went to PF Chang's for the first time (and seriously had the best waiter EVER…I even called the GM to compliment him after) and everyone was making a big deal about their Lettuce Wraps – funny I had been making them for years…I had tried to duplicate the Chop Chop Salad from Houlihan's years ago…but somehow now everyone equates Asian Lettuce Wraps with PF Chang's – good marketing I guess!
Anyway – these are sooo good, a true party in my mouth for sure.
My husband does not like them with the peanuts, but I sure do. This is a great crowd pleaser – and so very easy to make, folks will think you worked harder than you did. Serve as an app, buffet choice or as a main course for a light dinner.
Lettuce Wraps
adapted from Pam Anderson – Perfect Recipes for Having People Over
(One fantastic book!!!!!)
Ingredients
1 TBS olive oil
1/2 cup dices sweet onion
1 teaspoon minced garlic
1 pound ground chicken
1/4 cup soy sauce
1/4 cup ketchup
1 TBS rice wine vinegar
4 teaspoons Asian sesame oil
1-2 teaspoons red pepper flakes (your preference)
3 TBS brown sugar
1/2 cup cocktail peanuts
Optional: if you have it on hand add in a teaspoon or two of chili garlic sauce to give it a bit of extra umph!
1 head iceberg lettuce (remove the core, separate into leaves)
This will serve 4 as an appetizer I usually double this…if their are leftovers…oh darn…I have to eat them!!)
In a small bowl or mixing cup combine soy sauce, ketchup, vinegar, sesame oil and brown sugar, mix well. Set aside.
In a large pot heat the oil over medium high heat. Add in the onions and garlic and saute for 3 minutes, stirring often.
Add in the ground chicken, stirring often. Keep at it until chicken is no longer pink, about 5 minutes.
Pour in the sauce mixture you set aside. Stir well.
Add in the red pepper flakes.
If adding the chili garlic sauce do so here.
Add in the peanuts. Stir until well combined.
I like to then remove this from the heat and set aside for a hour prior to serving. I feel the flavors just come together so nicely. You can also make this a day ahead. This is one of those dishes that just do well reheated. And I don't feel that way often.
Serve along side the lettuce leaves (and very large leaves can be halved) or over salad.
Enjoy!
Colleen