Oven Baked Cheese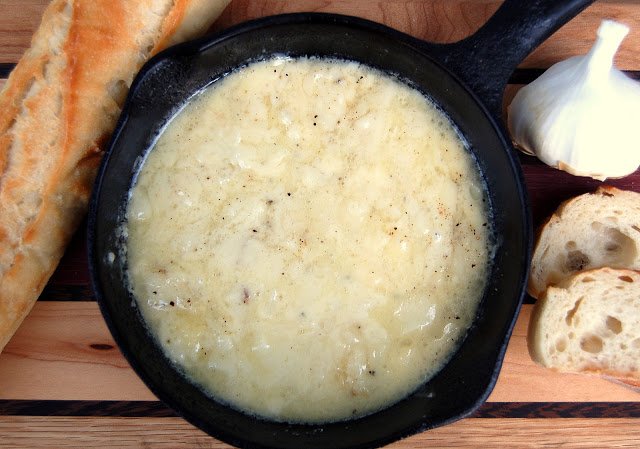 New Hope is a trendy river village nestled on the banks of the Delaware River about 9 miles from where we live, here in scenic Bucks County, Pennsylvania.  Many festivals and events occur there throughout the year. It has some really cool shops, fancy restaurants and a fun nightlife scene.
Back when I met my husband, New Hope was the site of a number of our early dates.
I loved it, and I still do!
One restaurant we frequent often is Havana, which I would say is one of the most popular places to both eat, drink or catch a cool band. Havana used to serve a baked cheese app, in a small cast iron pan.  The best part for me was finding small chunks of garlic in the cheese as I scooped it up on a hunk of warm crusty bread while chatting away with my future husband.  It was slightly reminiscent of fondue, only with gaaaaarlic! Yum!
This is what I imagined that fantastic little pan of cheese it to be. Oven Baked Cheese is Perfect for a cold winter night by the fire with a glass of your favorite wine and your favorite sweetie by your side!  Cheers!

Oven Baked Cheese


2-3 cloves of garlic, sliced into thirds
3/4 cup of diced Provolone cheese
1/2 cup diced Fontina Cheese
Pinch of Kosher salt and pepper
Slices of French bread
Preheat your oven to 450 degrees.
Prepare your pan by spreading a tiny bit of olive oil over the bottom of it with your fingertips.  Just enough to make it shine. About 1/2 tsp.  Scatter your garlic and cheeses into your pan.  Sprinkle with salt and pepper and bake for 15 minutes or until melted.  You can also broil it for a bit if your want to speed things up or if you would  like some lovely browned cheese in spots.
Once cheese is completely melted, remove from the oven and serve right away.  If your cheese hardens before your finish wolfing it down, err I mean enjoying it, just pop it back in the oven for a few minutes and it will melt right up!
**Sometimes I sprinkle truffle salt over-top and  sometimes I add a TBS of white wine to change it up a bit.
Enjoy!