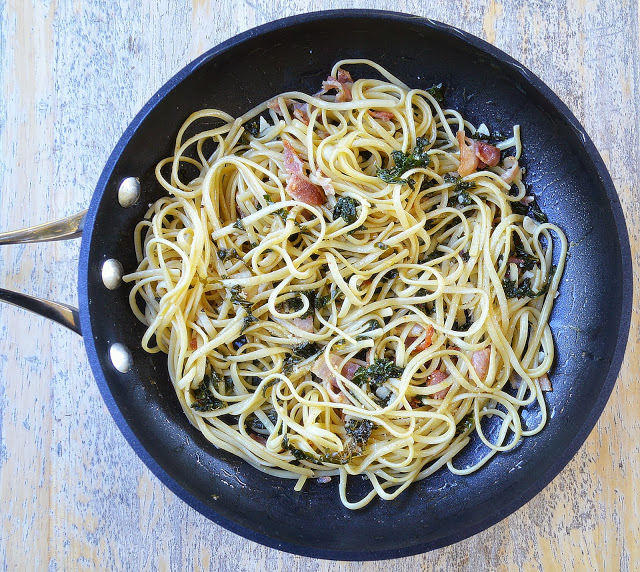 A number of people have asked about the recipe for the pasta dish that Samantha, my 9 year old daughter, helped make while trying out Calphalon's new Elite Non Stick Pans. I was cracking up at some of the comments about the my Sicilian Calamari recipe – when it comes to squid it seems that you love it, hate it or have never given it a try! I say start with crispy calamari which I adore! As a matter of fact I have a prize winning recipe for it which made it into the Food 52 Cookbook – how cool is that?? Here it is – Spicy Calamari. This is one of the most requested dishes from my husband, family & friends – really!! Give it a try!! Guess I should get around to taking a better picture than that one – it was one of the first posts here on Souffle. Seems that it always disappears before I can think of it. If the spicy sauce isn't your thing here is a straight up recipe for Fried Calamari. Enjoy!!
I only quick snapped a photo of Samantha's Pasta Kale & Bacon dish with my phone. Above is a pic from the next day, when what was leftover was reheated for her for dinner. She did a great job making this – I was HER assistant, she did just about everything except scoop out the kale from the boiling water and dump the pasta. I'm still nervous about her being to near boiling water and my pots are heavy – she can't even lift them when they are filled with water. When it comes to kids in the kitchen, in my opinion, you set the parameters for what they can and can't do as well as how they do them, other than that – as long as they are not being wild and are focused and into what they are doing, let them go…they usually can do anything and will happily surprise you!
The four of us L-O-V-E pasta and THAT makes me so happy since every one of us has a number of things we just don't like or are allergic to. The nights we have pasta – I get to make 1…yup, O-N-E dinner…no short order cook-ery! Hooray for me!!
If you have a favorite pasta dish, I would love to hear of it and possibly recreate it! My tummy is grumbling at the thought!!
Oh and here is my little chef on the set of a kids cooking pilot…this past Thursday we were in NYC for the taping…more on that later!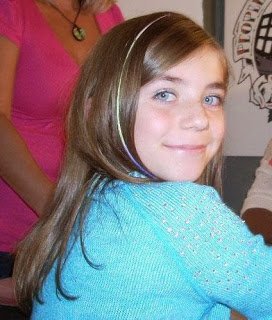 Pasta with Kale and Bacon
3 cups of kale, tough stems removed, washed and thinly sliced
1 pound of linguini
6 slices of bacon or ½ cup of cubed pancetta
1/2 cup olive oil
8 garlic cloves,
finely chopped
2 TBS grated lemon peel
2 TBS fresh lemon juice
Kosher salt and coarsely ground black pepper
Red pepper flakes to taste
3 oz. Parmesan cheese, shaved or freshly grated
Bring a salted pot of water to a boil. Add in your kale and
cook for about 5 minutes or until tender stirring a few times. Scoop the kale out of the water, draining it
well, and transfer it to a bowl.
Meanwhile in a large sauté pan, cook your bacon/pancetta
until almost crispy (or how you like it).
Once the bacon is done, scoop it out and set it aside. Reserve your sauté pan with the bacon fat.
Bring the water back to a boil. Add in your pasta and cook
until al dente or a minute less than that. Drain your pasta, but keep ½ cup of the pasta
cooking water.
Reheat your sauté pan over medium heat. Add 1/4 cup of oil to your remaining bacon
grease and sauté the garlic for about 30 seconds, being careful not to brown it.
Add in your kale, lemon zest and toss
well, season with salt and pepper. Add your
pasta and the remaining 1/4 cup of oil and toss well. Stir in the lemon juice, and ¼ cup of your reserved pasta water. Toss well.
Taste, adjust seasoning if necessary.
If you feel you need more liquid, add in a bit more or all of your
reserved pasta water. Add in your reserved
bacon/pancetta and the cheese and serve.
Colleen's Notes: This was delicious, I really enjoyed it, next time I think I will add in shallots for added flavor. I actually had set 2 out for Samantha to use but somehow forgot about them.
-pasta adapted from Curtis Stone


Enjoy!