Roasted Red Pepper Spread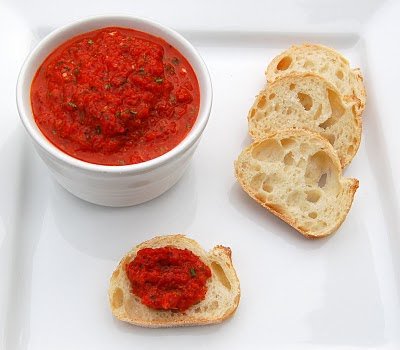 I love a good get together with old friends or new friends….Of course with me it is often about the food as well as the fun.
There is just something about the planning, preparing, greeting, nibbling, cocktails, fun and laughter that is just perfect! Often if I reflect on different events from my life, I usually recall some of what we ate or drank (the good, the shall I say …interesting and the bad). It leaves an impression.
Just as a smell or song can bring you back to another time and place…certain dishes do that for me.
This Roasted Red Pepper Spread is as beautiful as it is tasty.
It reminds me of Fall and fun, free spirited gatherings with girlfriends…good times for sure! Plus this appetizer helps make up for those oh so good creamy ones!
Roasted Red Pepper Spread
-originally from Barbara Kafka
15 ounces of roasted red peppers, homemade or purchased drained and blotted dry on paper towels
2 TBS of olive oil (For me the best flavor comes from extra light olive oil)
2 1/2 TBS finley chopped parsley
1 TBS fresh lemon juice
2 teaspoons capers, drained
1-2 cloves mashed garlic
pinch of kosher salt
pinch of black pepper
If you are using purchased peppers, which I have done with success many times…you really need to make sure your peppers are as dry as you can get them…squeeze them a bit then blot dry with paper towles.
Combine all ingredients in your food processor bowl.
Pulse until incorporated, stopping occasionally to scrape down the bowl.
Taste and adjust the seasoning to your liking.
This will keep in a sealed container for 5 days.
Serve at room temperature with freshly sliced French baguette rounds, crudites, Parmesan toasts or Stone Wheat Crackers
Enjoy!!
Colleen