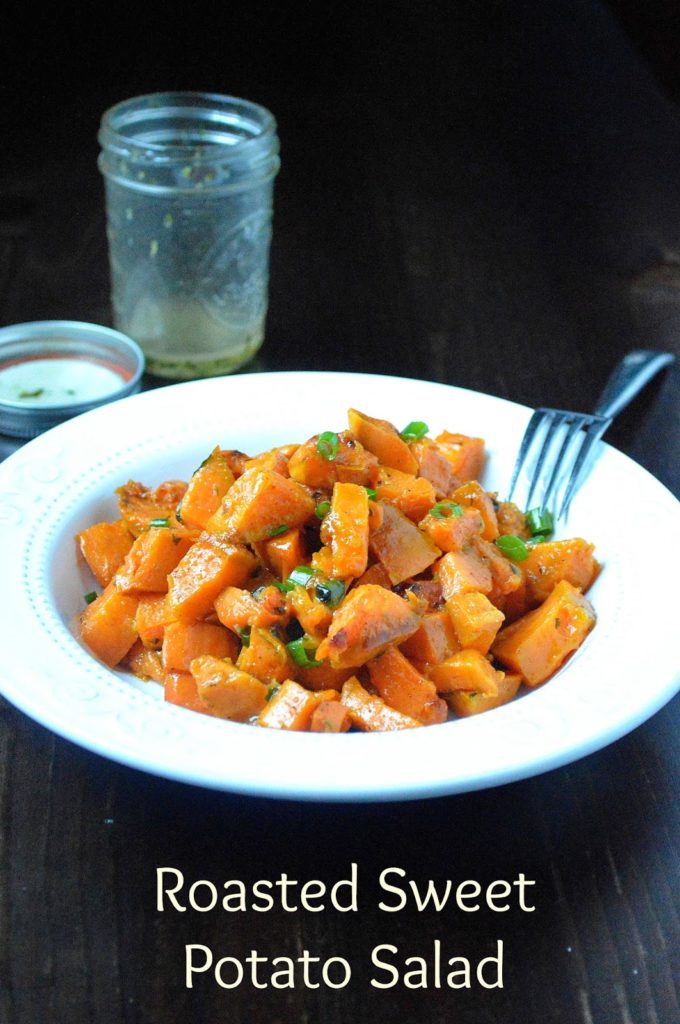 At a picnic or a summer party, I love a good potato salad as much as anyone (especially if it has bacon and chunks of egg in it…mmmmm) however when its hot out I never seem to go for the heavier mayo-laden items. Maybe its the "what if the mayo is going bad thing" or maybe its just that my body wants to eat less when its hot. No clue.
One day I was gazing at a couple of sweet potatoes in my root vegetable bin and thought hmmm, maybe I will make a sweet potato salad to go with dinner (burgers I think it was) so I did. My mind immediately went to one of my favorite vinaigrette's – a honey lime vinaigrette that I use on a number of things. I really enjoyed the simplicity of this easy side dish and the way it highlighted the sweet potato.
This Sweet Potato Salad is a simple alternative to the traditional potato salad, plus it can stand up to the heat and as an added perk its less calorie laden. I have never seen it offered at any gathering I have been to. Why not give it a whirl!


What else would you do with this salad to make it your own?
You could jazz this up more if you like by adding some small pecan pieces, additional herbs and maybe dried cranberries if you want. If I added pecans, I would make these sweet and spicy pecans then give them a chop and add them in. You can roast the potato chunks or boil them (I think roasting brings out more flavor).


Roasted Sweet Potato Salad


2 large sweet potatoes, peeled and cut into small chunks
1 TBS olive oil
Salt and pepper to taste
4-5 scallions, sliced thin
Toss sweet potato chunks with the olive oil, salt and pepper. Place them in a single layer in a roasting dish and roast at 400 degrees for 25-30 minutes or until fork tender. Allow them to cool down to "warm". Sprinkle scallions over-top and toss with Homey Lime Vinaigrette Serve warm or at room temperature.
Honey Lime Vinaigrette


1 TBS Balsamic vinegar
1/2 TBS honey
1 TBS olive oil
1 tsp fresh lime juice
1 tsp minced garlic
A couple of shakes of Cayenne/red pepper (optional)
Salt & pepper to taste

Combine all ingredients in a mason jar, seal, shake vigorously and pour over your salad. You may have to stir this a bit as well to get the honey to fully emulsify.


Enjoy!!