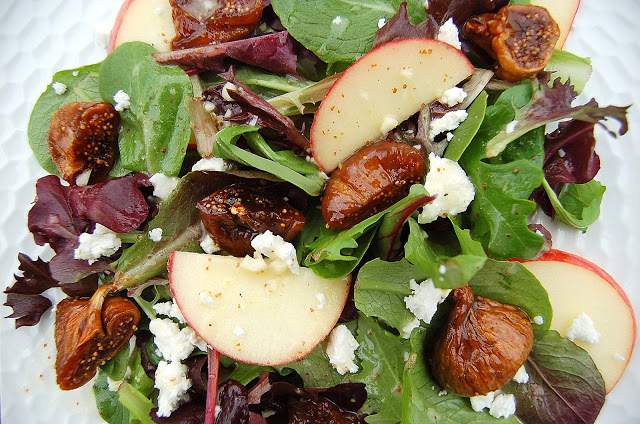 Lately, the two salads I have been making for myself over and over are this Sauteed Fig & Goat Cheese Salad and the oh-so-addictive Crispy Avocado Bacon & Tomato Salad (yes...I did say crispy avocado...can you hear the angels singing?)

They are completely different in both texture a flavor and I just can't get enough of either of them! Better than chocolate...right??
I have had a serious craving for fresh figs BUT its February and short of me being the Queen of England or Angelina Jolie, fresh figs just are not going to happen for me for months.
SO when one of my girlfriends, who knew of my fig craving, gave me a hige bag of Organic Sun Dried & Unsulfured Calimyrna Figs I got right down to business making this salad, which was inspired by a local bar/restaurant (Tony's) who had a caramelized fig & blue cheese salad on the menu awhile back. When I ordered it I asked them to hold the Blue cheese (not a big fan) and replace it with Goat cheese. Then I fell in love...sigh!
The thing these two salads have in common is that either can work as a meal and in my opinion in both cases you feel like you had meat and are satisfied. You are cutting the crispy avocado and you are cutting the figs. My brain gets completely fooled, lol! Of course for the fig salad, you could totally add some sliced grilled chicken and make it even more satisfying.
Hope you enjoy!
Sauteed Fig & Goat Cheese Salad for 2
8-10 sun-dried Calimyrna figs
1 teaspoon butter
2 TBS water
1 Honeycrisp apple sliced thin
4 oz of plain goat cheese
Salad greens, I usually go for a spring mix / field greens
In a small frying pan, sautee your figs with the butter & water until all of the liquid is absorbed. Stirring occasionally. Scatter figs, apples and goat cheese over your greens.
*The extra step of sauteing the figs, hydrates them a bit more and makes them chewy-sweet. SO good!
Honey Lime Dressing
- adapted from Martha Stewart

2 TBS rice wine vinegar
1 TBS honey
1 teaspoon Grey Poupon Country Dijon (or other grainy mustard)
1 teaspoon minced shallot
6 TBS olive oil
Salt & pepper to taste
Combine all ingredients in a mason jar, seal, shake vigoroursly and pour over your salad.
Feel free to add in some spicy or sweet pecans, honey roasted sunflower seeds, grilled chicken or whatever you might like.
Enjoy!!