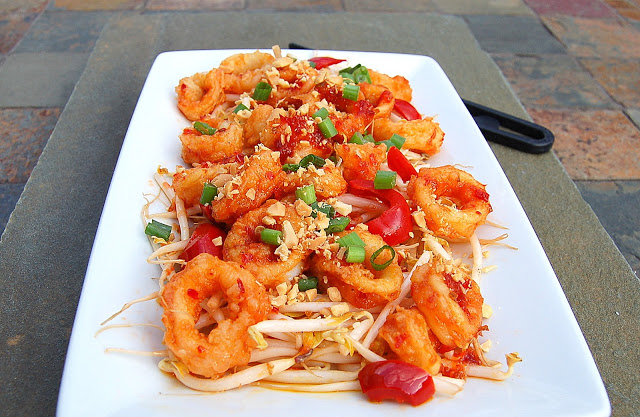 In my last post I shared with you my recent overnight adventure in Downtown Philadelphia. I told you how much my husband and I as well as 4 other couples enjoyed our dinner at DelFriscos. One of the appetizers that Chef John brought out to our table was calamari. I am no stranger to calamari, I love it! As a matter of fact, I have a couple of calamari recipes on my site, one of which won a recipe contest over on Food52 and is in their latest cookbook.
THIS calamari was beautiful to look at and absolutely delicious! We obliterated 2 orders of it in minutes; I may or may not have seen one of my friends licking a plate!!
In my mind, the dish was similar to my Spicy Calamari, but it was made a full beautiful plated appetizer with the addition of a few things like bean sprouts, cherry peppers, scallions, sesame seeds and Cilantro.
I recreated it to my recollection the following Friday and totally enjoyed what I thought it was. I omitted the sesame seeds and Cilantro since they are two of only five things my husband does not like in his food. Although that night he wasn't complaining...however I attribute THAT to the hour we spent at the bar drinking their incredible cocktails. My husband and a few friends were in love with the Dirty Martinis and I was smitten with a Hawaiian Pineapple & Tangerine Vodka Martini. It was absolutely delicious!! In truth, it was an expensive night, but totally worth every penny! I can't wait to go back there on a lunch date my 11 year old son who is a steak lovah! That boy is all about fillet, lamb chops and pork. He really does enjoy good cut of meat.
This would be a great addition to your next dinner party or appetizer party!

Shanghai Style Fried Calamari

For the Sauce:
4 TBS chili with garlic sauce (found in most Asian section of grocery stores)
4 TBS honey
1 teaspoon Asian sesame oil
Combine the above ingredients in a small saucepan; bring just to a boil stirring constantly. Remove from heat and set aside.
Play with the above ingredients until your get the taste (sweeter or spicer) you crave.

For the Calamari:
¼ cup chopped peanuts
¼ cup hot cherry peppers, sliced into thirds
¼ cup green onion, sliced thin
A few pinches of whole Cilantro leaves, optional
A sprinkling of sesame seeds, optional
1 ½ cups bean sprouts
¾ pound of calamari tubes
6 oz bottle of club soda
1 cup flour
A couple pinches of salt & pepper
A dash or two of red pepper (if you like heat)
Vegetable oil for frying
Prep your nuts, peppers and onion (as well as Cilantro and sesame seeds if using) so they are ready to go as soon as you plate your calamari. Place your bean sprouts in a small bowl. Set aside.
Slice the calamari tubes into rings about ¼ inch wide. Pour the club soda into a medium bowl, submerge the calamari rings into the club soda. Let sit for 10 minutes.
Meanwhile combine the flour, salt, pepper and red pepper (if using) toss until combined. Set aside..
Drain the calamari, blot them dry. Heat your fryer to 375, once ready, dredge half of the calamari one at a time in the flour mixture, place half of the calamari into the basket and fry for about 1 to 3 minutes or until golden and crisp. Don't overcrowd.
* The key here is to make sure your oil is very hot, you want a crispy coating AND don't crowd your calamari. You want them to have the opportunity to cook and crisp evenly. When you pull them out place on a paper towel lined plate.
Have your oven preheated to 200 degrees and place your first batch in there to keep it warm. Begin reheating your sauce and immediately dredge, then cook the second batch of calamari as soon as your oil is hot enough, turn them out on a paper towel lined plate when done. Toss the bean sprouts with 1 TBS of the sauce.
Grab your serving platter, line your plate with the sauce-tossed bean sprouts. Toss the calamari with some of the sauce until all are have a light coating. Place them over top the sprouts. Sprinkle with the green onions, tuck in the cherry peppers here and there (sprinkle the Cilantro and sesame seeds if using) and sprinkle the peanuts over top. Serve.
Enjoy!!