Spicy Beef & Sausage Chili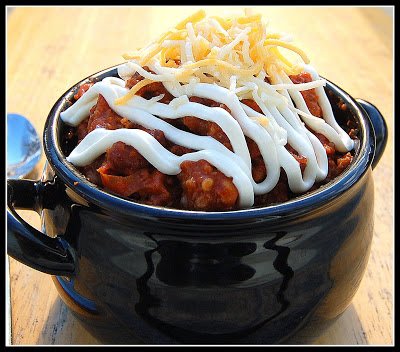 What a week this has been.
For so many here on the East Coast, lives have been irreparably changed.
Some lost everything.
For some it was (and still is) like something out of a disaster movie. No power, something we all take for granted, you find yourself walking into rooms, days later still reaching for a light switch. Something normally found on so many corners…gasoline, impossible or hard to come by. Food stores open with without much food on the shelves.
For many of us, our power is back, our damage is fixable and we have a story to tell. We feel grateful.
The story of the New York mother who had her 2 young children ripped from her arms during the ocean surge haunts me…as a mother, that is my worst nightmare…being in a life threatening situation with my children, terrified for their safety.
There are stories of hero's, of good samaritans and of big companies springing into action.
This is the first time in my life that my area of the world has been impacted to such a degree. It is quite unsettling and humbling.
One "light" memory I will forever have of the storm is:
About 7:30 the evening of the storm, my husband fell asleep (his allergies had been bad that day), my daughter was in the living room watching TV and my son and I were in the family room playing a game. My son looked up at me and said, "I kinda wish the power had gone out"…literally, 2 seconds later…poof… it did. My daughter let out an ear piercing scream, I yelled stay where you are I'm coming and then the three of us hunkered down in my daughters bedroom since we felt it was the safest room in the hose in case our enormous Oak tree came down. My husband slept through the night of games, candles, flashlights and house-shaking winds. About 10:00 that night, I jokingly said to my son. "Honey, can you wish the power back on now" He looked at me with such serious eyes and said "Mom, I've been trying"! My poor kid, he thought "he" knocked the power out! Love him!
The first thing I did after the power came back was vacuum my whole house and run the dishwasher. I have no idea why, I think I thought the power was going to go right back out and I wanted some order. Then as soon as I could, I took a hot shower. Something so simple as a hot shower, that I know I take for granted made me feel so much better. Still right this second, many can't take a simple shower.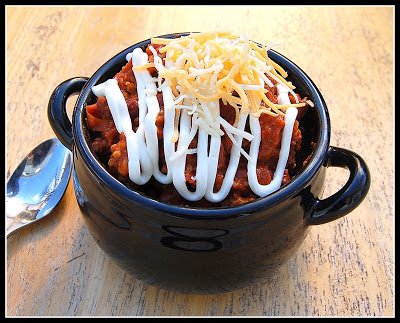 Then, I made a huge pot of chili. To me it was pure warm and delicious comfort food.
If I had a food truck, I would drive it around and give a steaming bowl of this to everyone I could…but I don't and I can't.
BUT I will find a way to help. It's times like these when the best of humanity shines through.
My thoughts and prayers are with those who lost loves, lives and their way of life during Sandy. I have to believe, that just around the corner of life…you will all be OK. Hugs.
Spicy Beef & Sausage Chili
1 medium Vidalia onion, chopped
2 garlic cloves, minced
2 pounds ground beef
2 pounds hot Italian sausage, casing removed and broken up
45 ounces kidney beans, drained and rinsed
1 28 ounce can of crushed tomatoes
1 14.5 ounce can dice tomatoes (I like the fire roasted tomatoes)
1 6 oz can tomato paste
1 large jalapeno pepper, minced (I mince the whole thing minus the stem for heat)
3/4 cup lager beer
1/4 cup chili powder
1 tsp kosher salt
1/2 tsp black pepper
1 1/2 TBS sugar
5-6 good shakes of Tabasco sauce
2 TBS Worcestershire sauce
Heat your oil in a large pot, saute your onions and garlic over medium heat, stirring often for about 2 1/2 minutes. Add in the ground beef and sausage over medium-high heat. Cook your meat, stirring often until it is mostly browned. Drain off most of the grease/liquid using a lid to assist you.
Add in the beans, tomatoes and tomato paste. Stir well.
Add in the jalapeno peppers, and beer. Stir well.
Add in the chili powder, salt, pepper, sugar, Tabasco and Worcestershire sauce, stir well. Let the chili come to a bubble, stirring often. Continue cooking on low heat for 20-30 minutes, stirring often. Adjust seasonings to your liking.
Chili gets better with time, so let it rest on the stove covered by a lid for an hour prior to serving (or make a day ahead). Reheat and serve.
Serve with bowls of shredded cheddar cheese, sour cream and chopped green onion for garnish choices.
*Depending on your taste, you may want to add in 1 tsp ancho chili powder and or some red pepper. If like want it hot…add away.
** If you like your chili with more tomatoes double the tomatoes and reduce the beer to 1/2 cup
Enjoy!