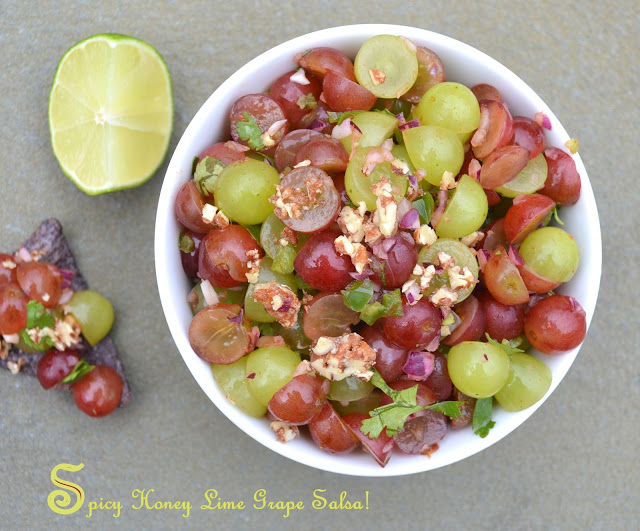 Anyone who knows me (even a little) knows that I adore appetizers! I don't know if adore is the right word for it...I need a stronger word, something timeless, sexy and strong. I seriously could be content for the rest of my life eating only appetizers in one form or another...really! They are just so fun, the choices are endless and many take little effort to whip up.
Who's with me on this??
When summer rolls around, I begin to crave lighter, often refreshing appetizers. It's a plus in my book if they can hold up to the heat considering a big part of spring and summer involve outdoor BBQ's and gatherings.
Recently I made a Spicy Watermelon Salsa and that got me thinking about grapes and how they would be in a salsa, I knew I wanted it to be refreshing and have a bit of a kick. I also knew I wanted a bit of crunch to the dish for a nice texture balance. Within 48 hours of thinking of that and writing it down on my "ideas to make list" my cool & crazy friend Linda made one that I saw on her website. Check out her recipe here. If you are ever looking for a fun cocktail to serve, you really need to check out Linda's site, she's got some good drinks! Another friend Paula who cooks incredible Italian foods shared this amazing Raisin and Nut Agrodolce in May which includes grapes. This is a dish I have never heard of and can't pronounce but I fell in love with at first sight! (I really need to get my butt to Italy one day soon - and just eat my way through it...wouldn't THAT be glorious?? Or maybe I can pretend I am in Italy, eating, just by pitching a tent outside Paula's kitchen and begging her feed me for 48 hours straight! A whole new world of food awaits!!


This is my take on a Grape Salsa and I am ridiculously happy with it, I hope you are too!
This, my food-loving friends...THIS Grape Salsa is something you reeeeal-ly need to make this summer, that is how much I enjoyed it. This salsa is a flavor explosion! It's what I call a party in my mouth!! You've got sweet, spicy, crunchy all at once! The key is beautiful, great tasting grapes - hold out for them. Here are a few of my favorite summer apps, enjoy! Tomato Bean Bruschetta, Roasted Red Pepper Spread, Bacon, Tomato & Jalapeno Guacamole, Tomato Mozzarella Bruschetta, Creamy Guac Dip and for the kids, it's always a hit. Apple Salsa with Cinnamon & Sugar Chips!
Spicy Honey Lime Grape Salsa
½ cup chopped sweet & spicy pecans click here for my recipe

3 cups red seedless grapes
3 cups green grapes
¼ cup chopped cilantro
⅓ cup minced red onion
1 big jalapeno, minced (use the whole thing minus the top)
Optional: A few shakes of red pepper (to taste)
⅓ cup fresh squeezed lime juice
⅓ cup honey
1 ½ TBS red wine vinegar
Make the Sweet and Spicy Pecans, set aside to cool.
Cut your grapes into quarters and throw them into a good sized bowl. Add in the cilantro, onions, jalapeno and red pepper if using. Toss well. Combine honey, lime juice and vinegar and either shake well in a shaker or mason jar or whisk in a bowl. Pour it over your salsa and toss to combine. Sprinkle with the nuts, toss and serve.
Colleen's Notes: The first time I made this, I only halved the grapes - which made it more difficult to scoop up onto a chip. I also did not make a "sauce" I just tossed the grapes with fresh lime juice and red wine vinegar. It was good however, I needed to keep re-tossing the dish to keep the grapes in the sauce, something was missing. So I decided to add honey so it would cling more and form more of a sauce. THAT took this from good to great! The photo above is from the first batch.
You can serve this with store bought chips, make some of your own (sweet and spicy or just spicy), add it to chicken salad (mmmm), grilled chicken or whatever you dream up.
You can also gobble it up with a fork (wink)!
You can assemble the salsa ahead of time, just add the wet ingredients about 30 minutes to an hour before serving. Sprinkle the nuts over top and mix in just before serving so they keep their crunch and POW of flavor! OH...you probably definitely will want to make a full size batch of the nuts - they always go fast at parties that is if my husband doesn't find them first! I apologize in advance for your new nut addiction!
Chop the pecans after you have made them and they have cooled & hardened.
Tip: Grab your kids or grandkids to help you with this dish - they can be the "pluckers"!! Having them pull all the grapes off while you chop away makes this prep so much faster! Plus, you will be surprised at how chatty they become when they work alongside you in the kitchen 🙂
Enjoy & let me know if you make this and what you thought!!