I am not sure when Sriracha sauce came to be. I don't remember it in my life growing up, however, one taste was all it took for me (and just about everyone I know) to fall in love! This Grilled Sriracha Chicken recipe is SO easy, I have a feeling it may become a new favorite!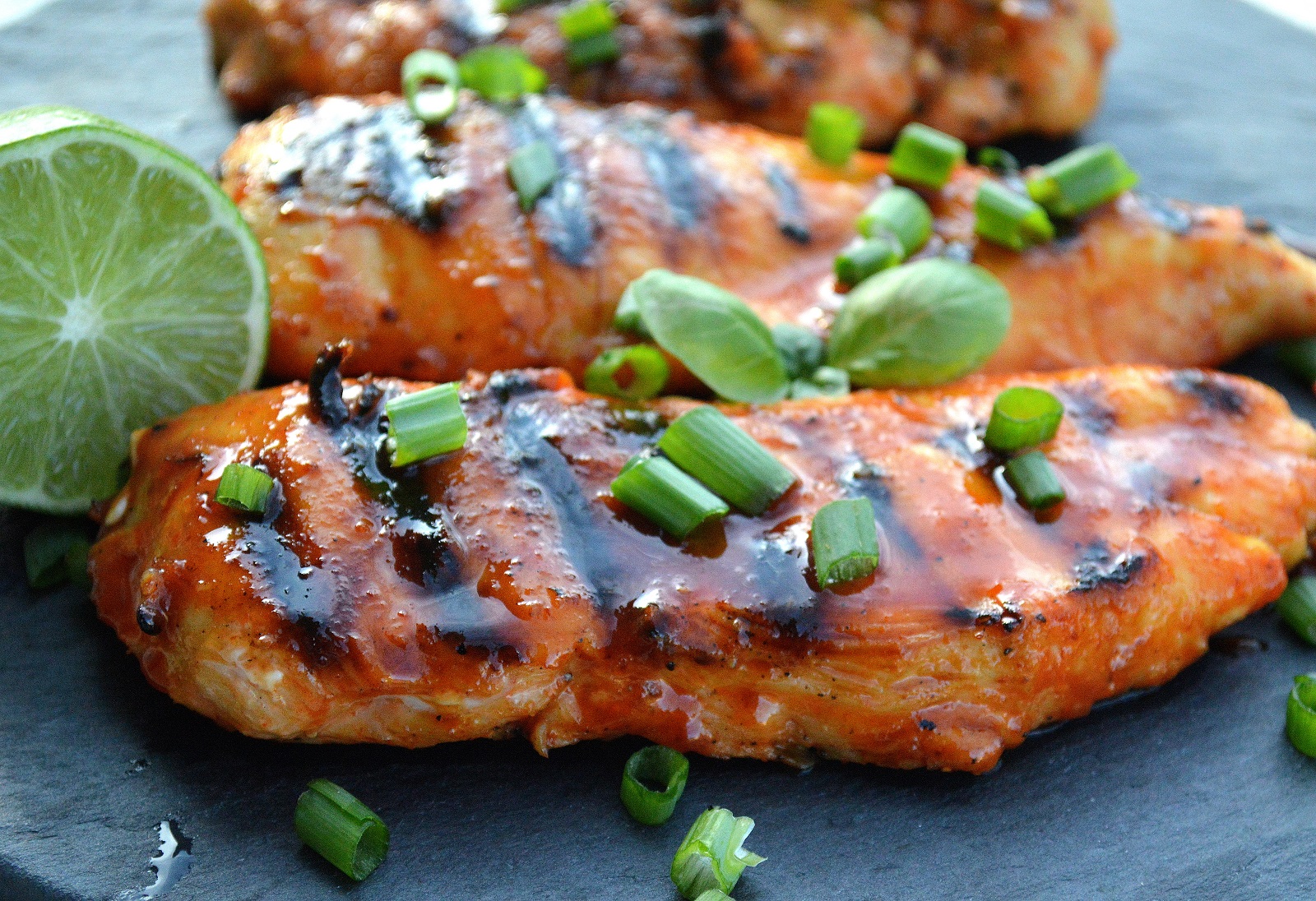 Spring is finally making itself known here in southeastern Pennsylvania and that means I will be spending a lot of time making all kinds of grilled food which makes me very happy! Nothing beats the taste of a good grilled meal in my opinion. This Grilled Sriracha Chicken recipe is easy, full of flavor and good for you too!
All you need to do is mix up a handful of ingredients. Honey, soy sauce, garlic (Gourmet Gardens Garlic Paste, which works especially well here. It's long been a favorite ingredient of mine. you can use minced garlic as well, but I feel the paste works better), freshly squeezed lime juice and Sriracha. Salt and pepper your chicken, add it to the sauce for a quick marinade and them simply toss it on the grill. I like to reserve some of the marinade (before the chicken gets added) to finish the chicken off after it comes off the grill, mmm-mmmm!
Simply add a simple salad, rice or some grilled or steamed veggies to this Sriracha Chicken recipe and dig in!
If you love spicy food, feel free to spice this up a bit by sprinkling your chicken with some cayenne pepper before it hits the marinade OR by upping the amount of Sriracha used. Same goes for sweetness if you want to taste the sweet…add additional honey or a TBS of brown sugar. Like I always say, make the recipe how you want to eat it.
You can pan saute this chicken as well, in strips or whole or you can bake it in the oven, but in my opinion,  grilling it is the way to go.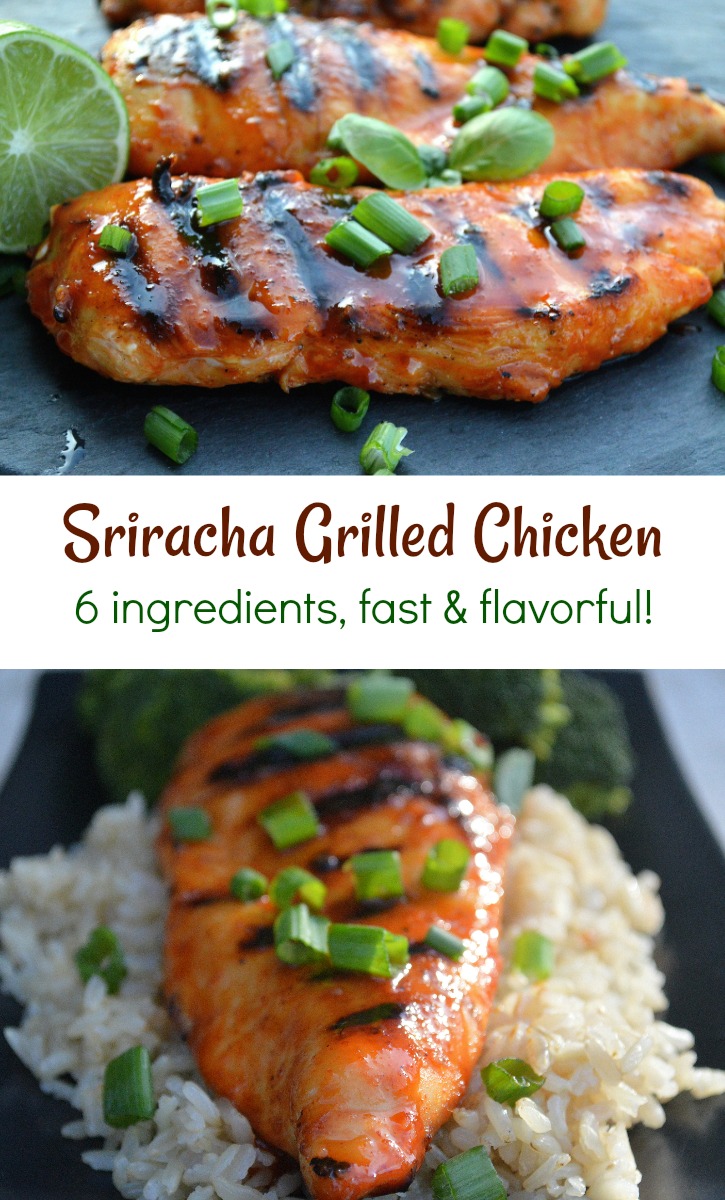 Here are a few tips on successful grilling of chicken breasts:
A dried out chicken breast is no fun to eat. Chicken breasts vary in size and thickness so one thing I do is if I have a large/thick breast is to slice it in half down the middle making two thinner breasts. That allows for even cooking. You can also pound the ticker size a bit to even it out.
Always make sure you allow your chicken breasts (or any meat for that matter) sit out on your counter for a 30 minutes or so before grilling/cooking. That ensures even cooking. If you try to cook partially frozen meat or ice cold meat, the centers will not catch up to the rest of the meat. You are not doing your meat any justice that way.
Salt is your friend when it comes to seasoning meat, don't be shy. It not only adds some flavor, it helps seal in moistness, which is something you want when cooking chicken.
Make sure your grill grates are clean(ish). Scrape off any leftover bits and then using a wadded paper towel or two or an old cloth, oil your grates with grapeseed or vegetable oil. This helps ensure your chicken doesn't stick. We all what that beautiful char right? So you don't want to have it ripped off stuck to the grill.
Don't overcook your chicken. Boneless needs less time to cook, 4-5 minutes per side is usually good. 3-4 if it's thinner. Your chicken knows…if it's not releasing from the grill (if your grill was cleaned and oiled before cooking), it's not ready to flip yet. Cook chicken over medium-high or medium heat, you don't want your grill set to the high setting. I typically preheat my grill on high then lower it to medium.
Let your meat rest. Chicken should rest 5 minutes before you cut into it.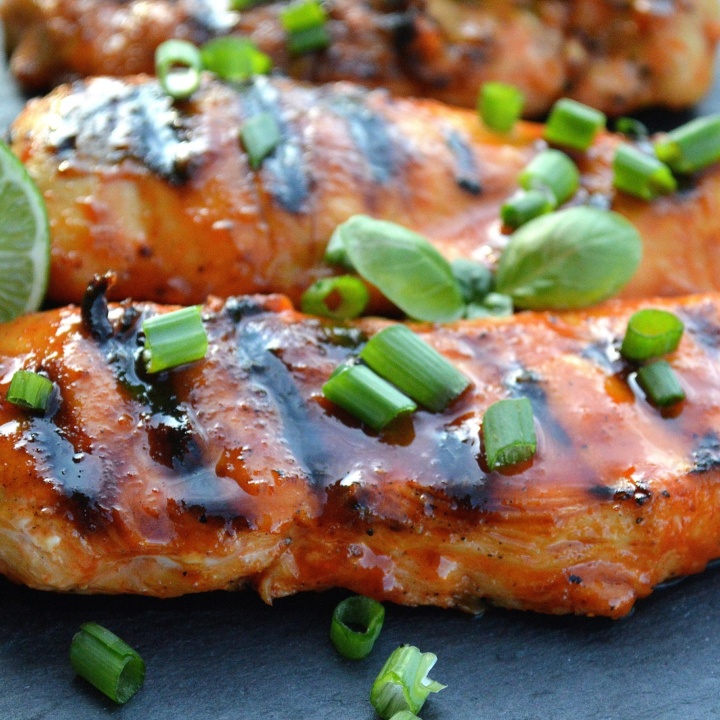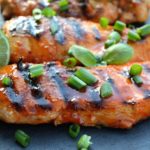 Print Recipe
Sriracha Chicken Recipe
Ingredients
1/4

cup

Sriracha

5

TBS

honey

3

TBS

soy sauce

2

TBS

fresh lime juice

2

TBS

garlic paste

or 1 clove garlic minced

4

boneless chicken breasts

Salt & pepper

Scallions

Fresh basil
Instructions
In a small bowl, combine Sriracha, honey, soy sauce, lime juice and chili paste, mix until combined.

Take place 3-4 TBS of the marinade into a ramekin or tiny bowl and set aside.

Season chick breasts on both sides with salt and pepper (and if you want it spicy a little cayenne) and add chicken to the marinade. allow it to sit for 20-30 minutes.

Oil your grill grates (clean them first with a wire brush if necessary just to get any char off) and then preheat your grill on high for 4 minutes then lower to medium or med-high.

Grill chicken till done. Cook time will vary, size and thickness of chicken breasts make a difference. Read the bottom of my post above for tips on properly cooking chicken breasts.

Spoon or brush reserved marinade overtop the chicken breasts (allow them to rest or 5 minutes before you cut into them).

Scatter snipped scallion overtop and accent with fresh basil leaves if you wish and enjoy!
Enjoy!!