I've got a delicious Deconstructed Stuffed Cabbage Rice Bowl aka Golumpki recipe for you today!
My grandmother, Mary, who passed away last year (at 102) was 100% Polish. She was quite the cook. My grandmom didn't just cook, she was passionate about it and loved to try new things. Of course I had Golumpki's, aka Stuffed Cabbage, in my life...a lot. I can remember grandmom always sending us home with trays of her Homemade Pierogi's and Stuffed Cabbage after every visit.
I never saw any kind of sauce with her stuffed cabbage. It wasn't until I was a working adult in my 30's that I came across a co-worker, Ali, eating left over stuffed cabbage for lunch and saw that it was smothered in a tomato sauce...I was stunned. I thought she was crazy, lol! She ended up having her boyfriend make me some the next week and I have to say, his sweet tomato sauce was delicious!
I never did mention that to my grandmother. My husband who also grew us eating stuffed cabbage, cringes at the very thought of sauce. Funny, the first Polish festival my husband and I went to years ago served their Golumpki that day with sauce. Hmmmm. What do you do?
As a kid I wanted nothing and I mean noooothing to do with the cabbage part. I loved the inside and would peel off the cabbage and slide it to the very edge of my plate, always getting in trouble with my dad for not wanting to eat it - even though he clearly loved cabbage himself and would be more than pleased to eat my "extra". I guess it was the point of me not eating what was made for me (I did have a history of clogging the toiled and smelling up the flower beds with what I wouldn't eat and hid for what I thought was stealth-like disposal...lol). After a few years my dad gave up and began happily eating my discarded cabbage 🙂
To this day, I still want nothing to do with the cabbage leaves that envelop the delicious treasure awaiting me on the inside of a Golumpki ...lucky for me, my husband happily eats mine.
I like sauteed cabbage with bacon. So I thought to myself, why not make a Golumpki Rice Bowl with the cabbage the way I like it and BAM, that's exactly what I did! No blanching, no boiling, no wrapping, no being gentle with the leaves! Instead...easy peasy and everyone who was at our house that day was so happy with it! The kids loved the sauce and the adults ate it without. I have to say the sauteed cabbage was wonderful! I actually wanted to add some bacon, but I controlled myself! Instead my daughter (10) sautéed the cabbage in bacon fat...it was so good!

#CreateAStir and easily transform a simple bowl of rice into a meal!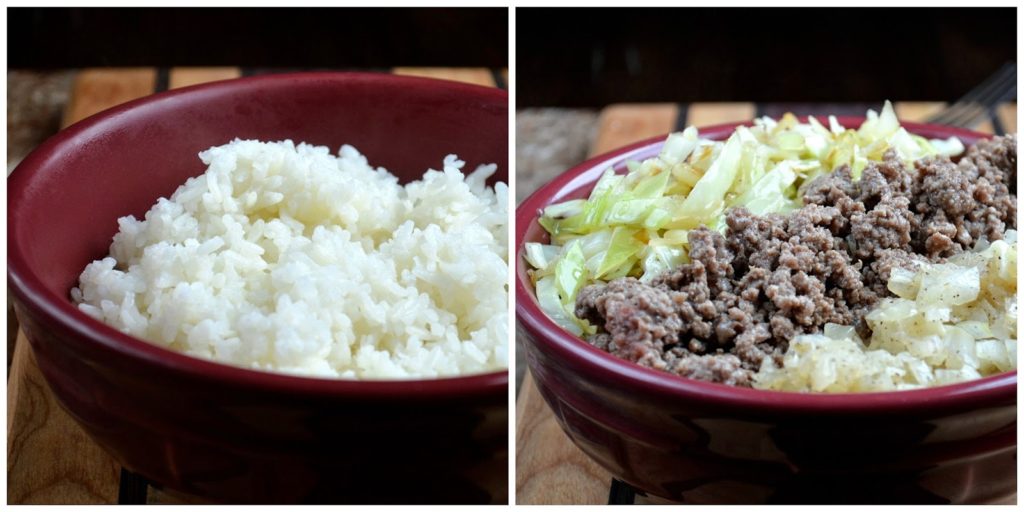 A few weeks ago I created my first "Stir" for Della Rice and made this crazy-delicious 20 Minute Asian Lettuce Wrap Rice Bowl. You need to try it!
I've actually had a blast coming up with rice bowl ideas as well as seeing what some of the other bloggers involved created! Using a rice maker makes it so easy. I can not believe I never thought to get a rice maker before! I will never go back to a pot...never, never, never!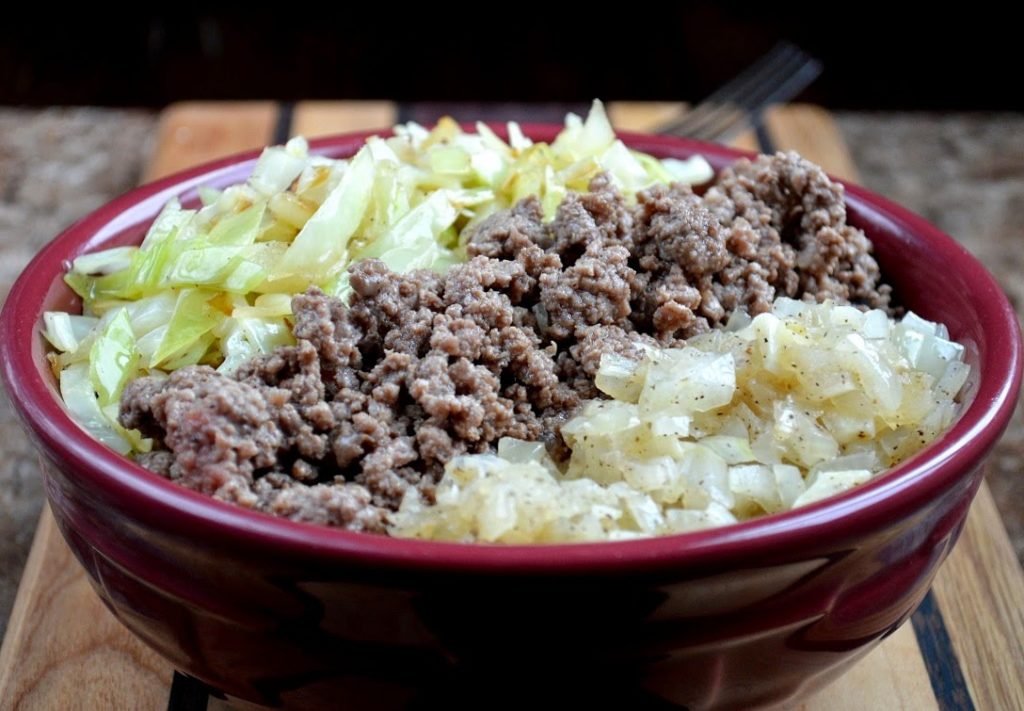 Della Rice (who is a part of Specialty Rice, Inc) maintains 10,000 acres of farmland in Arkansas, the country's largest rice-producing state. The East Arkansas Delta, where Della Rice is grown, is known for creating outstanding, aromatic specialty rice. The company has been family owned and operated for more than 20 years. The Specialty Rice facility is 100% gluten-free, kosher, and non-GMO.

Stuffed Cabbage Rice Bowl Recipe
2 cups your favorite uncooked Della Rice
½ head of a large cabbage or a whole head of a small cabbage
2 cups chopped sweet onion
4 TBS butter or bacon fat
2 pounds ground beef
Kosher salt & pepper
Prepare your rice via stove-top or rice cooker according to the packages instructions. While it cooks, slice your cabbage down into thin ribbons (or shred it). Over medium heat, saute your cabbage in 2 TBS butter or bacon fat until its done to your liking. Season aggressively with salt & pepper.
Sauté your chopped onions in 2 TBS butter or bacon fat until translucent. Season with salt and pepper.
Sauté your ground beef, season well with salt & pepper and drain of any excess fat.
Top your rice with the cabbage, onions and beef and if you wish a sweet tomato sauce and enjoy!
Colleen's Notes: If you want to make a sweet tomato sauce to go with this dish, simply open a 28 oz can of crushed tomatoes, add in ¼ cup brown sugar, ¼ cup red wine vinegar, salt and pepper. Simmer over medium heat and serve over your stir. I have heard that some add in chopped golden raisins to their sauce...sounds yummy!


Enjoy creating your own Stir or eating one of mine!