THE BBQ PORKABELLA PIZZA

I am not a big fan of straight up pizza...I know...gasp!  Between being a kid, then all then years I spent working in the banking industry with all the late night sessions and full day meetings when pizza and or hoagies were constantly brought in to keep us going caused me to kind of never want to see a pizza or a hoagie again!
Of course "I" ended up marrying a man who thinks savoring a Supreme Pizza, bite after bite, is one of the greatest perks of being a human being, and now my kids and their friends get all excited at the mere thought of a pizza in their future. I just deal (and order a salad or a chicken sandwich).
When I became aware of "different" pizzas being created like a BBQ Chicken Pizza or Hawaiian Pizza's about 20 years ago, I was quite horrified at the thought...I remember thinking "who puts pineapple on pizza?"  Then, about 10 years ago, I finally took a bite a slice of a a BBQ Chicken & Bacon Pizza and I was like Whoa...WHAT just happened?  It was delicious, almost life-altering and it sure was a party in my mouth!
Since then I have happily tried many creative pizza's and enjoyed them.  But make them?  Nope. Not really. Sure I've made pizza's with & for the kids but that's been about it.  So when the opportunity came along for me to push myself out of my comfort zone and review a copy of the new Revolutionary Pizza Cookbook, I jumped at the chance!
I am SO happy I did!  First of all THIS BBQ Porkabella Pizza was in-cred-ib-le!  As in it should be called the "I Couldn't Stop Myself & Ate The Whole Damn Pie...Pizza"!!  Because, I really think I could have!  I made it THREE times - 3 times people...and we wolfed it down each time!!  My 12 year old son, who has never tried anything other than traditional pizza's, went bonkers for this...and THAT always makes a mama happy!
Revolutionary Pizza comes from the team at Dimo's Pizza; an offbeat & unconventional pizza-by-the-slice restaurant in Chicago.  Dimo's pizzas are crazy!  Looking through this book, I have made plans to have a pizza night once a week over the summer. Everyone selected, with tremendous enthusiasm, at least one pie to make...this is going to be so much fun!  Me? I want the Jamaican Jerk Chicken Pizza...as soon as I can have it!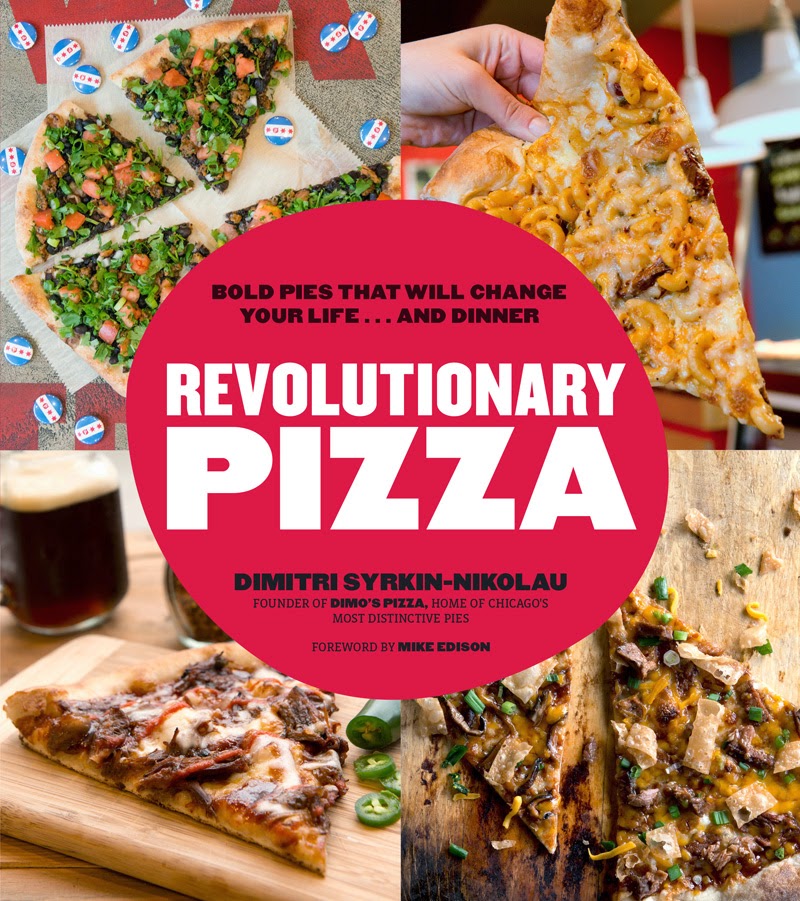 First of all, this book really explained the dough making and the crust forming process easily & specifically...my crust came out as if I had ordered it from my husbands favorite pizza shop! I was thrilled!
And second - the flavors! Oh-my-gosh!  Jalapeno Pop & Lock (yup poppers on a pizza!), Spinach & Artichoke Dip Pizza, Grape Pizza, a Hangover Pizza called The Cure, Skyline Chili Pizza, French Onion Soup Pizza (my 10 year old niece says she wants that pizza immediately) and even a Pumpkin Pie Pizza - and those my friends just scratch the surface!  This book is CRAZY...but I like it!
The cover says "Bold Pies That Will Change Your Life...And Dinner"


...and they mean it!!
Here is the recipe as it appears in the book and you know what...you can totally pop in your local pizza joint and but some freshly made dough if you want - that will allow you to make one of these pizzas in no time at all!
Tomorrow I will be doing a FB giveaway! 
One of you will win a copy of Revolutionary Pizza for yourself!!  You are going to LOVE it!
THE BBQ PORKABELLA 
This pizza proves that slathered BBQ sauce provides the foundation for a meal to entice
both your carnivorous and herbalicious friends. This is especially true when said BBQ
sauce is made with a kick of your favorite porter beer. Plus, who doesn't  like crispy
wontons and cheddar cheese? This recipe will make approximately two 12 inch/30.5 cm
pizzas.
Enough Pizza Dough for 2 Pizza's
1½ lb/680 g pork shoulder
½ tbsp/8 g salt
Eight to ten 3" x 3"/8 x 8 cm wonton wrappers
3 cups/710 mL vegetable oil or enough to submerge the wonton strips for frying
4 portabella mushrooms, caps and stems cleaned and trimmed
4 fl oz/118 mL of your favorite porter beer, we suggest Revolution Brewery's Eugene
Porter
¼ cup/59 mL BBQ sauce, we recommend Sweet Baby Ray's
½ cup/60 g mozzarella cheese, grated
½ cup/60 g cheddar cheese, grated
½ cup/25 g green onion, chopped
Rub pork shoulder with salt and place in a Dutch oven (or heavy oven-safe kettle) and
bake in the oven at 325°F/163°C for 3 hours or until tender.
Prepare wontons.
Toss portabella's lightly in oil and grill until tender and the mushrooms start to give off
juice, about 4 minutes per side. Slice the stems in half and julienne. Cut the caps at a
sharp thin angle on the bias, then julienne.
In a saucepan, stir in the beer with the BBQ sauce and simmer for 10 minutes. Let cool
and set aside until you are ready to assemble the pizza.
If you're making two pizzas, use only half of your ingredients for this part. Apply rings
of BBQ sauce evenly on pizza, starting at the crust and working inward toward center.
Cover half the pie with the pulled pork and the other half with portabella strips. Add a
line of BBQ sauce down the middle to designate each side clearly (your veggie friends
will thank you for this). Top lightly with mozzarella and bake in preheated oven at
500°F/260°C for 10–12 minutes until crust is golden brown and cheese is melted. Upon
removing the pizza from the oven, immediately add the grated cheddar, wontons and
green onions (in that order) evenly. Let cheddar melt and serve with extra BBQ sauce for
dipping and beers for drinking. Repeat this process for your second pizza.
Colleen's Notes:  I decided to omit the mushroom part of the pizza since neither my kids or myself wanted them (my husband never needs to know shrooms "could" have been involved, lol).  And I also didn't add the wonton strips. At first, when I read the recipe, I was like cheddar cheese too? But man was this good - you really don't need that much cheese at all its just ¼ cup of each cheese per pizza - and it turned out like a symphony in my mouth!  I also used my Pulled Pork Seasoning on the meat to really make it sing.
To save time, you can pop by your local pizza place and grab some dough, my favorite place in town gives me 2 huge rounds of fresh (no frozen for me) dough that they make sure is perfect when they place it in the box - love them!  2 rounds for $5 bucks and less work & clean-up for me! Can't beat that!  Plus the kids love making things like garlic knots or mozzarella stuffed bites.
I HOPE you make this pizza and enjoy it as much as my family & I did...I really, really do and while your at it...for $14.99 on Amazon - This book is worth every single penny!!  I have no affiliation and was not compensated to do this post...I just think its a phenomenal cookbook 🙂
xo