Tomato & Bean Bruschetta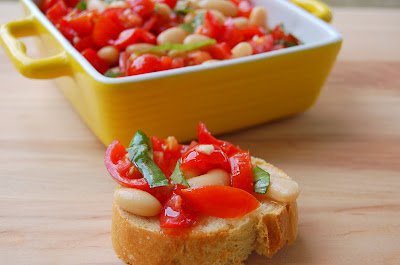 Basil is one of my favorite flavors, and I enjoy just about any dish that features it. Put it with tomatoes in any way, shape or form and I am over the moon in love!
Awhile back an Italian friend of mine, Maria, made this simple yet amazing appetizer and I was smitten. This is a go to app that both her and her husband enjoy making and they both take pride in making it perfect every time! One of these days I expect to see them go head to head and have a blind taste test!! I volunteer to be a tester!!
The combination of the basil, the tomatoes, the oil, the salt and the bread are irresistible to me. When this shows up at get together's...I usually hang out buy that bowl!!
So if you are overrun with tomatoes...THIS is a perfect way to make them disappear 🙂
This comes together quick and is best served shortly after you make it at room temperature.
This also makes a great addition to a picnic lunch! Just pile some into a mason jar, throw some bread rounds in a baggie and you are good to go!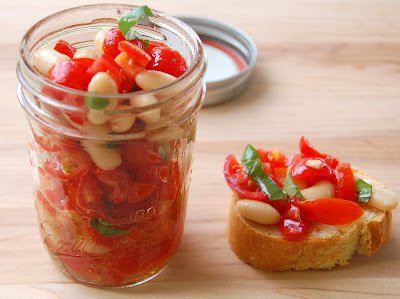 Tomato & Bean Bruschetta
A pint and a half of grape tomatoes, diced (or a comparable amount of any other tomato)
1 can of can of Cannellini beans, rinsed, drained and gently pat dry (usually 19 oz)
3-4 nice sized cloves of garlic, minced
10-15 nice sized leaves of fresh basil, chiffondae (chopped)
Kosher salt and pepper
1 ½ cups of good olive oil
Serve with slices of very fresh French or Italian bread...mmmm mmmm mmmm!!
You could also add in some good shredded Parmesan cheese to take it over he top!
Combine all the above ingredients in a large bowl and gently toss. Be liberal with the salt and pepper. Serve in a shallow bowl with slices of very fresh French or Italian bread.
Enjoy!!