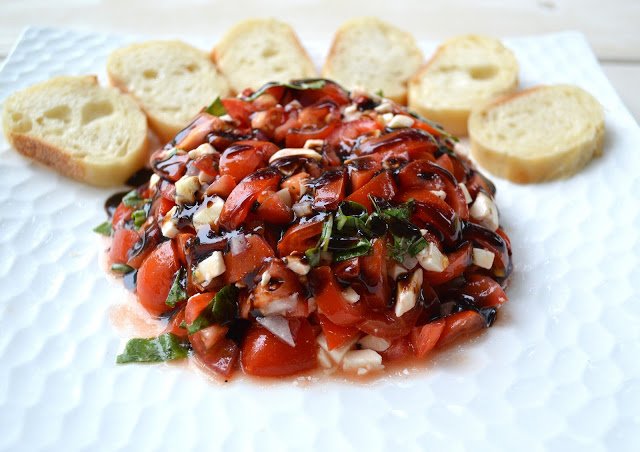 What are your top 5 favorite foods?
THAT my friends is a hard question to answer and I am sure that if you are anything like me, it's more of a top 10 list with the foods on the list jockeying for position depending on your mood or the time of year.
Come spring & summer, tomatoes definitely make my list. My friends and family cringe when I am out at a restaurant and ask "how do the tomatoes look?" Followed by one or 2 more clarifying questions. My husband just chuckles, he's used to it! Other than that, I am the easiest customer. Just don't give me unripe or icky tomatoes…especially when the tomatoes are the star of the dish. Can you relate to that?


I do not remember bruschetta in any form my life as a child or even early teen. I think I was a young adult when I first had it, I seem to remember a restaurant or two that my family frequented always giving a complimentary plate to the table to start things off. My husband reminds me from time to time that on one of our earliest dinner dates, I said "who would PAY for bruschetta??", when I saw it on a menu. It is so easy to make. Maybe I hadn't yet had life altering bruschetta.
My brother Ed makes a mean bruschetta heavy on the garlic, with all ingredients coming right out of his garden. Mmmm, SO good!
Once you can get your hands on some perfectly ripe tomatoes make this! THIS bruschetta is simply a-mazing! The addition of chopped (almost minced) Mozzarella is a game-changer! Serve it on plain bread slices, grilled slices of your favorite bread, with chips or whatever vehicle you enjoy most and you will soon be hugging the bowl and scooping it up as fast as you can! Or if you are like me you just might whip
this up to eat as a salad as I often do – no bread necessary, just a fork! Often after I eat this I still literally want to lick the plate! The addition of the balsamic glaze drizzle truly takes this to another level – so I strongly suggest making a small batch or picking up a pre-made bottle of it to keep in your fridge – you will soon see that you will use it more than you would have ever thought.
Tomato Mozzarella Bruschetta with Balsamic Reduction


2 pints of grape tomatoes
3 big cloves of garlic, minced
1/3 cup chopped red onion
1/2 cup minced Mozzarella cheese
1/4-1/3 cup chopped or chiffonade Basil
Kosher salt to taste
Black pepper to taste
1 TBS red wine vinegar
3 TBS olive oil
Balsamic reduction
Cut your tomatoes in halve then again into about 6-8 pieces (depending on their size). Place them in a good sized bowl. Add in the garlic, red onion, cheese, basil, salt and pepper. Gently toss. Drizzle in the red wine vinegar and olive oil. Toss. Drizzle the top of your bowlful with the balsamic glaze and serve.
Colleen's Notes: This is best made shortly before serving. You could have everything chopped and ready before-hand and then just before serving combine it and you are good to go. Normally I serve this in a bowl – the juices from the salt hitting the tomatoes, the olive oil & the vinegar make it a little too wet to do what I did in the photo – but if it is just for me – that's what I do 🙂
If you are not a huge garlic fan, decrease the amount used or omit it.
To mince the mozzarella, cut it into slices, then chop it up with your chef's knife. Larger or smaller pieces – your call.
To make a basic balsamic glaze – combine 1 cup balsamic vinegar and 2 TBS brown sugar. Bring it to a boil in a small pot and simmer until reduced by half. Glaze should coat your spoon a bit when done. Store in the fridge for up to a week.
I hope you love this as much as I do!