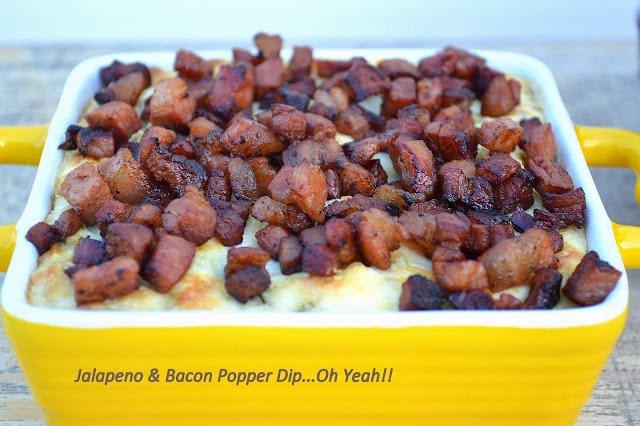 I only knew my husband about 48 hours when I became crystal clear what his favorite food was…or should I say what his food obsession was.
Jalapeno Poppers.
When we met, he would seek them out at some point almost every time we were together – he KNEW where to go to get the best and some of the people in the places we would go would be like "John!" How are you?? It was kinda crazy, lol!
Yup, something that small and simple can make my man go weak at the knees.
However, he has standards.
Noooooo cheddar cheese in HIS poppers – for him only Philly Cream Cheese will do.
"Back in the day" he would pick each popper up like someone would pick up a tiny kitten, each popper would look so small in his hands, he would take a look at it then slowly take a bite.  I think he closed his eyes half the time.  He always eats the food he enjoys the most slowly…almost reverently…with such patience.  I never figured that out about him because not that I am saying I actually DO this (ahem) but when a favorite of mine is around…there could be some quick gobbling involved…well if no one is looking that is!
My man is still like that today, 17 years later.  As a gal who likes to cook nothing makes me happier than to give the people I love something that I know he or she will enjoy eating.
This is a play on a Bacon Wrapped Jalapeno Popper – It is waaaay easier than stuffing and wrapping each and every jalapeno so it comes together quickly and makes a fun & tasty dip for a quiet night of movie watching or its a perfect hot party dip.  This version is great for those that are Gluten Free in your life since the chopped pancetta or bacon replaces the traditional breadcrumbs.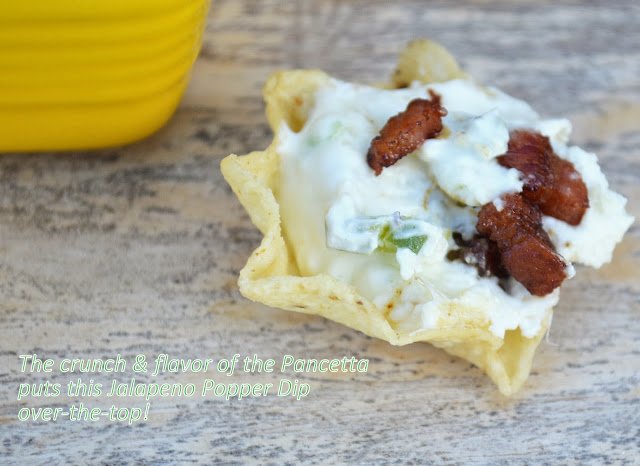 It you like the whole bacon-jalapeno-cream cheese thing like my husband does, you might enjoy this Bacon Wrapped Jalapeno Stuffed Chicken too!
I adapted this recipe from the one Babs submitted to Tasty Kitchen back in 2009 and have been making it ever since – I wonder if she was the one who came up with this delicious dip??
Do you have a favorite party dip?  With the holidays fast approaching, I'm always up for trying something new!
Bacon & Jalapeno Popper Dip
16 oz of softened cream cheese
1/2 cup sour cream
1/2 cup mayonnaise
4 oz can green chilies, drained
5 whole Jalapeno peppers, stemmed and seeded (leave a few seeds in if you want more heat)
1/2 cup grated Parmesan cheese
1 cup of chopped uncooked pancetta or 10 strips of  bacon

Preheat oven to 400ºF.

Stir together cream cheese, sour cream, and mayo in a large bowl until smooth. Stir in green chiles and jalapenos.
Pour mixture into an oven safe serving dish and sprinkle with Parmesan cheese. Bake, uncovered, for 15 minutes, remove from the oven, add your cooked bacon/pancetta and bake for 5 minutes more.
While the dip is baking, cook your pancetta or bacon in a skillet until crisp, set aside.
Serve warm with tortilla chips, crackers or a crusty bread.

Colleen's Notes: Cut this recipe in half for 6 or fewer people since it makes a lot.  I bounce between using Pancetta and bacon for this when I make it – it depends on what I have on hand.
Do not use lite mayo or sour cream, they heat seems to "break" the dip when you do.
Sometimes if add the green chilies and sometimes I don't…it comes out fine either way.
If you like things really spicy – leave in the seeds and stems from 2 or 3 of the jalapenos – if not leave them out altogether.
I like to serve this in 1 or 2 shallow dishes – this way folks can get bacon/pancetta in every bite 🙂

Enjoy!