Baked Eggs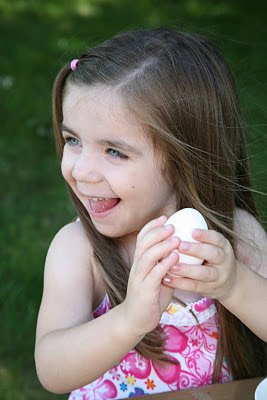 How many of you have a memory (or 2 dozen memories)of cracking eggs at the knee of your parent or grandparent? What kid doesn't love to crack eggs? Did you ever notice how their little faces light up as they successfully contribute in the kitchen this way?
Such a simple task yet so empowering…and one I will treasure numerous memories of always!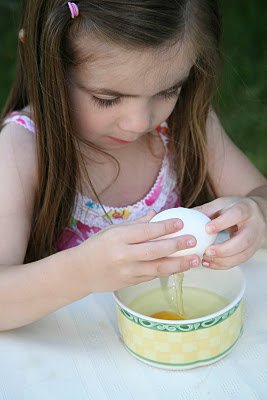 I remember teaching my kids at just 2, how to crack an egg…and you know what – at the ages of 9 (almost 10…sniff, sniff) and 7, they still love to crack away as much as they did way back then.
It warms this foodie's heart!
One dish they love to make is Baked Eggs. They love to make it and I love that it is a simple no fuss breakfast (I sometimes make the bacon the night before to speed things along on a school day). It is actually perfect when I am trying to get them out the door in the morning – because it gives me a few minutes of fun with the kids…then it takes care of itself until we sit down and eat.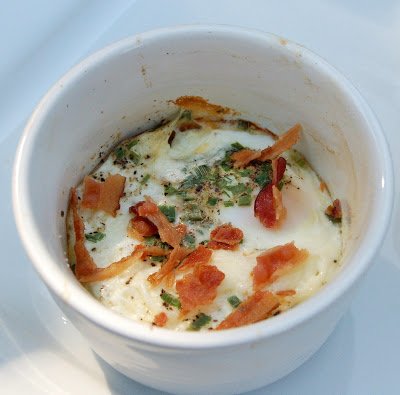 Baked Eggs
1 TBS milk or cream
1 or 2 eggs
Salt and pepper
Topping suggestions: Cheese, crumbled crispy bacon, diced cooked sausage, diced ham, chopped broccoli, dices roasted peppers, jalapenos, etc.
Preheat your oven to 375 degrees.
Grease your ramekins with a bit of butter, add 1 TBS milk or cream to each ramekin. Crack 1 (or 2) egg(s) into the ramekin. Top your eggs with your chosen ingredients. Bake for about 10-12 minutes or until the egg is done to your liking.
Let your kids create breakfast for YOU! Set out a small station of supplies, then put your feet up while they create a masterpiece! When they are finished, you slip them into the oven and they get the rave reviews!
Enjoy!