Baked Goat Cheese Stuffed Tomatoes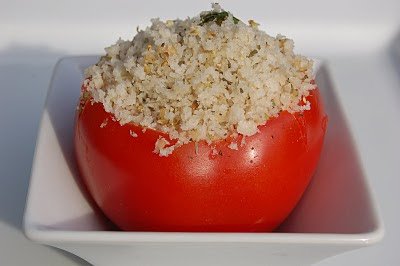 I am a sucker for tomatoes! Doesn't matter if thy are just picked and warmed from the sun, roasted (my all time fav), tossed in pasta, plain with a bit of salt – I just love them.
One of my brothers spent most of his life staying away from tomatoes – he just didn't like them and I know why…remember those 35mm movies that our parents and grandparents took of us back in the day??
My Dad would pull them out a few times a year while growing up and either reminisce or embarrass us…not sure which.
Anyway, my one brother Eddie was about 18 – 24 months old in a particular movie, at the time he was a chubby little thing. He was sitting on our outside steps eating a tomato – squashing it in his face is more the case – when all of a sudden it pops out of his chubby little hands, rolls down the steps and plops right into a pile of little black ants.
What's a baby to do??
He scooted down the steps retrieved his prize and kept right on eating…whyyyy my Dad continued filming is beyond me…he says a little extra protein never hurts!
YUCK!!!! They way I figure it, Eddie connected that movie with tomatoes as soon as he cold remember and was like nooooo way!! HA!

Baked Goat Cheese Stuffed Tomatoes
4 medium tomatoes
8 ounces of flavored goat cheese (I used garlic and spices)
1 jar of roasted peppers, chopped
1 clove garlic, minced
A few fresh Basil leaves, chopped or 1 TBS dried
salt and pepper to taste
olive oil
1 cup Panko
Cut a circle into the top of your tomatoes, gently cut out a section, then using a melon ball er, serrated spoon or a knife, gently remove the inside of the tomato – be careful not to break through.
Flip the scooped out tomatoes upside down onto a few paper towels and let drain for an hour.
In a small bowl combine the goat cheese and roasted peppers. Set aside.
In a small bowl combine Panko, basil, garlic, toss well. Drizzle with a bit of the olive oil and season with a bit of salt and pepper.
When ready to stuff your tomatoes, fill with some of the goat cheese mixture about 3/4 full. Top with Panko mixture.
Bake at 350 degrees for 15 minutes.
If you have stuffed the tomatoes and kept them in the fridge prior to baking bake for 5-10 minutes longer.
You could of substitute your favorite olives for the peppers, marinated artichoke or another favorite veggie previously roasted.
I have eaten this cold as well.
Enjoy!
Colleen