Baked Mini Pumpkin Donuts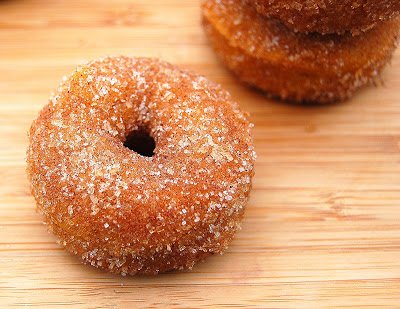 What is your favorite pumpkin recipe? The one you excitedly await for...filled with anticipation of the pumpkin-filled delight that you know you will just have to whip up come on or about October 1st?
It's funny how I never gave pumpkin a chance until about 5 years ago. I just thought it was something I didn't want...at all.
My father, brothers and sister were all crazy for pumpkin pie growing up...my mom intensely disliked it and funny enough, I think that is the only food item she will not eat. I guess I was taking my cue from her.
When my son was 5, my neighbor Amanda brought over some Pumpkin Bread...I was like "ugh" in my head but then my son took a piece, then asked for another piece...he fell instantly, utterly, head over heels in love. So I just had to try it and you know what I fell in love too! Thanks Amanda!!
Since then I have made every kind of pumpkin thing you can think of...with the exception of pumpkin pie...not gonna do it! Lol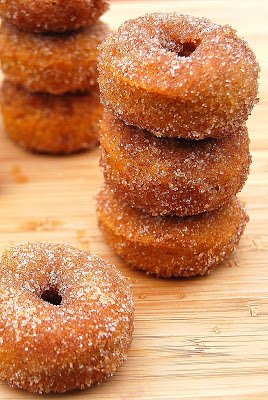 These Baked Mini Pumpkin Donuts are to-die-for! These are so good that you will never and I mean never admit to anyone just how many you ate ahem! I adapted one of my favorite muffin recipes from Jen of How To Simplify who found them on Tasty Kitchen submitted member by Lemanda
I happen to have picked up a few mini donut pans at Marshall's one day for like $6.00 each and I LOVE them! I know my kids and husband are happy they are in my life!!
You can make these in a cupcake pan as well, just spray your pan before your fill them ⅔ of the way with the batter...full sized or mini. Just bake until a toothpick inserted comes out clean...about 9-10 minutes for mini and 16-20 for full-sized.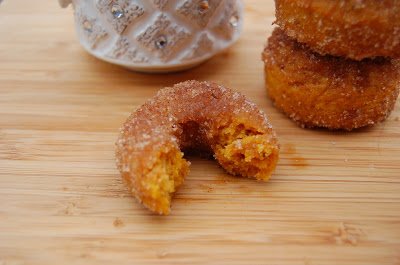 Baked Mini Pumpkin Donuts
1 ¾ cup flour
1 ½ teaspoons baking powder
½ teaspoon salt
1 ½ teaspoon apple pie spice (or 1 teaspoon cinnamon & ½ teaspoon nutmeg)
⅓ cup oil
¾ cup sugar
1 egg
1 cup pumpkin (roasted or canned - NOT pumpkin pie filling)
**If you have cardamom add ½ tsp...the flavor is incredible!
¼ -½ cup butter, melted
⅓ cup sugar
1 TBS cinnamon
½ teaspoon cardamom (optional)
Preheat your oven to 350 degrees and grease your donut pan (you could also use a mini cupcake pan)
Combine flour, baking powder, salt, spice(s) in a medium bowl, set aside. Combine oil, sugar, egg and pumpkin in a large bowl.  Add dry ingredients, stir until combined.
Place mixture into a pastry bag or plastic baggie (snip off one corner) and fill each donut hole to just under ¾ full.  Bake at 350 degrees for 8-9 minutes or until tester comes out clean.
While donuts are baking, melt butter in a small bowl. In another small bowl, combine the sugar and cinnamon (and cardamom if you have it).
Pop the muffins out of the muffin tin onto a piece of parchment paper (hopefully you greased it well and they just pop out when you turn the pan over) while the muffins are still hot.
Dip your donuts/muffins one by one in the melted butter and then immediately into the sugar and cinnamon mixture. Place on a wire rack and allow to cool....or better yet eat a few while they are hot!!
**These Baked Mini Pumpkin Donuts are best eaten within 4-5 hours of making them.
Enjoy!