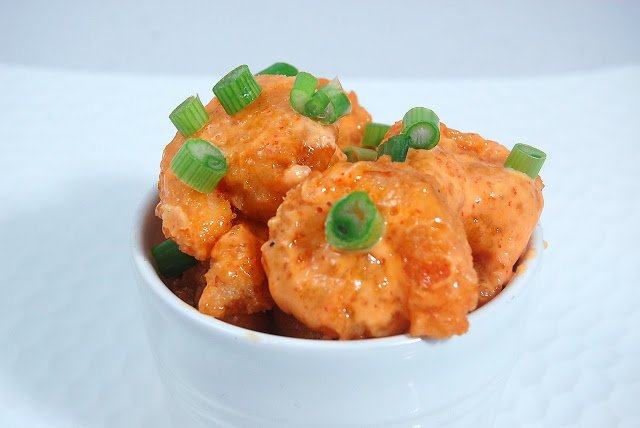 You know how many "dinner" chain restaurants have that one irresistible, signature appetizer that makes you think about it and crave it long after you are gone AND of course makes you get back there as quick as you can for another bite??
Bonefish Grill does that to me.  We don't have one close to us but over the years I think we have hit a Bonefish about a half dozen times.  And every-single-time, I HAVE to order 1 or 2 of their signature Bang Bang Shrimp.  It is so addictively delicious, I just love it!  I even enjoy the remnants of sauce with the lettuce it comes served atop. Except for my first visit, I have never ordered an entree, I just want that shrimp!!  Since they first came to town, other places (some so unexpected) have tried to replicate it, some have come close, however none (in my opinion) have nailed it.
If I knew I could only have one order of that shrimp...I might try to smack anyone who attempted to snatch one right across their knuckles with my chopsticks!  Not kidding!!  (Honey are you paying attention?)
I know people who go to eat there as often as they can, that dish even has children craving it (like my nephew for example).
Last year I decided to take a stab at recreating it at home and it was pretty darn close.  After all I truly am a shrimp-aholic.  I just love it anyway I can get it!!
I had an idea where to start but I did take a look around the internet to see who had come up with what and found a copycat recipe on CD Kitchen and that is where I took my lead.  Thank you to the summbitter!!
If you are looking for a delicious seafood app that hit's all the notes this Lent (or anytime), try this, even if you have never heard of Bonefish Grill.  You just might get hooked (no pun intended...wink) like so many others!
½ cup mayonnaise
A drop or two of fresh lemon juice
¼ cup Chili with Garlic Sauce
4 drops Sriracha Hot Chili Sauce (more or less or to taste)
1 pound shelled and deveined 21-25 or comparable sizes shrimp
Dry cornstarch
Oil for frying
Lettuce (optional)
Chopped scallions
Mix mayonnaise with Thai Sweet Chili Sauce. Add Sriracha sauce to taste, set aside.
Pat your shrimp dry, and then dredge them one by one in cornstarch. Deep fry the shrimp until lightly brown and crispy about 2 ½-3 minutes. Drain on paper towels and toss with the sauce. Serve in a lettuce-lined bowl or Martini glass if you like and top with chopped scallions.
Notes: Don't crowd the shrimp and cook it all in once in one batch, instead make 2 batches.  Coat each batch just before frying.  I hear from my nephew they now serve Bang Bang Chicken as well which you could make with the above recipe, swapping the shrimp for "popcorn" sized chicken.
Enjoy!!