Love french fries as much as I do? Try these crispy Beer Battered Garlic & Parmesan French Fries which are perfect for snacking paired with an icy cold beer or cocktail!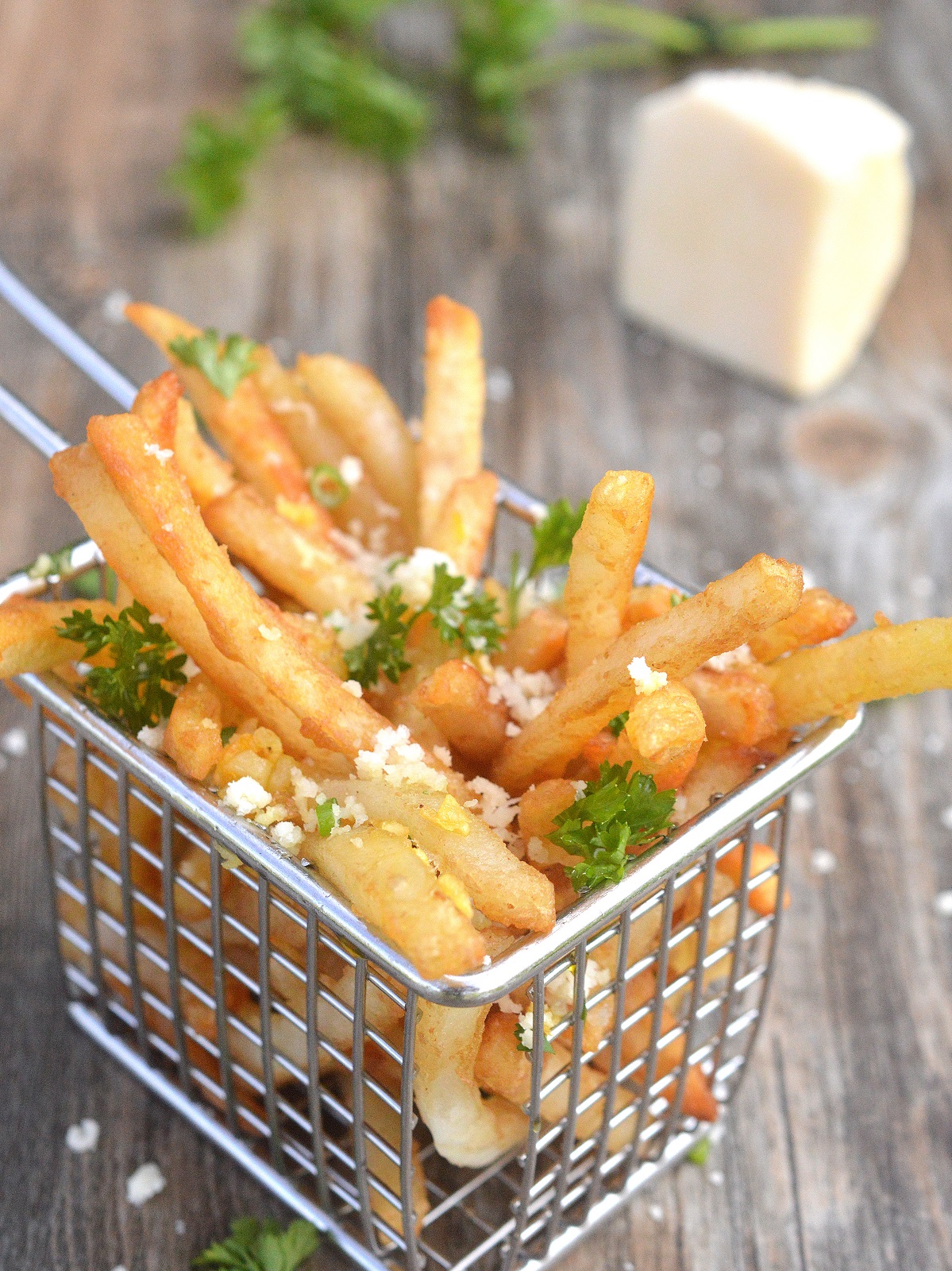 This is a sponsored recipe and conversation made possible by McCain Foods, all opinions in this post are my own.
Raise your hand if you enjoy making french fries. When I was a kid we had one of those metal french fry cutters. You would insert the potato and press down with all your might to get long square-like slices to fry up. When we made french fries it was a family affair. Everyone was involved. peels, cutters, fryers and the one who got to shake them up in brown bags with seasoning…Lol! It was so much fun.
However, there were never enough. It was labor intensive, to say the least.  Luckily these days you can get awesome frozen french fries and enjoy them as is, dress them up a little or load them up with everything that you've got! Back then it was only plain fries, these days I love changing things up and making things like these Beer Battered Garlic and Parmesan French Fries. They get an extra pop of flavor from crispy bits of garlic a dusting of freshly grated Parmesan or Asiago cheese. I will warn you that these are slightly addictive and someone…I will put money on this…someone will be dragging their finger across the remnants of garlic and cheese and popping it into their mouth once or twice!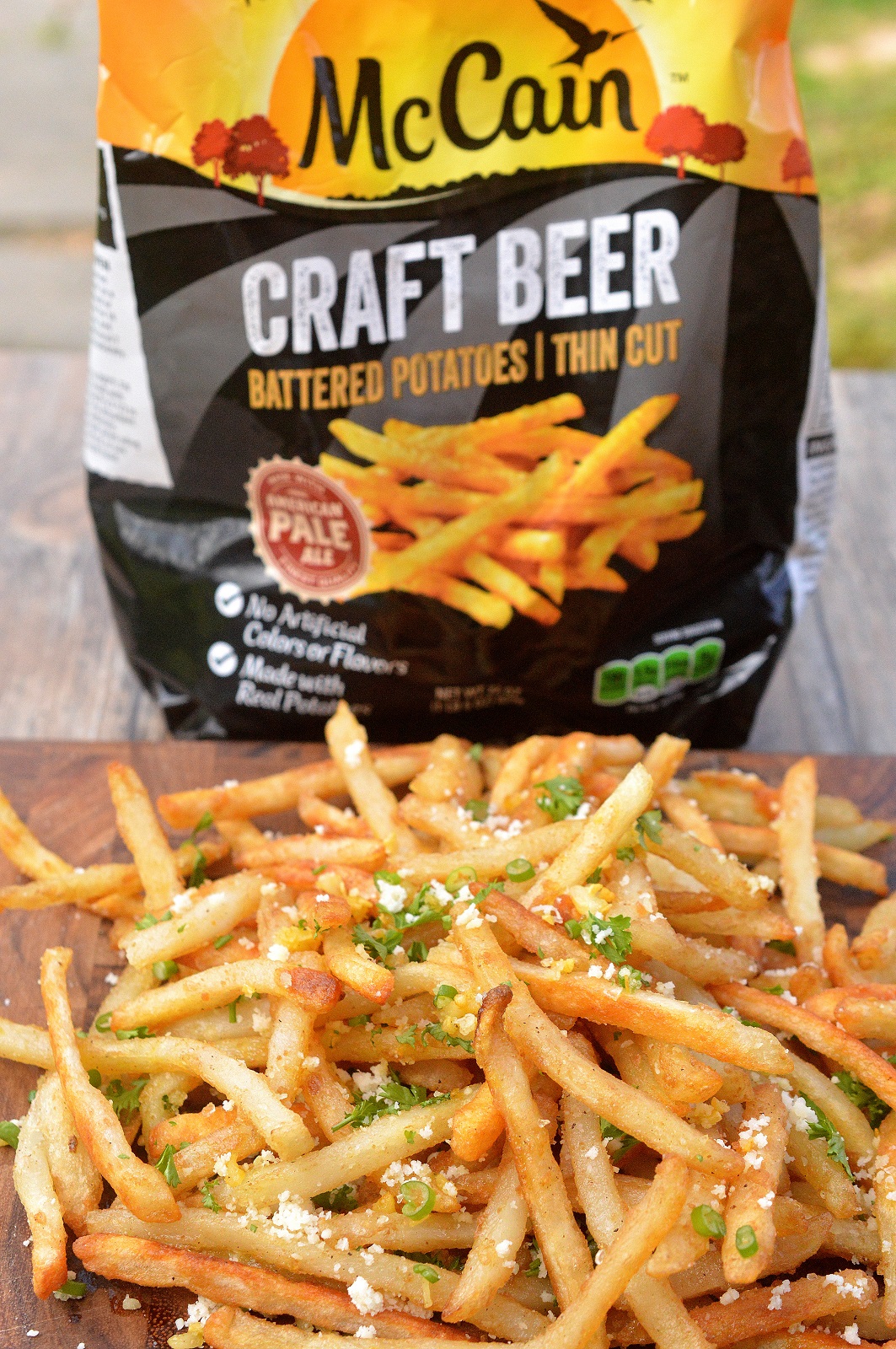 Using McCain Foods Potatoes as the base for this easy Beer Battered Garlic & Parmesan French Fries recipe lets me not worry about a ton of prep or clean-up. No peels or frying to worry about and the best part…No soggy french fries! I chose McCain Thin Cut Beer Battered Potatoes for this recipe. Not too much batter…just enough! Crafted with real American Pale Ale and of course real potatoes. McCain Beer Battered Potatoes are perfect every time!
Quality short-cuts like these McCain Potatoes allow me to enjoy more time relaxing and having fun with my family. When the weather turns nice we enjoy being outdoors by a fire or stargazing. Unwinding under the stars with something great to nibble on and drink is our idea of a nice night.
Follow the directions on the bag, be sure to flip the fries at least once during the cooking time. And keep them in the oven until they are done to you liking (ovens vary). Your eye and a taste are the best judge. You will be enjoying restaurant-quality fries at home in under 30 minutes…No mess and no stress!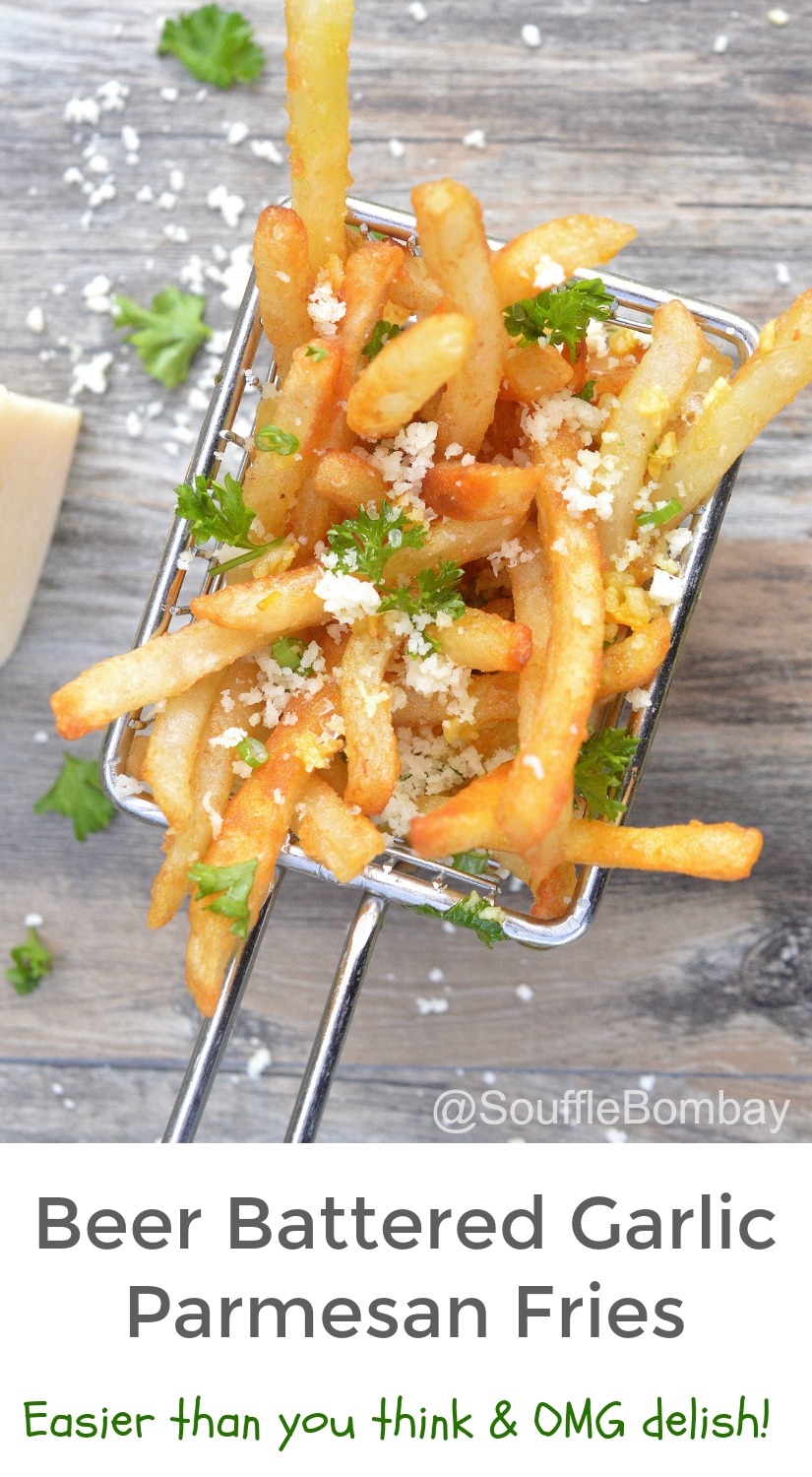 Tip: Always close your oven when you are working on them,…you want to keep that oven hot!)
Dressing these Beer Battered Garlic & Parmesan French Fries is simple. Just a bit of oil, garlic, cheese and seasonings and there you have it!
The better the oil and cheese, the better the end result. Choose a nice hunk of Parmesan or Asiago, grate in into a dust. Choose a quality oil and fresh garlic to make a perfect dressing. And plenty of Kosher salt, pepper, scallions, and parsley. Now, this is lick-your -fingers-good!
If you are feeling feisty…add some crumbled bacon as well. This is how we like our fries in the warmer months, lightly dressed 🙂
How does your family make the most of the summertime together?
For recipes, new products and special offers follow McCain on Facebook.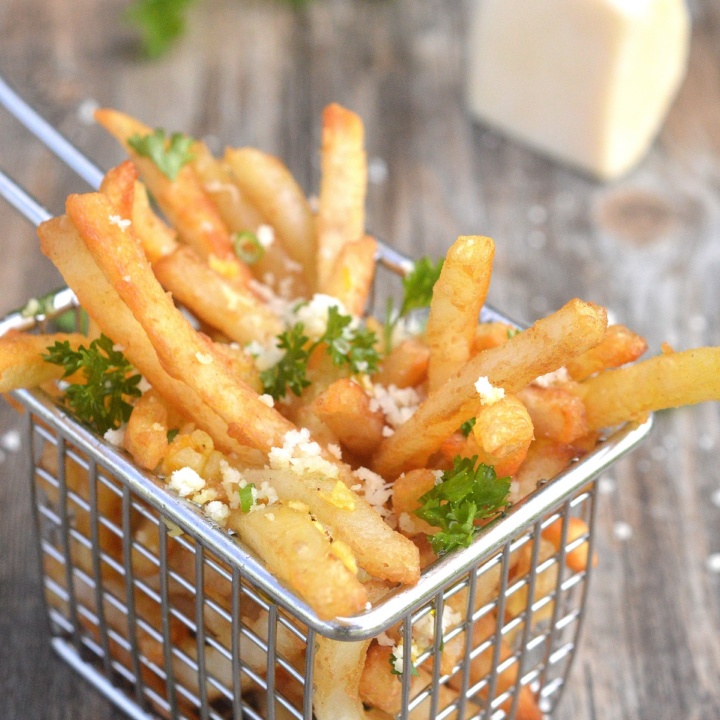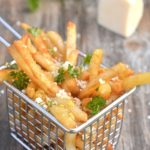 Print Recipe
Beer Battered Garlic & Parmesan French Fries
Ingredients
1

bag McCain Craft Beer Battered Thin Cut Fries

3

TBS

grapeseed or olive oil

7

cloves

garlic

minced

Kosher salt

Good quality Parmesan cheese

or Asiago

3

TBS

scallions

thinly sliced

¼

cup

parsley

chopped
Instructions
Preheat oven to 425 degrees.

Bake potatoes according to package directions.

In a very small pot or pan (I use an egg pan for this), cook the garlic in the oil over medium heat. Add a good pinch of salt to it and allow it to simmer, take it off and on the heat as necessary for a few minutes. Do not allow the garlic to burn and only allow it to slightly brown. Stirring often.

Let the garlic steep in the oil off the heat while the fries finish up.

While the fries bake, grate the cheese (not shred…grate almost like fluffy powder via the finest part of your grater).

Once fries are out of the oven, place them in a big bowl.

Scoop the garlic pieces out of the oil (they will be crispy) and scatter them over the fries. Sprinkle with salt and mix well with tongs or your hands. Drizzle a TBS or so of the remaining oil in as you do (not too much or you could make the fries soggy).

Plate and scatter scallions, cheese, and parsley over-top and serve immediately.