Bread Pudding with a Grand Marnier Sauce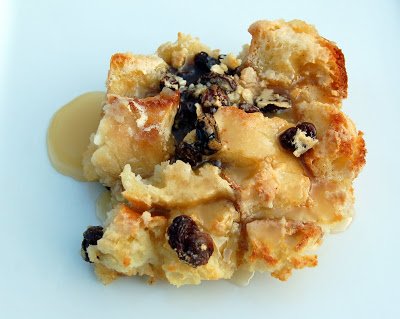 I had a craving for the warm, sweet, sticky goodness of Bread Pudding recently so of course I gave in and set about making some.
I adapted this from an ancient copy of Good Housekeeping - The Illustrated Cookbook. This Bread Pudding with a Grand Marnier Sauce was really good!
I did in fact serve some of this to the kids, minus the sauce of course.
They each shook some powdered sugar over their pieces - we sing a song called "Sugar Shower" whenever we are shaking powdered sugar on anything - it's kind of a rock song lol!
The kids grab my fine mesh strainer add some powdered sugar and go at it, shaking and singing loud and proud!! A memory I am sure we will all cherish!! I can just see one of my kids as a chef someday, singing this and shaking their bum while preparing a dessert ha!!
Bread Pudding
1 loaf French bread, cubed
3 cups milk
2 large eggs
1 ½ cups sugar
1 TBS vanilla
Few dashes of cinnamon
1 cup raisins
Cut the bread into 1 inch squares, set aside.
In a large bowl combine the milk and eggs. Whisk until mixed. Add in the sugar, vanilla and cinnamon. Toss in the raisins and the bread chunks. Mix well, use your hands to push on the bread chunks to help all the goodness get in each piece. Turn out into a lightly greased 9X13 baking dish. Feel free to sprinkle additional cinnamon and sugar on top if you like. Bake at 350 degrees for about 45 minutes, you want the wetness gone and the bread to spring back at you when pushed on.
Sauce
4 TBS butter
4 TBS Grand Marnier
1 TBS vanilla
1 cup confectioners sugar
In a saucepan, melt your butter, add in the Grand Marnier and bring to a boil for just a minute. Remove from heat and add in vanilla and confectioners sugar, whisk until smooth.
You can plate each piece and them pour the warm sauce over it or pour the warm sauce over the whole thing and serve...your choice.
Enjoy!
Colleen