Candy Strawberries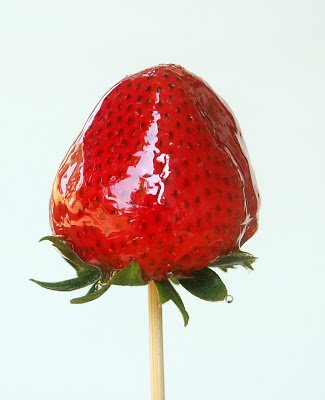 Hold on to your hats because THIS…THIS is just about the best thing I have EVER, EVER put into my mouth! I could run away with these Candy Strawberries leaving my life behind and just sit and eat them all day…every day! The taste is absolutely a-mazing!!

The slight warmth of the berries, the incredible burst of sweet & juicy as you chew is unparalleled to me! I'm going to run out tomorrow, buy one of those food vendor carts and start selling these on the corner – oh wait, I would forget to look and see if anyone was in line because I would be stuffing my face with berry after berry then become trapped in my cart as I rapidly expanded due to my new addiction! I need to rethink my strategy!
In photos from a friend who went on a trip to China recently, there were these incredible open food markets selling every possible food you can imagine on sticks. Seahorses, scorpions, bugs, meats and these incredible Candy Strawberries. I myself would opt for the berries! lol Nooooo seahorses for me…unless they are swimming around all cute and cuddly around me while snorkeling!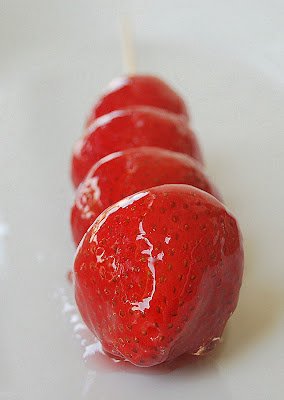 Lucky for me I was at the market and was greeted by a HUGE display of Driscoll's Berries as I walked in the door…they were picture perfect as you can see..and on sale!! Whoohoo!
Looking at his photo's I assumed they coated the berries similar to how we coat apples for Halloween. So I used Martha's candy apple coating recipe, minus the food coloring and it did the trick!
I happened to have kids over swimming yesterday while making these and they happily gobbled them up! At first they were wary, then they were quickly asking for more. Don't worry!! I still was able to get more than enough Candy Strawberries for myself and I did manage to save a few for my husband! And BTW he also commented on what an incredible taste this was.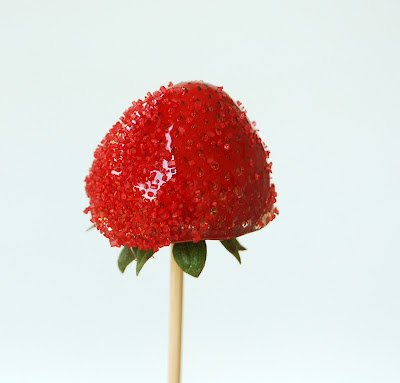 Candy Strawberries
Start with the most beautiful strawberries you can find
2 cups Sugar
3/4 cup water
1/2 cup corn syrup
Optional: A dash of vanilla
Optional: Red sanding sugar
In a small saucepan set over medium heat, combine sugar, corn syrup, and 1/2 cup water and the dash of vanilla if you choose about 1/2 tsp…I am a vanilla lover!). Stir until sugar is dissolved. Raise heat to medium-high and bring to a boil. Never stirring it again. Allow the mixture to boil for 10-15 minutes. If you have a -candy thermometer, you want the temp to reach 300 degrees for the hard coating, like a candy apple or about 240-50 for the softer coating (I like the softer).
While the candy coating is boiling, prepare your berries and place them on your sticks. Once it's time to dip you want to be organized and able to move quickly. Line your work area with parchment paper to make clean-up a snap…otherwise you will be scraping and pulling droplets of the candy coating off of it. As you dip each berry, invert your colander to act as a stand to allow them to cool. Check out this link for an awesome visual of what I mean – I saw this colander idea on Pinterest awhile ago and it's genius!!
Once the candy coating reached that temp, remove the pot from the heat and allow it to cool for no more that 2 minutes. Then begin dipping away (or use a big spoon to coat the berries). This is enough to coat about 3 dozen big & beautiful berries.
If you are making the harder candy coating dip real quick, you want a thin layer of candy. If you are making the sticker, softer coating, you can dip multiple times or spoon the mixture over the berries.
If you don't have a candy thermometer, don't worry, just follow the above and test your mixture with a metal spoon after 10 minutes or so into the boiling…you want the coating to slow drip off the spoon and for it to have formed a coating. Just keep testing and washing and drying the spoon until its right.
You will either end up with a semi crunchy shell or a sticky coating that does in fact stay in place – either way is delicious! If you get any long candy drips, just snip them off with a pair of scissors after they harden.
Just be careful, this stuff is HOT! This is not a project to have your kids in the kitchen for. Also, these are meant to be eaten just after you make and cool them. I saved a few for later and the berries began getting drippy after 45 minutes or so.
I would love to hear from you if you liked these Candy Strawberries as much as I did!!
Enjoy!