Caramel Apple Cake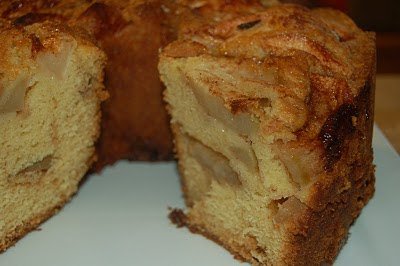 I have been making this Caramel Apple Cake since I was a teenager.
One of my girlfriends at the time got it from her grandmother. She called it Jewish Apple Cake – not sure where the name comes from.
I have tweaked the recipe a bit over the years.
The other day I thought we might enjoy a slice or two, so I whipped one up as it had been about a year since the last one and I decided to add in some caramel to see what would happen.
What happened was good…really good! It gave the cake a bit of crunch in spots and some sticky goodness in others.
Have your teakettle at the ready and enjoy!!
Caramel Apple Cake
3 cups flour
2 1/2 tsps baking powder
dash of salt
2 cups sugar
1/2 cup brown sugar
1 cup vegetable oil
4 eggs
1/2 cup orange juice
2 teaspoons of vanilla
7 apples, peeled, cored and sliced into 1-inch slices
3/4 cup caramel (either store bought or make your own by melting a 10 ounce bag of caramels with 1/4 cup of heavy cream over medium heat. Stir constantly until smooth.
Let cool a bit and thicken up before using on the cake)
Mix for apples
3 teaspoons cinnamon
6 teaspoons sugar
Preheat oven to 350 degrees.
Grease a tube pan.
In your mixing bowl combine the flour, baking powder and salt.
Add in the sugars, vegetable oil, eggs, OJ and vanilla mix until fully combined and smooth. Set aside.
In a small bowl combine the 6 tsp of sugar and the 3 tsp of cinnamon. Set aside.
Pour half of the batter into your tube pan. Place apple slices all over..squeeze them in or put a few on top of one another. Sprinkle liberally with half of the cinn/sugar mixture. Drizzle with half of the caramel.
Scrape the rest of the batter into the pan, evenly topping all the apples.
Layer remaining apples across the top of the cake, sprinkle liberally with the remaining cinn/sugar mixture.
Pop it in the oven and cook for 1 hour to 1 hour and 20 minutes or until a wooden skewer inserted comes out dry.
After 30 minutes, pull the cake out quickly and drizzle the remaining caramel over the top of the cake.
Once out of the oven, run a knife around the outside and inside edges, cool for 10 minutes them remove from pan. Oh and what happened to THIS cake?? Well just as you see it – it went to waste! I had made it last week on the day of the blizzard – then we had to leave in the middle of the night due to no power…we stayed in the dark with a cozy fire for a few hours BUT my son is a serious asthmatic and had been on the neb machine every 4 hours or less (actually I live with 3 asthmatics…Hubbie and kids) so off we ran in the middle of the night in the middle of a blizzard to my sisters we went and didn't return for 2 days…the cake long forgotten…sigh!
But we had fun at my sisters!!!
Of course you don't need to use the caramel…you can leave it out and the cake is still delish! You can sprinkle the Caramel Apple Cake with some powdered sugar too.
Enjoy!!
Colleen