Cheddar, Bacon and Spinach Pie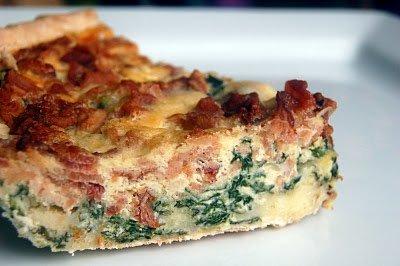 The other night I had decided to make a big pot of Flemish Stew.
I had my list of ingredients in had and headed to the grocery store.
I grabbed everything I needed, however as I began preparing the dish...the
2 ½ pounds of of needed beef tenderloin was nowhere to be found. I was perplexed...I checked my receipt and no tenderloin was listed...nope, not, nada!
OK, I will admit I am no stranger to accidentally grabbing the wrong cart occasionally and walking away with it BUT that is NOT what happened here.
I can vividly recall having the packages of beef in my hand in the butcher section of the store...I KNOW I put them in the cart...so the only conclusion I can reach is that I put them in someone else's cart...lol!!
Wonder if they noticed the $$$ surprise as their groceries were ringing up and what did they think about it - gave me a chuckle!!!
So...what was a gal to do with a bunch of chopped bacon now sauteing on the stove - almost crisp...hmmmm. I looked in the fridge and my eyes landed on a package of Kerrygold Irish Cheddar and in an instant I knew what to do!
Man this was good! My husband was satisfied, my kids liked it (my son asked for seconds and let me tell you...spinach has never entered his body before)
and I have to say the piece I had for lunch the next day was even better than it was the night before!!! I swear it was the cheese. I love the taste of Kerrygold - quality always tastes better! Who's with me on this?
Cheddar, Bacon and Spinach Pie
12 slices bacon, chopped
1 pie crust (home made or store bought)
3 eggs
1 ½ cups milk
Salt and pepper to taste
1 TBS flour
1 TBS melted butter
1 cup of chopped spinach, squeezed dry (or adjust to your liking)
7 ounces of white cheddar cheese, shredded (I like Kerrygold Irish Cheddar)
Reserve one ounce of the cheese for the topping
In a frying pan, saute bacon until crisp. Blot and set aside.
**Tip Use your cooking sheers to cut the raw bacon instead of chopping it.
Combine eggs, s&p, milk and butter. Whisk until combined. Add in the flour and melted butter, whisk until combined. Add in the spinach and cheese. Mix well and pour into your pie crust. Sprinkle the top of the pie with the bacon and reserved 1 ounce of cheddar. Bake the pie on a baking sheet (to catch possible drips) at
375 degrees for about 45 minutes or until puffed and golden. Let pie sit for 5-10 minutes and serve.
The pie is excellent the next day as well. This makes a nice brunch item that can be made a day ahead.
Enjoy!
Colleen