This Chicken Caesar Pasta Salad has all of the components I crave and makes a fantastic lunch or side dish and is perfect for all those BBQ's we have coming up this time of year!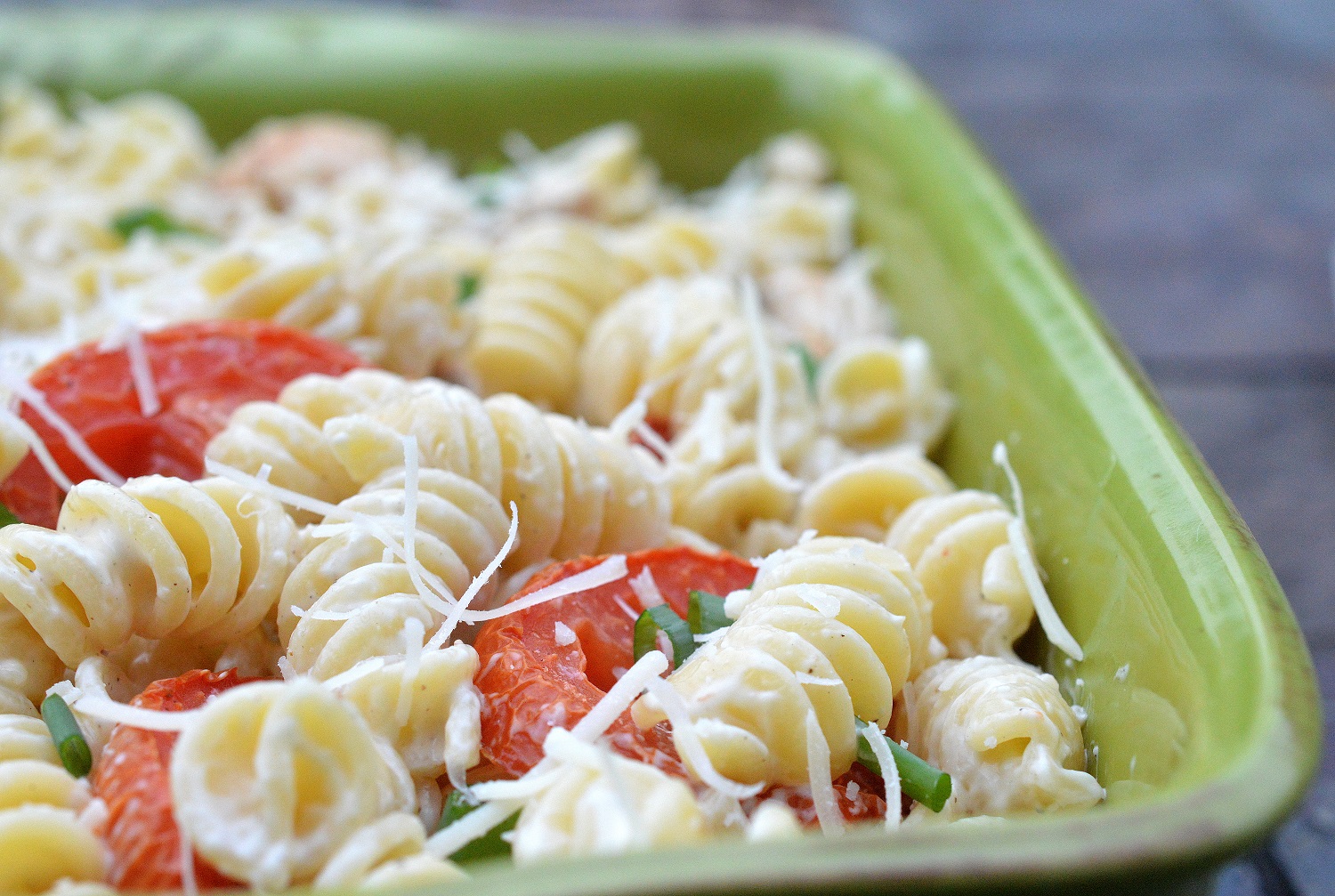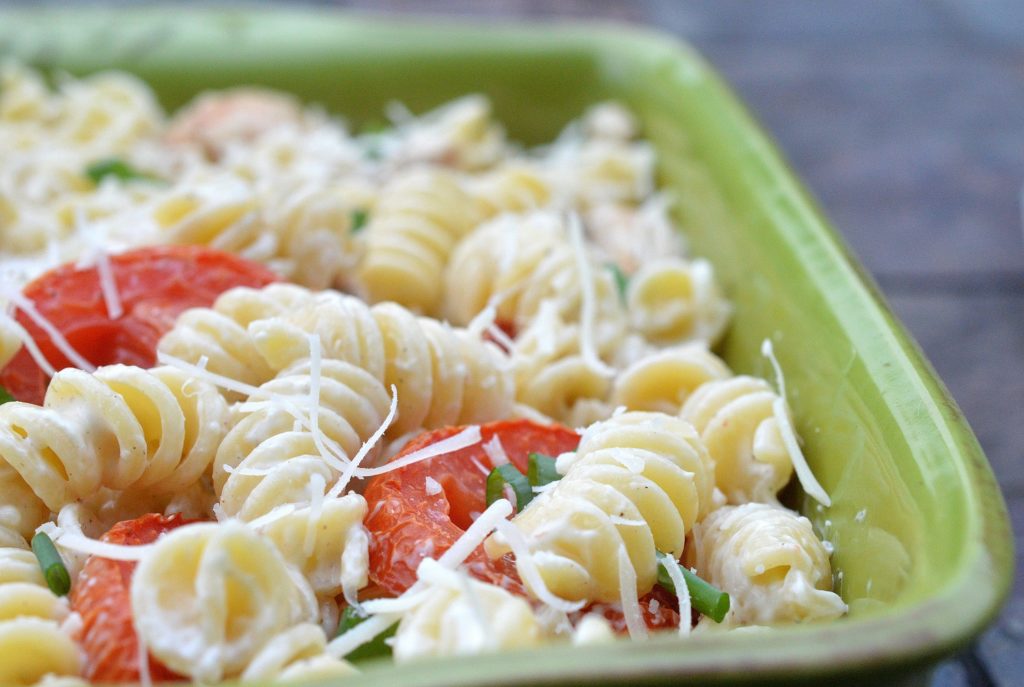 I have been making variations of Chicken Caesar Pasta Salad for years! When making it, two things I almost always do are roast the tomatoes and reach for a box of San Giorgio.
Roasting the tomatoes, especially when it is not peak tomato season, brings out the best out in them. And San Giorgio® Pasta?? Well, that blue & red box has been a staple for me my whole life…and now, it is a staple for my children!
Growing up in Philly, if your weren't Italian and making your own pasta, well then your parents most likley had shelves full of San Giorgio® Pasta Boxes. My parents sure did. Pasta night was always my favorite night of the week growing up! From my moms macaroni and cheese, starring San Giorgio's® Elbow Macaroni, to pasta and meatballs to pasta salads and my dad's macaroni and beef. It was always San Giorgio®!
         I am super…super excited to share that a brand I grew up with and use to this day now has 40 Non-GMO Project Verified pasta products!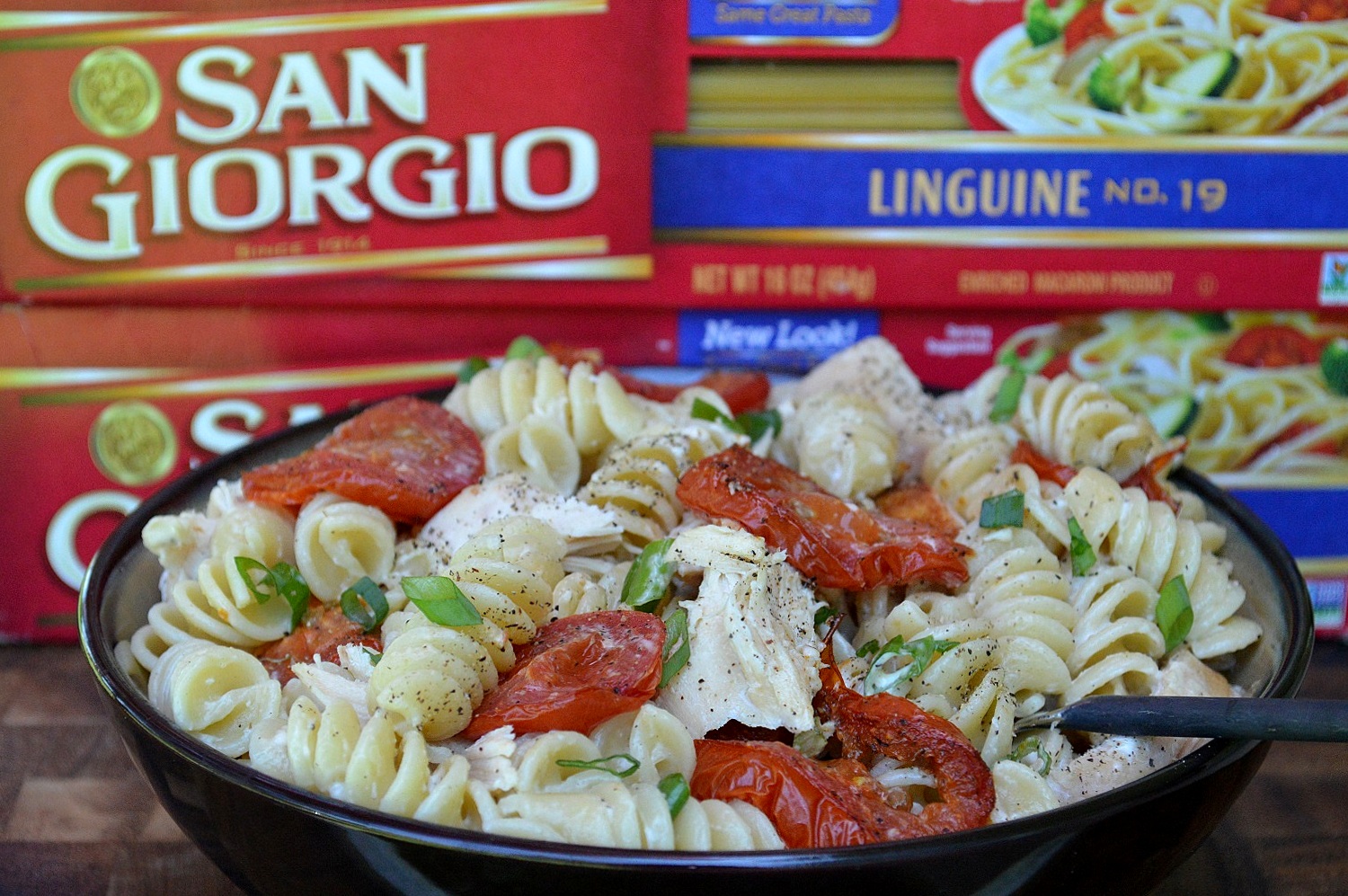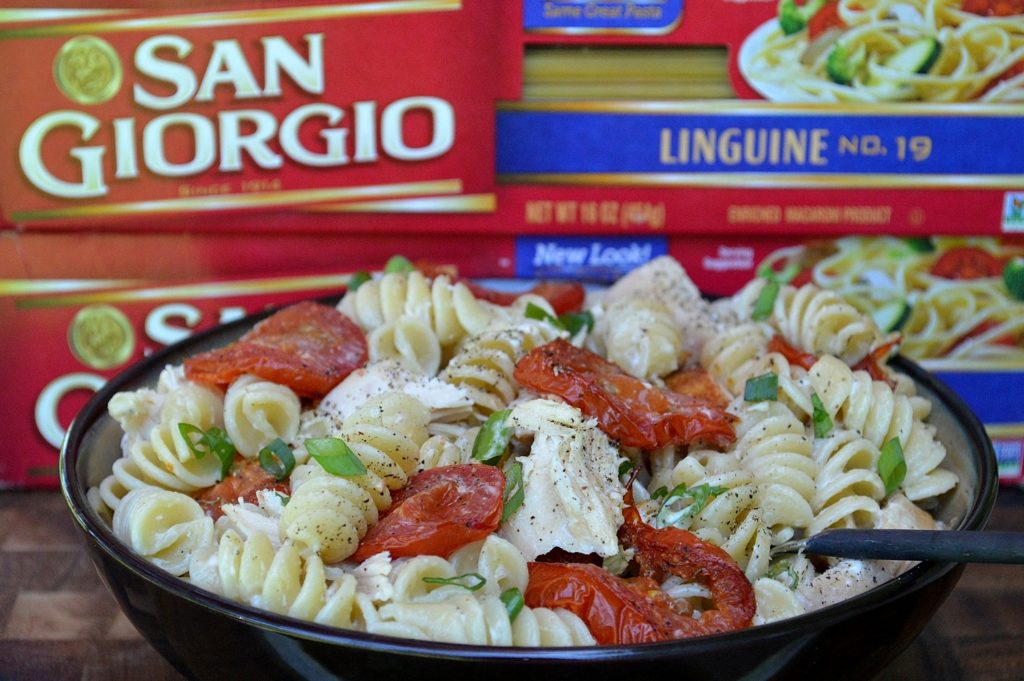 As both a fan of San Giorgio® and as a mother, who cooks daily for her family…That makes me very happy! I feel good about choosing to feed my family San Giorgio® pasta products and I really like and want to support Brands that hear what is consumers are saying and Brands that stick to their standards even if they could potentially increase profits by cutting corners.
40 of San Giorgio's pasta products — from ziti to spaghetti to rigatoni — are now Non-GMO Project Verified, the most trusted sign that a product is produced through best practices for GMO avoidance.
The Non-GMO Project is the only entity in North America that offers third-party verification and labeling for products made according to rigorous best practices for GMO avoidance.
Over 200 pasta products from Ronzoni®, Creamette®, San Giorgio®, American Beauty®, Prince® and Skinner® now carry the Non GMO Project Verified logo.
The verification is yet another way San Giorgio is demonstrating its commitment to responding to new, consumer-driven food trends and leading the way in the pasta category.
The last time I partnered with San Giorgio® it was because they were donating 25,000 boxes of pasta to non-profit organizations in my area. This time it's to help spread the word about their Non-GMO Project Verified status…Both great things from a Brand that cares and they make me honored to work with them!  For up-to-the-minute news, recipes and more, follow San Giorgio® on Facebook.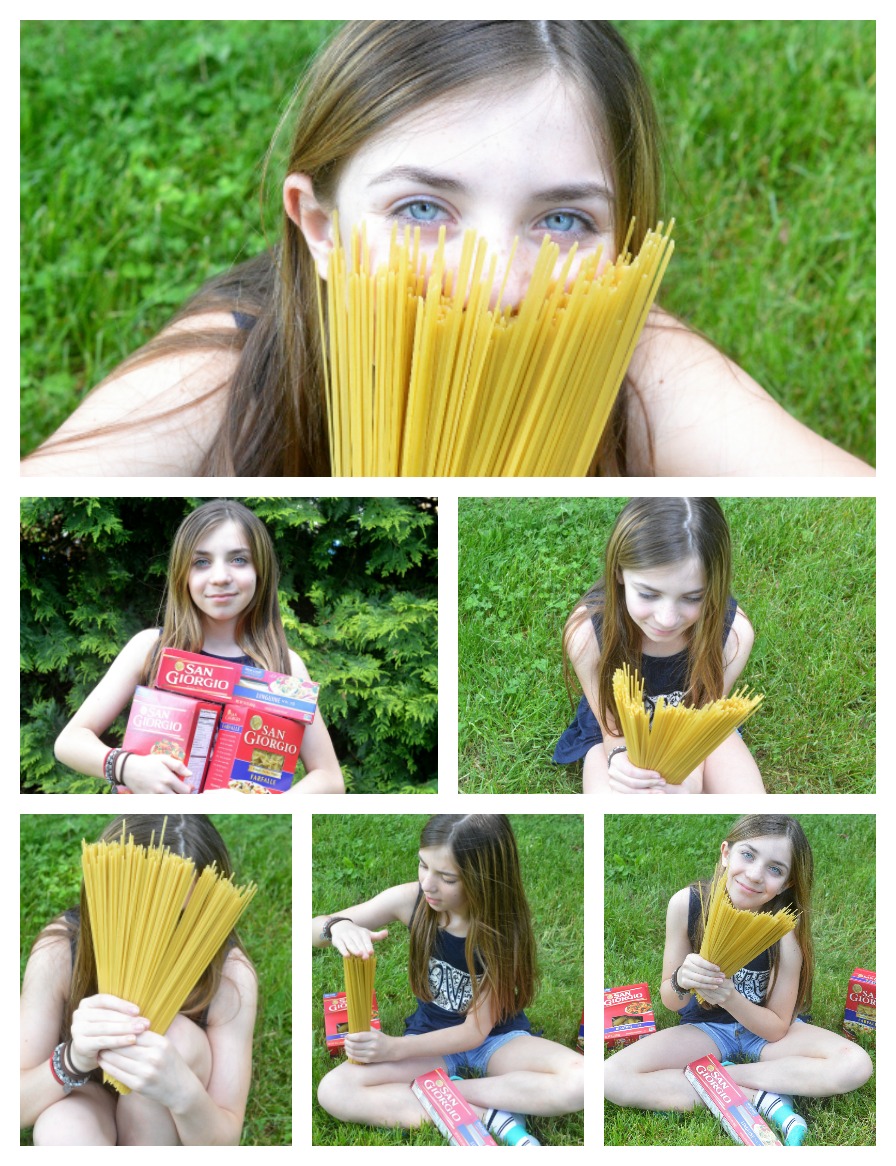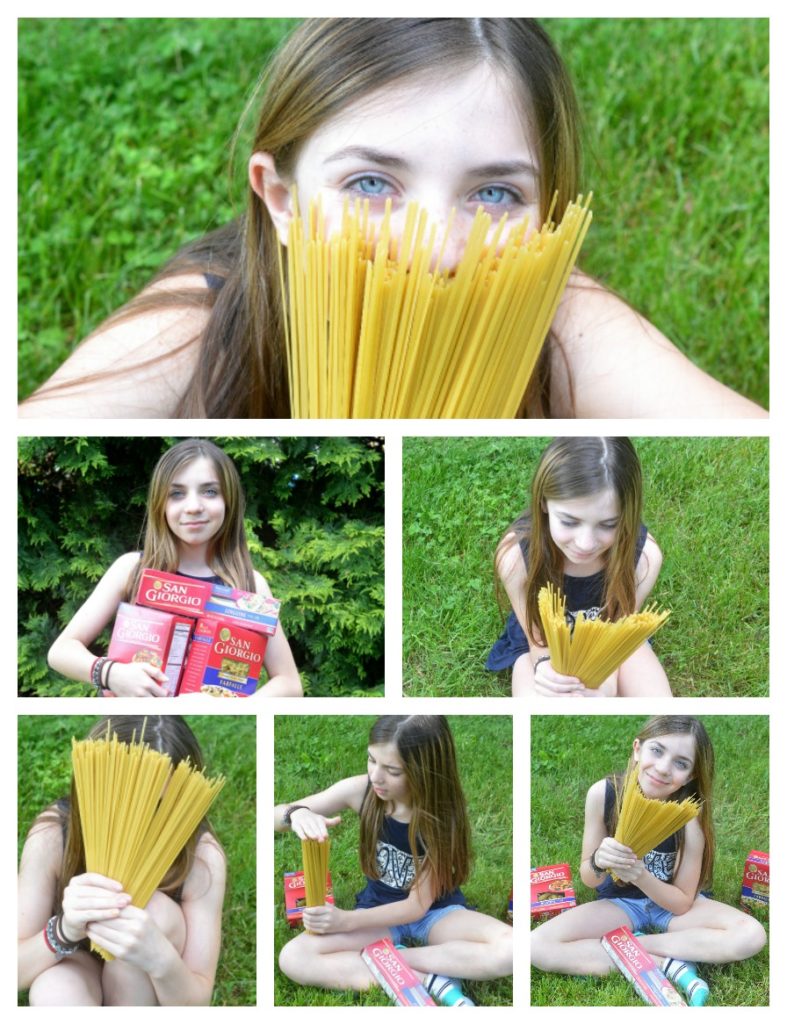 Someone had a little too much fun helping me with this post….and playing with and eating lots and lots of pasta! Samantha lives for pasta! She eats little meat (food allergies)…so pasta, Brussels sprouts (I know right??), broccoli and her SAMwiches are what power her motors!
Of you are looking for a new way to enjoy pasta, give this Chicken Caesar Pasta Salad a try! Add lettuce, egg or even some bacon! It's pretty delish the next day as well, you may just need to add a little more dressing since the pasta will absorb some of it overnight. Enjoy!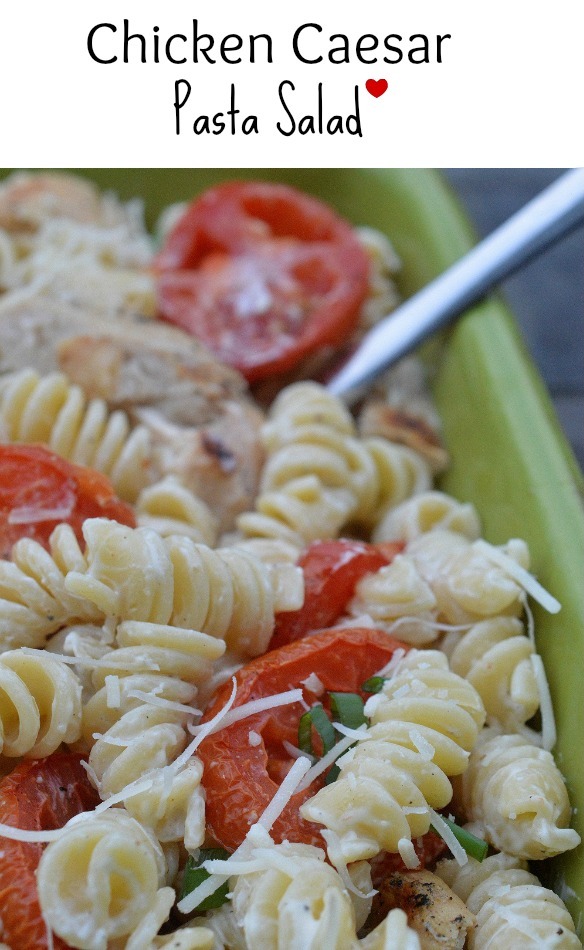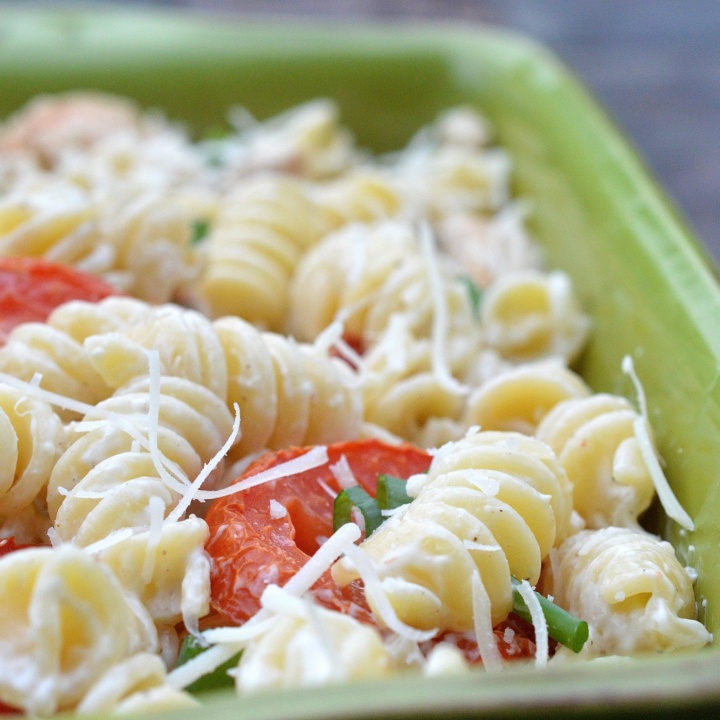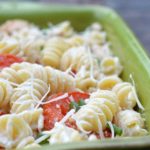 Print Recipe
Chicken Caesar Pasta Salad
Ingredients
4

plum tomatoes

Grapeseed or olive oil

Salt & pepper

1

box San Giorgio® Rotini

or noodle of choice

3

grilled boneless chicken breasts

or rotisserie chicken

Creamy Caesar salad dressing

homemade or store-bought

Shredded Parmesan cheese

Scallions

Lettuce

optional
Instructions
Preheat oven to 350 degrees.

Slice your tomatoes a little on the thicker side and place them on an oiled baking sheet. Season with salt & pepper and roast in the oven for 15-20 minutes or until done to your liking. Allow them to cool.

Cook pasta according to package directions. Drain and cool the pasta with cold water.

Once the pasta dries a little add in a couple heaping spoonfuls of Caesar dressing and stir to combine. Season with salt & pepper.

Slice or tear your chicken into bite sized pieces, season them then add to the salad.

Add the tomatoes, scallions and Parmesan, toss to combine.

Add more Caesar dressing until it is to your liking and serve.
Notes
Of making this the day prior, add tomatoes the day you will be serving.
This is delicious left over as well, simply add some additional Caesar dressing to moisten it as the pasta will suck up some of the dressing overnight.